Sports
Memorial up for grabs
Sat., June 4, 2005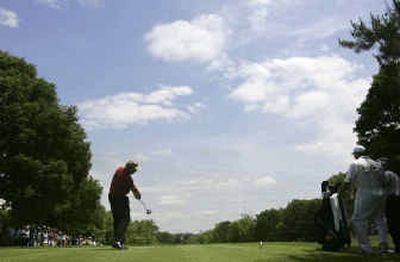 Jack Nicklaus pressed both hands to his lips for a farewell kiss to the crowd as he walked off the 18th green Friday afternoon at the Memorial in Dublin, Ohio.
Two groups behind him, Tiger Woods fired at as many flags as he could and moved quickly into contention.
An emotional day at Muirfield Village ended with Jeff Sluman, whom Nicklaus picked as an assistant captain at the last Presidents Cup, atop the leaderboard thanks to a flop shot on No. 17 that dropped for birdie and a 1-under-par 71. That gave him a one-shot lead over Woods and four others heading into the weekend.
Woods was tied for the lead along the back nine until missing the 17th green and making his only bogey of the tournament, dropping him to a 68. He was joined by Jonathan Kaye, Harrison Frazar, Lucas Glover and Nick O'Hern.
Still, the day belonged to Nicklaus.
He played what might be his final PGA Tour event on American soil, and wasn't too happy with how it ended. The cheers that echoed around the course he helped design were usually for par, sometimes for bogey, always just to see the 65-year-old Nicklaus approach the green.
He shot a 5-over 77 to miss the cut by six shots.
Sluman had few complaints with his 71, especially since it put him in the lead at 8-under 136. Sluman was among the few players near the lead who didn't drop any strokes over the final three holes.
O'Hern (70) and Frazar (68) each had a chance to tie for the lead until bogeys on the 18th hole, while Glover and Kaye each had 70 and played the final three holes in par.
Champions Tour
Mike Sullivan and Tom Jenkins played consistently through warm, windy conditions to shoot 6-under 65s for a one-stroke lead in the first round of the Allianz Championship in Polk City, Iowa.
Ron Streck and Jim Ahern each were one stroke back at 66. Bruce Fleisher, who had a hole-in-one, was among a group of four at 4-under.
LPGA
Playing through a driving rain, Juli Inkster shot a 6-under 65 to take the opening-round lead at the ShopRite LPGA Classic in Galloway Township, N.J.
Annika Sorenstam was two shots back after an opening 67, while Mi Hyun Kim was in third at 69.
Both Wendy Ward of Edwall, Wash., and Tracy Hanson of Rathdrum, Idaho, opened with 4-over 75s.
Local journalism is essential.
Give directly to The Spokesman-Review's Northwest Passages community forums series -- which helps to offset the costs of several reporter and editor positions at the newspaper -- by using the easy options below. Gifts processed in this system are not tax deductible, but are predominately used to help meet the local financial requirements needed to receive national matching-grant funds.
Subscribe to the sports newsletter
Get the day's top sports headlines and breaking news delivered to your inbox by subscribing here.
---