News > Idaho
Parents can take positive steps
Sat., June 4, 2005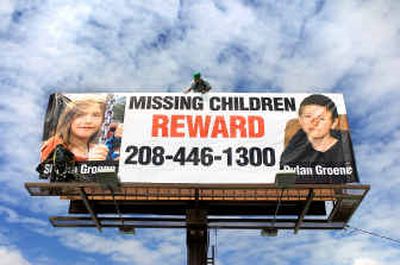 The unsettling disappearance of two young children from a murder scene three weeks ago has left some parents in North Idaho wondering how to protect their own children from abductors.
A few have called the Coeur d'Alene Police Department to ask about fingerprinting.
The police do not fingerprint children at the station, but they do offer fingerprint services or kits at events like today's Kids Day in the Park at Coeur d'Alene City Park.
Coeur d'Alene Police will be on hand to fingerprint children, and the fingerprints will be sent home with parents. They are not kept on file by the police.
"It's a comfort thing, but it's also very practical," said Sgt. Christie Wood.
Shasta Groene, 8, and her brother, Dylan "D.J." Groene, 9, have been missing since their mother, Brenda Groene, her boyfriend, Mark McKenzie, and her 13-year-old son, Slade Groene, were found bound and bludgeoned to death in their Wolf Lodge area home May 16.
Shasta and Dylan are believed abducted, and their photos grace thousands of posters being distributed by the National Center for Missing and Exploited Children.
While fingerprints are a useful tool in identifying children, updated photos are the most helpful means of finding missing kids.
"One in six of the cases we have are found as a direct result of photos," said Tina Schwartz, spokeswoman for the center. "We recommend that parents always keep clear, updated photos of their children."
Updated photos of Shasta and Dylan were put up Friday on two Lamar Outdoor Advertising billboards in Spokane, and a third is going up on U.S. Highway 95 in Garwood Monday or Tuesday, said a Lamar representative. The company is donating the ad space.
While Shasta and Dylan's fingerprints weren't kept on file by their parents, detectives have lifted their prints from items in the home, along with the fingerprints of other family members, said Kootenai County Sheriff's Capt. Ben Wolfinger.
The investigators also have the children's DNA, but so far no break has been made in the case, much to the discouragement of family members.
Every day that passes is more difficult for Steve Groene, the missing children's father. He said Friday that parents should use "any tool that can be utilized to protect kids from this happening."
Another opportunity to have children fingerprinted will be during an open house of the Post Falls Police Department on June 18.
"We have to think, not suspiciously or being paranoid, but realistically of what's around us and what devices and techniques we can use to avoid becoming a victim," said Tom Johnston, a retired police officer and local volunteer with the Center for Missing and Exploited Children.
Kids Day in the Park starts at 10 a.m. with a parade down Sherman Avenue and features a bike rodeo, free lunch and other activities in City Park. It is sponsored by the North Idaho Association for the Education of Young Children.
Local journalism is essential.
Give directly to The Spokesman-Review's Northwest Passages community forums series -- which helps to offset the costs of several reporter and editor positions at the newspaper -- by using the easy options below. Gifts processed in this system are not tax deductible, but are predominately used to help meet the local financial requirements needed to receive national matching-grant funds.
Subscribe now to get breaking news alerts in your email inbox
Get breaking news delivered to your inbox as it happens.
---