News > Nation/World
Case points to Old South racism
Tue., June 7, 2005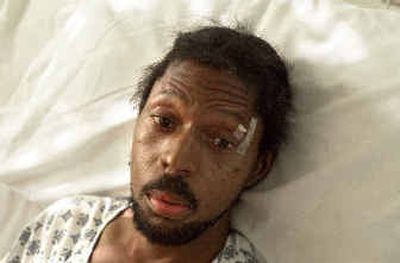 LINDEN, Texas – They picked up Billy Ray Johnson outside a convenience store in this East Texas bayou town, a place where Confederate flags fly in some front yards and a mural of barefoot slaves picking cotton greets patrons inside the local post office.
In September 2003, they drove the 42-year-old mentally retarded black man to a cow pasture where a crowd of white youths was having a party. They got Johnson drunk, made him dance, jeered at him with racial epithets. Then, according to court testimony, one of Johnson's assailants punched him in the face, knocking him out. They tossed his unconscious body into a pickup and dumped him by the side of a dirt road, on top of a mound of stinging fire ants.
Johnson, who family members say functioned at the level of a 12-year-old before the attack, was in a coma for a week. He suffered a brain hemorrhage that slurred his speech, weakened his legs and deprived him of his ability to take care of himself. His body was covered with hundreds of painful ant bites.
Today he lives on public assistance, confined to a nursing home where relatives fear he'll remain the rest of his life.
The four young white men are confined in the county jail, but not for long. A judge last month sentenced three to 30 days and the fourth to 60 days. That was more than jurors who heard two of the cases wanted: They acquitted the defendants of the most serious charges and recommended no jail time at all.
To many African Americans in Linden, county seat of Cass County by the Arkansas and Louisiana borders, what happened was a hate crime reminiscent of the Old South. To many whites here, the incident was a story of some "good ole boys" drinking too much and getting out of hand.
History weighs on this town, whose long-ago prosperity was built on the backs of slaves.
Troubling incidents tinged by race still divide Linden's 2,256 residents.
There was the 1994 case when a black man dating a white woman was found dead from a gunshot. And another in 2001, when a black man dating a white woman was found hanging from a tree. Local officials ruled the first case a hunting accident and the second a suicide.
Whether Johnson was victimized because he is black or mentally retarded lies at the heart of the case. Witnesses who attended the pasture party gave authorities evidence on both counts.
The FBI and local officials came to the conclusion that what happened to Johnson was a crime based on his mental incapacity, not his race. The four attackers were charged with aggravated assault and injury to a disabled person that could have sent them to prison for 10 years. Two juries recommended suspended sentences and probation. A district judge last month sentenced three to 30 days in jail and the fourth to 60 days.
The outcome of the case and authorities' refusal to press hate-crime charges against Johnson's attackers have outraged civil rights officials.
Local journalism is essential.
Give directly to The Spokesman-Review's Northwest Passages community forums series -- which helps to offset the costs of several reporter and editor positions at the newspaper -- by using the easy options below. Gifts processed in this system are not tax deductible, but are predominately used to help meet the local financial requirements needed to receive national matching-grant funds.
Subscribe now to get breaking news alerts in your email inbox
Get breaking news delivered to your inbox as it happens.
---