Sports
Diamondbacks sure No. 1 pick will succeed
Tue., June 7, 2005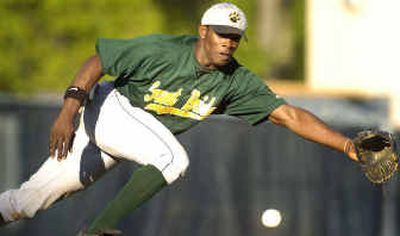 NEW YORK – The Arizona Diamondbacks are certain that their first No. 1 draft pick will be a major success.
The Diamondbacks have narrowed their choices to four players, but the hard part is deciding which one to take to kick off the baseball draft today.
"We feel that there is a very short list of guys that are impact-quality players," scouting director Mike Rizzo said. "And since we pick No. 1, we plan on picking one of those players."
The Diamondbacks have four enticing players to choose from: Virginia high school shortstop Justin Upton and a trio of college right-handers – Craig Hansen of St. John's, Wichita State's Mike Pelfrey and Luke Hochevar of Tennessee.
"We get to pick who we feel is the best player in the whole country, and nobody can take him from us," Rizzo said. "The pick is entirely up to us."
Upton, from Great Bridge High School in Virginia, is generally considered the top overall prospect in the draft. Regarded as a five-tool player, Upton could join his brother B.J., the No. 2 overall pick by Tampa Bay in 2002, as the highest-drafted set of siblings.
"Justin Upton is a marvelous athlete, and I think he could play just about anywhere on the field," Diamondbacks general manager Joe Garagiola said.
With the recent signing of Stephen Drew, the team's top pick last year, the Diamondbacks have some depth in their organization at shortstop. They also have Sergio Santos, the team's top selection three years ago, and Corey Myers, their previous highest draft pick who went No. 4 in 1999.
"That would affect nothing," Garagiola said. "We're going to take the player we think is the best player on the board when we have the whole thing put together."
Even so, there's a chance the Diamondbacks might go for one of the pitchers who could offer help at the major league level quickly.
Hansen is a 6-foot-6 closer with a 95 mph fastball and a nasty slider. He set the school and Big East conference records for saves, and might have raised his stock over the weekend when he started and won for St. John's in the NCAA regionals.
The 6-7 Pelfrey is a two-time Missouri Valley Conference pitcher of the year who throws a fastball that sits in the mid-90s.
Hochevar is another hard-throwing righty who is a Golden Spikes finalist and was the ace of Team USA's gold medal-winning staff last summer.
Some of the other top players available include Nebraska third baseman Alex Gordon, North Carolina high school outfielder Cameron Maybin, Long Beach State shortstop Troy Tulowitzki and Virginia third baseman Ryan Zimmerman.
Also, back in the draft is former Rice right-hander Wade Townsend, who was taken by Baltimore with the No. 8 pick last year but turned down an offer and returned to school.
"Last year, we thought there was good pitching in the draft," said Tampa Bay director of player development and scouting Cam Bonifay, whose team picks eighth. "Three of our first five picks were pitchers, but this year I don't see an overabundance of any one type of player. I would say it's an average draft, talent-wise and as far as depth is concerned."
Kansas City will make its highest draft selection at No. 2, followed by Seattle, Washington and Milwaukee to round out the top five. Boston and St. Louis, both World Series teams last year, have six picks in the first two rounds, mostly a result of losing free agents.
This year – the draft's 40th anniversary – marks the first time the selection order is based on the previous year's record from worst to best, regardless of league. In past years, the picks alternated between leagues.
Local journalism is essential.
Give directly to The Spokesman-Review's Northwest Passages community forums series -- which helps to offset the costs of several reporter and editor positions at the newspaper -- by using the easy options below. Gifts processed in this system are not tax deductible, but are predominately used to help meet the local financial requirements needed to receive national matching-grant funds.
Subscribe to the sports newsletter
Get the day's top sports headlines and breaking news delivered to your inbox by subscribing here.
---