Sports
It's even better than yoga
Tue., June 7, 2005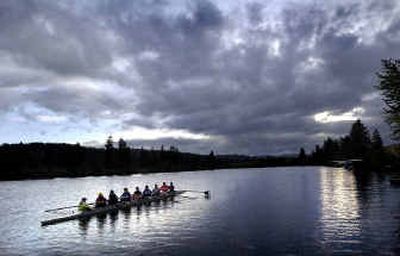 Before going to work or school, they meet three days a week at 5:30 a.m., and they're breaking a good sweat well before the city's espresso stands open. Rain or shine, windy or calm, they're on the Spokane River with their feet laced into a boat that's no wider than a split log.
Sounds like a group with only one oar in the water, but no. In that case they'd quickly be swimmers instead of rowers.
Rub the sleep out of your eyes and meet the Spokane River Rowing Association, founded three years ago and, to this point, a mostly female group of individuals who meet for 90 minutes to function as a team.
"It's exhilarating and fun," said Stephanie Yanuszeski, a 4th-grade teacher for the Cheney School District. "I run and play soccer and yoga, but rowing is a totally different workout."
While Yanuszeski might rank among the hardest bodies in the group, there's room aboard for just about anyone with a yen for fitness.
"The ages have ranged from 16 to 74," said Lisa Galow, an occupational therapist at Sacred Heart Hospital and one of the association's charter members. The group sprouted from the local Women on Wheels bicyclists looking for variety in their active lives.
"Now we have about 30 rowers, and we're always looking for more," Galow said. "We'd especially like to form a junior program."
Indeed, one Spokane high school girl attracted last year by the association's summer rowing program pursued the sport and made the Yale University women's Division I varsity rowing team this year as a freshman.
"Jamie Redman!" Yanuszeski said with the enthusiasm of a cheerleader. "She's our pride and joy."
On Wednesday, for one of the first SRRA workouts of the season, nine women met at the Gonzaga University boathouse on the river near Felts Field. They seemed eager and undaunted by dark clouds in the pre-dawn sky.
"As long as there's no lightning, we go," Galow said.
"Our season begins when the Gonzaga rowing teams are finished with their seasons. Some of the coaches work with us and we get to rent their boats. To have the benefit of all that and the river right here is a real gift."
They had just enough bodies to fill an eight-place shell with Yanuszeski volunteering to take her turn as the coxswain. Starting in the boathouse, she called commands and whipped the ladies into a team.
"Up to waist," she called to synchronize the four rowers on each side of the boat; then "up to shoulders," she called as they heaved the boat up and marched out to the dock.
They handled the vessel with ritual and reverence rivaling a military burial. Competition grade eight-spot rowing shells are 55-60 feet long and weigh around 200 pounds, all of which the coxswain will steer with a rudder the size of a credit card.
Every move off and on the water is made with an apprecia- tion for the high price of space age design and high-strength, ultra-light materials .
"The racing shells cost about $30,000," Galow said.
And they don't come with a motor or even a sail.
The eight rowers gently shoved off from the dock and Yanuszeski seemed at home tucked in the stern facing her single-file crew.
"We're always looking for people to cox," she said later. "It's a great job for somebody who's small and likes to boss people around."
On this day the crew was comprised of women ranging from 18 to 55, including Raulene Polillo, a personal trainer; Helen Wall, a high school senior; Sandy Hansen, who works at Cyrus O'Leary Pies; Joanne Canfield, a financial analyst; Melissa Wittstruck, a Spokane city planner; Ruby Siegel, who works in a medical lab, and Kirsten Frost, a software engineer.
They began by practicing technique, initially with one port and one starboard oar rowing while the others were held perpendicular to the boat to act as outriggers.
"The shell would be very tippy with inexperienced rowers unless some of the oars are out there bracing," Galow said. "We make beginner lessons even more stable by fastening two shells together. We call it the barge. It has 16 rowers and a walkway down the middle for the coach."
Soon the Wednesday crew was rowing four at a time, then six as they listened to the coxswain and the coach calling to refine their body angle as they catch the water with the oar blade, push with their legs, lean with their backs and pull with their outside arms.
They snap the oar handles down to release the blade from the water. They slide forward on their seats until they are coiled, knees to chest, arms extended forward.
Repeat.
Eventually all eight oars were working and the team was purring with a seemingly effortless precision you can't appreciate unless you've watched it develop from the raw novice form.
"That rhythm and speed is what we look forward to," Yanuszeski said, noting that some of the rowers groom into teams that travel to autumn regattas in Puget Sound.
"It's quite a high," she said. "You can see out the corner of your eye the other boats running parallel and hear everyone's oar catching and releasing at the same time and you're absolutely flying across the water."
Local journalism is essential.
Give directly to The Spokesman-Review's Northwest Passages community forums series -- which helps to offset the costs of several reporter and editor positions at the newspaper -- by using the easy options below. Gifts processed in this system are not tax deductible, but are predominately used to help meet the local financial requirements needed to receive national matching-grant funds.
Subscribe to the sports newsletter
Get the day's top sports headlines and breaking news delivered to your inbox by subscribing here.
---