Sports
Call him Ruth
Thu., June 9, 2005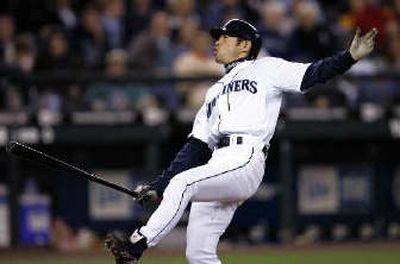 FORT LAUDERDALE, Fla. – Mark McGwire put on the greatest batting practice exhibition seen at Dolphins Stadium during his 1998 tour de force.
But for sheer shock value, Ichiro Suzuki might not be far behind this week.
Despite his slight build (5-foot-9, 172 pounds) and 37 homers in four-plus major league seasons, the Seattle Mariners right fielder regularly deposits pre-game pitches into the right-field stands.
During a recent trip to Tropicana Field in St. Petersburg, Ichiro bashed half a dozen homers in BP each night. He sent one towering shot crashing halfway up the batter's eye in straightaway center field, a blow that, unimpeded, might have traveled close to 500 feet.
"I would put him in the Home Run Derby at the All-Star Game and I know he would win it," Mariners broadcaster Dave Niehaus said. "That's the type of hitter he is. You watch him in batting practice. He puts on one incredible show with the long ball, even though the long ball is not his game."
Said Oakland A's third baseman Eric Chavez: "Everybody thinks he just gets cheap hits and he's fast, but he actually hits the ball harder (than most). I know he's got more pop in that bat than what he shows. He could probably be a 30 home run guy if he really wanted to and hit for less average."
Mariners closer Eddie Guardado goes a step further, saying Ichiro could hit 40 homers – his career-high is 13 – if he desired.
"It's funny," Guardado said. "If you watch him in BP, he's going to put them out there. If you look at him and see how small he is, you wouldn't believe it. I've never seen anybody else like him."
Ichiro has turned down several invitations to the Home Run Derby, reasoning he doesn't "deserve to be out there with them." His favorite homer came in the Japanese Pacific League, when he hit a sign at the Tokyo Dome and won the equivalent of $10,000 in gifts.
"Most of the home runs I hit are ones I try to hit," he said, "so they leave an impression on me. A lot of those are good memories."
Could he go for more power some season?
"If you tried to do that more, then I think you would get … more homers possibly," he said. "(But) if you do that then you lose many, many things."
Local journalism is essential.
Give directly to The Spokesman-Review's Northwest Passages community forums series -- which helps to offset the costs of several reporter and editor positions at the newspaper -- by using the easy options below. Gifts processed in this system are not tax deductible, but are predominately used to help meet the local financial requirements needed to receive national matching-grant funds.
Subscribe to the sports newsletter
Get the day's top sports headlines and breaking news delivered to your inbox by subscribing here.
---