News > Idaho
Young artist's work honored
Thu., June 9, 2005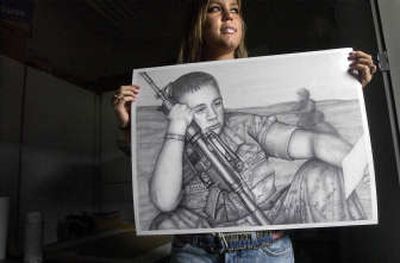 Laura Oswald has been doodling since she was a toddler.
Her mother, Kathy, says Laura drew on anything and everything when she was a little girl. "She was an artistic little being," Kathy Oswald said.
Laura is now a junior in high school, but Kathy Oswald said her daughter is still a doodler. Last week in church, Kathy Oswald caught her daughter drawing pictures on the church bulletin.
On Tuesday, mother and daughter will be in Washington, D.C., as one of Laura's creations is unveiled at the U.S. Capitol. The Coeur d'Alene High student was recently selected as a first-place winner in the Congressional High School Art Competition.
Laura's graphite drawing titled "Letter From Home" will be displayed in the Capitol for a year. The teen, her mother and art teacher Terri Leonard are being flown to Washington, D.C., for the event.
The drawing, originally created for a Veterans of Foreign Wars art contest, depicts a young Marine in the field, holding a gun while he reads a letter. Two other soldiers are seen in the background of the sandy desert war scene.
Laura had her boyfriend, Patrick Mason, pose for the drawing. Patrick, a senior at North Idaho Christian School, will soon be a Marine. He leaves for boot camp on June 27.
Patrick sat in Laura's living room and leaned against an ottoman while she took pictures with a digital camera. He wore a borrowed uniform and held a broom in his hand. When Laura began sketching, she replaced the broom with a gun.
She had a hard time getting Patrick to look sad for the picture, Laura said. She said the most difficult part, though, was looking at his sad face.
"Occasionally, I'd be like, I'm not going to work on it for a little while because it's making me sad," Laura said. She spent three weeks working on the drawing in class and extra time at home. In all, Laura said she spent about two months on the drawing.
"It's quite an honor for a student to be able to list on a future resume or scholarship application that their artwork is currently hanging in the Capitol at Washington, D.C.," said Leonard, teacher of the school's commercial art class.
Until the drawing of her boyfriend is returned, Laura said she will keep a copy of the artwork hanging in her home. She made another copy and framed it for Patrick's parents to give to them at his going-away party.
Local journalism is essential.
Give directly to The Spokesman-Review's Northwest Passages community forums series -- which helps to offset the costs of several reporter and editor positions at the newspaper -- by using the easy options below. Gifts processed in this system are not tax deductible, but are predominately used to help meet the local financial requirements needed to receive national matching-grant funds.
Subscribe now to get breaking news alerts in your email inbox
Get breaking news delivered to your inbox as it happens.
---