News > Features
Her selfless gift
Mon., June 13, 2005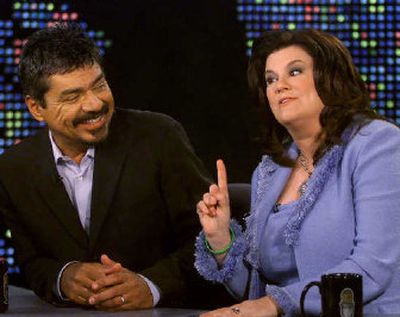 The first thing comedian George Lopez says about the new kidney his wife, Ann, gave him in April is what you'd expect from a funnyman: a joke.
"This is a Chicano's worst nightmare," he quips in the voice of his cynical stand-up character, the hard-boiled barrio bad guy. "Something that makes you owe your wife – forever!"
But when Ann joins him a few minutes later in the living room of their sunny home in the Toluca Lake section of Los Angeles – after she's finished doing her makeup for a joint photo shoot that's been increasingly common since the lifesaving transplant operation – he is quick to note that her selfless gift allows him to turn the stereotype of Hispanic machismo on its head.
"After almost dying, man, what are we going to fight over? (Me) not taking out the trash?" he says.
"No, hombre. Especially now after giving me life, it's whatever she wants."
By offering part of her body, Ann Lopez not only saved her husband and the father of their 9-year-old daughter, Mayan, she also helped spare one of the few successful Hispanic entertainers on the national scene.
Lopez, 44, has a lot to live for. His ABC series, "The George Lopez Show," already the longest-running sitcom with a Hispanic lead character since "I Love Lucy," is being renewed for a fifth season.
On Friday, he debuted in his first major movie role, playing three characters in Robert Rodriguez's sci-fi children's fantasy, "The Adventures of Shark Boy and Lava Girl."
And he recently set a box-office record with his stand-up act, selling out seven consecutive nights at the Gibson Amphitheatre in Los Angeles, on a hill above his new Spanish-style residence.
Lopez's hyperactive profile gave the public no clue he was suffering from a genetic kidney disease. For years, even he didn't know what was wrong. He had suffered from bed-wetting as a child, from hypertension as a high school baseball player in the San Fernando Valley, and from chronic exhaustion as an adult. But for all those years, his symptoms were overlooked.
Although Lopez's kidneys were failing fast this year, he and Ann put off the transplant until shooting on the TV show was completed for the season. They checked into a hospital April 19 under pseudonyms.
Even the show's co-executive producer and co-creator, Bruce Helford ("Roseanne," "The Drew Carey Show"), was in the dark until almost the last minute.
"I'm sure he was in a lot of pain, but he didn't show it," says Helford.
"I struggled my whole life to succeed," Lopez explains. "I wasn't going to let that disease bring me down."
This is not the first time Ann has come to her husband's rescue. He says she already saved him from his inner demons, showing him for the first time the importance of celebrating Christmas and birthdays.
"I've never been a fortunate person," he says, his voice and demeanor softening. "When I was growing up, I was always the example to my friends' parents: 'Keep doing what you're doing and you're going to end up like George.'
"Everything changed when I met Ann."
Lopez was a struggling stand-up comedian when he met Ann Serrano in 1989. She was working as a consultant for Disney, looking for a Hispanic to play a lead role in a new comedy with a social reversal theme, a la "Trading Places." She went to see Lopez perform at the Ice House in Pasadena, and they hit it off.
They talked about the lack of Hispanics in the entertainment business and shared their passion to make a change. Soon, they also shared disappointment and outrage when, they say, the movie role, written expressly for a Hispanic, was given instead to Jim Belushi in an ethnically cleansed script that became the 1990 film "Taking Care of Business."
It would be a decade before Lopez was discovered by actress-producer Sandra Bullock and got his own series. Thirty years after the late Freddie Prinze starred in Norman Lear's "Chico and the Man," the Lopez show has led what producer Helford calls "a quiet revolution" in TV.
Lopez, however, feels the program hasn't received the credit it deserves as a broadcast milestone. Ann agrees.
"This is the first sitcom with a Latino family," she says. "Chico was Latino, the Man was not. Ricky Ricardo was Latino, his wife was not.
"This is an entire family of Latinos, and this is the first time in history that's been done… . This is groundbreaking, and yet everyone has just kind of ignored it."
"You know why?" adds Lopez. "They don't want to acknowledge we're important."
Comparing the Prinze and Lopez characters highlights the evolution of the Hispanic population, and of network television, says Lopez's manager, Ron De Blasio, who also managed Prinze.
Chico was a mechanic living in the Man's garage, smart but still subservient. Lopez is a successful factory foreman, living in a middle-class home. His ethnicity is secondary to the story, notes De Blasio, making the show simultaneously more representative of contemporary Hispanic families and more inclusive of non-Hispanics.
In other words, the show demonstrates that Hispanics are just like everybody else – except for their viewing habits. The program ranked No. 11 among Hispanic viewers this season, but only No. 88 among viewers overall.
Next year it moves to a new day and time (Tuesdays at 8:30 p.m.). Keeping to its real-life themes, the show will revisit the topic of kidney disease, which afflicted Lopez's long-lost father in a previous episode.
This time, the disease will hit Lopez's son on the show. The boy will go through what Lopez experienced as a child – the bed-wetting, the embarrassment, the ridicule rather than remedy from his family, which called him names and just flipped the mattress instead of taking him to the doctor.
There's also bound to be more bickering between Lopez and his stage wife, also cast as a Cuban American (Constance Marie).
"When you get a Type A Cuban woman together with a little bit of a machismo Mexican guy, there's going to be some fireworks there," says Ann, who frequently corrects her husband during the interview. "There's going to be a power struggle.
"Now, 12 years in, we've settled into a nice rhythm. So it's good."
Local journalism is essential.
Give directly to The Spokesman-Review's Northwest Passages community forums series -- which helps to offset the costs of several reporter and editor positions at the newspaper -- by using the easy options below. Gifts processed in this system are not tax deductible, but are predominately used to help meet the local financial requirements needed to receive national matching-grant funds.
Subscribe now to get breaking news alerts in your email inbox
Get breaking news delivered to your inbox as it happens.
---