News > Features
Summer tryouts
Mon., June 13, 2005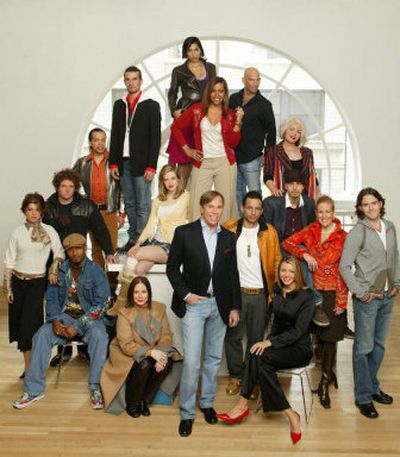 Summer jobs can be among the most memorable of your life. But the positions up for grabs on reality TV this season are way more interesting than clerk or cashier – and the tryouts far more grueling.
Here's a look at the summer jobs open right now on TV and what the candidates are going through to get them:
Fashion designer
"The Cut," CBS (Wednesdays, 8 p.m.)
Job requirements: Candidate must live in a Soho loft with 15 other people and prove to Tommy Hilfiger that he or she can be more than just a designer. Capability to be a trend-setter of tomorrow, ability to create a brand important. Willingness to engage in hanky-panky with competitors, especially when the camera is on, is usually considered a plus. Best candidate will be given the chance to come up with own collection.
Rock star
"Rock Star: INXS," CBS (premieres with a one-hour special July 11, 9 p.m., followed by a one-hour performance broadcast July 12, 10 p.m., and a half-hour results edition July 13, 9:30 p.m.)
Job requirements: Must be willing to live with 15 competitors in a Hollywood Hills home. Cameras will capture performers' relations and daily activities for the Monday episode each week. Must be ready to perform for the Tuesday episode each week. A Wednesday episode will be a results show like "American Idol." Last singer standing will become the lead singer of the rock group INXS, embark on a worldwide concert tour with the band and be part of the group's new album.
Boy toy
"Kept," VH1 (Thursdays, 9 p.m.)
Job requirements: Must be male, handsome, witty, charming, able to walk a fashion runway and not embarrass Jerry Hall, Mick Jagger's ex, in front of her friends. Should be good at gift-giving, swimming in cold water, sleeping on floors and other odd tasks required by Hall. Should be able to pass as "European gentleman." Best candidate will become constant escort for a year, sharing Hall's life of luxury, including a $100,000 stipend.
Heir/heiress
"I Want to Be a Hilton," NBC (June 21, 9 p.m.)
Job requirements: Good manners, knowledge of table settings and other social skills, as deemed appropriate by Kathy Hilton, Paris' mom. Familiarity with washing a car and eating a hamburger while wearing a bathing suit likely to be a plus. Best candidate receives a $200,000 trust fund.
Dancer (two openings)
"Dancing with the Stars," with Rachel Hunter, Trista Sutter, Evander Holyfield, soap star Kelly Monaco and former New Kid on the Block Joey McIntyre, Seinfeld's John O'Hurley, ABC (Wednesdays, 9 p.m.)
"So You Think You Can Dance," from the producers of "American Idol," Fox (July 20, 8 p.m.)
Job requirements: Must be able to do a variety of dance moves from the waltz to hip-hop. B- or C-list star status necessary for one job; no experience necessary for the other. Winning dancers walk home with a trophy and title of being No. 1.
Chef (three openings)
"Hell's Kitchen," with Gordon Ramsay, Fox (Mondays, 9 p.m.; winner gets to keep job in the kitchen.)
"The Next Food Network Star," Food Network (Sundays, 9 p.m.; winner gets a six-week show on the network.)
"Cooking Under Fire," PBS (Wednesdays, 7:30 p.m., resumes June 15 on KSPS-7 in Spokane; winner gets a chef position in one of Todd English's New York restaurants.)
Job requirements: Thick skin is absolutely necessary, culinary skills essential, outgoing personality a plus and ability to cook under pressure a must. Knowledge of everything from what a terrine is to ability to withstand constant berating by British import Ramsay a must.
Comedy writer
"Situation: Comedy," Bravo (July 26, 8 p.m.)
Job requirements: Must be able to write and sell a sitcom that can compete with 10,000 other scripts to become one of five chosen for a network pitch; and from there to become one of two to get a green light for a 15-minute production. Audiences will watch the process through casting, set design, rewrites, rehearsals, taping and post-production. In the end, viewers will vote for the sitcom they believe should get a shot for broadcast on TV. The winning writer will receive $25,000 and exclusive representation for one year with a major Hollywood talent agency to help launch a successful writing career in film or television.
Out of work
"Fire Me … Please!," CBS (Tuesdays, 9 p.m.)
Requirements: Must take a job, then drive co-workers and boss crazy in order to get fired as close to 3 p.m. as possible. Must exhibit the ability to be just annoying enough between 9 a.m. and 3 p.m. without breaking the law, letting slip that you're on a TV show or asking to be fired. Winner gets $25,000.
Local journalism is essential.
Give directly to The Spokesman-Review's Northwest Passages community forums series -- which helps to offset the costs of several reporter and editor positions at the newspaper -- by using the easy options below. Gifts processed in this system are not tax deductible, but are predominately used to help meet the local financial requirements needed to receive national matching-grant funds.
Subscribe now to get breaking news alerts in your email inbox
Get breaking news delivered to your inbox as it happens.
---