Sports
Lewis likes team's D
Tue., June 14, 2005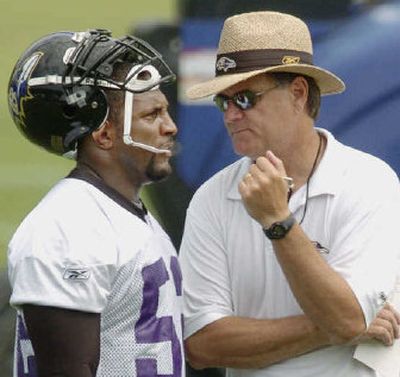 No one is happier to be a part of the Baltimore Ravens' new 46 defense than middle linebacker Ray Lewis, who can't wait to again experience the freedom of hunting down running backs without the hassle of shaking off bothersome offensive linemen.
The scheme was originally devised by Buddy Ryan for the 1986 Chicago Bears, who won a Super Bowl behind the standout play of middle linebacker Mike Singletary. Ryan is the father of Ravens first-year defensive coordinator Rex Ryan, who has installed the high-pressure alignment in part to allow Lewis to attack the football without having to take on the kind of isolation blocks that at times limited his effectiveness last season.
"That's like telling your premier running back that you're going to make sure he's not going to be touched in a football game," Lewis said Monday after the opening session of a four-day mandatory minicamp. "To come into camp and have my defensive coordinator tell me I'm not going to be touched, I'm like a little kid all over again."
Playing last season in the 3-4 alignment of defensive coordinator Mike Nolan, who left to become head coach of the San Francisco 49ers, Lewis led the Ravens with 200 tackles and was selected to play in the Pro Bowl for a seventh time. But his effectiveness was dependent upon his ability to battle through the isolation blocks of opposing linemen.
That shouldn't be a problem this season.
"We're excited about getting the bull's-eye off Ray Lewis," Rex Ryan said. "He doesn't need to be a nose guard this year. We should be in great shape against the running game. You don't have a blocker for Ray."
Head coach Brian Billick said, "It fits Ray and his expertise in the middle. I can't speak for Ray, but I would think he's very excited about the potential this holds."
Now in his 10th season, Lewis made a name for himself early in his career by tracking down running backs and dropping them with a ferocious tackle. If all goes as planned, he will return to that role in 2005.
"That's what I do. I don't try to bash people and try to get to the football. I get to the running back," Lewis said. "No running back wants to face me in this league."
The Ravens' defense last year restricted Lewis from running free, but he accepted his role and performed as best he could under the circumstances.
"It's tough, because you have to humble yourself and take coaching and do whatever they tell you to do," Lewis said. "Whether it takes away from your game or helps it, you just deal with it. That's what I did. It didn't alter how I prepared. It didn't alter my passion for the game. But at the same time, it alters how dominant I can be."
It was a different kind of offseason for Lewis, who decided to taper his relentless workouts in favor of letting his mind and body heal following a disappointing 9-7 season that ended without a trip to the playoffs.
"Usually I'm right back at it in three weeks, but this year I took two months off," he said. "I got away from being involved in anything that had to do with football. Instead, I dealt with my family and kids."
There has been speculation that Lewis would be a holdout at camp because he wants to re-negotiate his contract, but he attended a voluntary session last week and insisted that money matters are not weighing on his mind.
"Now is not the time to speak about a contract," he said.
Running back Jamal Lewis, who is serving time at a halfway house in Atlanta, and Terrell Suggs, who is being tried in Arizona on assault charges, were among those missing at Monday's session. Defensive back Deion Sanders was excused to take care of a personal issue.
Bruschi is patient with future career
Tedy Bruschi flashed his three Super Bowl rings, an honor achieved by few NFL players.
That doesn't help him accept that his health may keep him from trying for a fourth.
"Football to me, it's something I love and it's something I'll always want to do," the Patriots linebacker said, "but I've got to think about my wife and my sons and just make sure things are right."
Bruschi suffered a mild stroke last February, 10 days after New England beat the Philadelphia Eagles 24-21 for its third NFL championship in four years. He has attended team meetings and worked out in the Patriots' weight room, but didn't practice during the three-day minicamp that ended Saturday.
On May 21, he said that one of his options was sitting out the 2005 season and returning in 2006. He shed no more light on that Sunday, as he stood in the huge backyard of team owner Robert Kraft's home after a private dinner and ceremony during which players received their Super Bowl rings.
"It's been a tough year so far," Bruschi said three days after his 32nd birthday. "It's been a roller coaster (with) my son being born, winning the Super Bowl, going through what I've gone through, having this stroke and so it's been an emotional roller coaster.
"Coming here and then celebrating this tonight and celebrating the accomplishments of last year really makes me feel special."
Bruschi spoke publicly for the second time about the stroke and his uncertain future. Coach Bill Belichick has declined to discuss that, referring all questions to Bruschi.
The linebacker played a major role in the team's success and is grateful for its patience with him.
Winslow to have surgery on right knee
Cleveland Browns tight end Kellen Winslow Jr. will undergo surgery today in Berea, Ohio, on the right knee he injured while attempting stunts on his high-powered motorcycle last month.
"Hopefully, he'll have a good repair," Browns coach Romeo Crennel said, "and we'll get him back on the field at some point, whenever that is."
Buccaneers release QB Smith
Akili Smith was released by the Tampa Bay Buccaneers, the latest NFL team to part ways with the quarterback who was the third overall pick in the 1999 NFL draft.
Smith was only with the Buccaneers after the team agreed to sign him so he could participate with an NFL Europe team, the Frankfurt Galaxy, this summer. The Galaxy's season ended on June 4, and Smith returned to Tampa for last week's minicamp.
Local journalism is essential.
Give directly to The Spokesman-Review's Northwest Passages community forums series -- which helps to offset the costs of several reporter and editor positions at the newspaper -- by using the easy options below. Gifts processed in this system are not tax deductible, but are predominately used to help meet the local financial requirements needed to receive national matching-grant funds.
Subscribe to the sports newsletter
Get the day's top sports headlines and breaking news delivered to your inbox by subscribing here.
---