Sports
Off to the races for 2005 Indians
Tue., June 14, 2005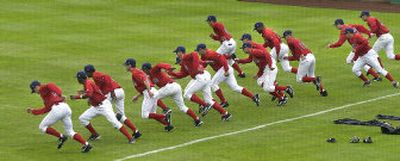 The typical nervousness and anxiety showed up for the Spokane Indians' first day of practice at Avista Stadium
Atypically, a large portion of that came from the Indians' new manager, Greg Riddoch.
"I didn't even sleep last night," admitted Riddoch, who will be managing for the first time since 1992, when he skippered the San Diego Padres. "You know, it's been 14 years since I've managed, so the old juices start flowing and the excitement of playing in a beautiful ballpark and kids who are learning the game for the first time."
He doesn't have much time to adjust back to managing, as the Indians open their season a week from today in Eugene. Spokane's home opener is June 26 against Everett.
Riddoch is familiar with the team and the stadium because he worked as the minor-league defensive coordinator and as a sort of "managing mentor" in the Rangers' organization.
He doesn't sugarcoat the fact that there isn't a lot he can do in a week to get this group in game shape, especially since some of them were stepping on the field for the first time as members of the Texas Rangers organization after being drafted last week.
"You just piece it together for a couple weeks as they arrive," Riddoch said. "You do lots of work as you try to orientate players as they come in. That's why you're probably not going to get the team you're going to see until six weeks before the end of the season. The first six weeks will be a constant transition."
Spokane's first taste of the minor-league transition came early, as left-handed pitcher Ivan Ramirez showed up in Spokane yesterday, only to find out he was getting promoted to the long-season single-A Bakersfield Blaze.
For those who will stick around Spokane, it was nice just to get in and get the season going.
"It's like during the draft, worrying about where I'm going to go, how much money and all that kind of stuff, and now that that's over with, you can put it all behind you and just go out and play the game," said outfielder Steve Murphy, picked in the 14th round this year out of Kansas State, and the highest draft pick this year to report to Spokane so far.
"You're getting paid to play a game that everyone out here loves and you can't ask for anything more."
The players also appreciate the coaching they'll get from Riddoch, who managed the Padres from 1990-92, and 11-year MLB veteran and new hitting coach Mark Whiten, who threw batting practice. The Indians' pitching coach, Glenn Abbott, won 62 major league games during an 11-year career.
"The staff, the history they've got in Major League Baseball, you really can't beat it at this level," Murphy said. "To get that kind of caliber coaching, it's incredible."
"It's a huge advantage," said right-handed pitcher Tom Van Buskirk, a 40th-round pick this year out of Santa Clara. "Their main goal is to get us prepared and to get us ready to play as long as we want to play, so hopefully with the experience factor all of us can grow and go as far as we can possibly go."
At first glance, Riddoch sees the team as being a little on the young side, but of course that may be subject to change.
"This is a college-age league, and we've got a kid at shortstop who's 19 and our third baseman's only in his second year, he's 19," Riddoch said. "They drafted several high school kids and some college kids who are not signed yet. The true makeup of our team, you won't see until maybe July 15. We have one guy signed within the top 15 draft picks, I think, so what we start with we will be changing constantly."
But, Riddoch understands, they've got to win despite all the changing and uncertainty.
"We're just going to stay patient and be positive," Riddoch said. "If you can stay around .500 until July, until you have your team together and you can do some things, like we've done the last two years, things come to fruition a little bit."
Local journalism is essential.
Give directly to The Spokesman-Review's Northwest Passages community forums series -- which helps to offset the costs of several reporter and editor positions at the newspaper -- by using the easy options below. Gifts processed in this system are not tax deductible, but are predominately used to help meet the local financial requirements needed to receive national matching-grant funds.
Subscribe to the sports newsletter
Get the day's top sports headlines and breaking news delivered to your inbox by subscribing here.
---