Sports
Rose hot commodity
Tue., June 14, 2005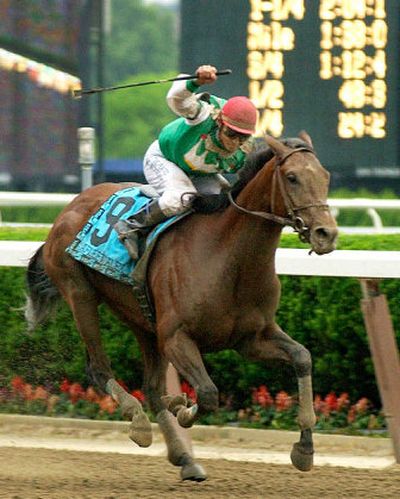 STANTON, Del. – Jeremy Rose went from unknown to unwanted to simply unbelievable.
The spunky jockey bounced back after briefly losing his job aboard Afleet Alex to show as much resiliency during the Triple Crown races as the horse that dominated the Belmont.
Wins in the Preakness and Belmont Stakes and a near-miss in the Kentucky Derby could create new opportunities for the Bellefonte, Pa., native who lives not far from his home track of Delaware Park. But Rose's career bloomed in Delaware, where he still has close friends at the park and considers it home.
While Rose insisted Monday that he will stay in Delaware, he knows he may get the opportunity to pursue other, more lucrative, offers.
"It depends what kind of offers I'm going to get, but, yeah, I'm going to stay here," he said. "But if somebody offers, and it's a good offer, to ride for a good winning outfit, then you never now."
Rose, though, isn't thinking too far into the future. He's still planning to win a few more races aboard Afleet Alex, who raced to an overpowering seven-length victory in Saturday's Belmont.
Trainer Tim Ritchey said over the weekend that Afleet Alex, a winner in eight of 12 starts for the Cash Is King stable, most likely would be shipped to Monmouth Park near the Jersey Shore to prepare for the $1 million Haskell on Aug. 7. Remaining at Belmont or moving upstate to Saratoga also are possibilities.
"Wherever Alex goes, obviously, hopefully, I'm going to ride him," Rose said.
That guarantee wasn't always there.
Rose was aboard Afleet Alex for the horse's first six races, until his Philadelphia owners decided a tested jockey should take the saddle for the Triple Crown trail.
John Velazquez was brought in, but he finished last in the Rebel Stakes in March when Afleet Alex was bothered by a lung infection. When Velazquez committed to riding Bandini in the Blue Grass on the same day as the Arkansas Derby, Rose was back on Afleet Alex.
Rose then earned some needed vindication in the Preakness in courageous fashion, holding on to the colt when it was inches from crumpling to the dirt after a frightening collision with Scrappy T, and somehow turning the scare into a remarkable victory.
He showed the poise of the veteran that his owners wanted all along.
Ritchey also said Afleet Alex definitely would run next year as a 4-year-old, which was good news for Rose.
"I don't see any slowing down whatsoever," Rose said. "He's maybe even getting stronger. Four years old shouldn't be a problem, and if he's still hitting the ground good, and still wants to do it, I don't see that being a problem."
Winning the last two legs of the Triple Crown might be enough to satisfy most jockeys, but Rose said it's only made him think more about how close the horse was to becoming racing's first Triple Crown champion since Affirmed in 1978.
"I think about what could have been, but it's one of those things that's in the past," Rose said. "If there had to be a way of not getting the Triple Crown, it'd be the way we did it. At least we won the last two instead of having all the hype up for the third one and coming up short."
Then Rose paused and smiled at a group of reporters near the Delaware Park paddocks.
"But, it would have been nice to have won it."
Local journalism is essential.
Give directly to The Spokesman-Review's Northwest Passages community forums series -- which helps to offset the costs of several reporter and editor positions at the newspaper -- by using the easy options below. Gifts processed in this system are not tax deductible, but are predominately used to help meet the local financial requirements needed to receive national matching-grant funds.
Subscribe to the sports newsletter
Get the day's top sports headlines and breaking news delivered to your inbox by subscribing here.
---