Sports
Seattle cools off Phils
Wed., June 15, 2005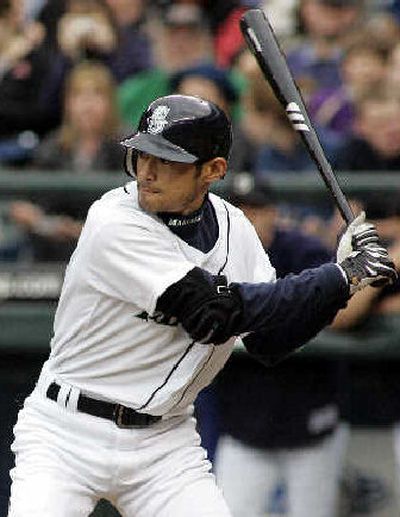 SEATTLE – Gil Meche picked up his pace and shut down the Philadelphia Phillies.
Keeping a quick tempo on the mound, Meche allowed just one run and three hits in eight strong innings as the Seattle Mariners snapped the Phillies' six-game winning streak with a 3-1 victory Tuesday night.
Meche (6-4) struck out four and allowed just two batters past first base in picking up his first win in his last four starts.
"My better games I keep a pretty quick tempo," Meche said. "Today, I felt every pitch Pat (Borders) called was a good pitch."
While Meche was stellar on the mound, Ichiro Suzuki reached another milestone at the plate.
Suzuki got his 1,000th career hit in the first inning, becoming just the third player since 1900 to reach the mark in less than 700 games.
Suzuki reached it in 696 games after lining a single off the wall in right field in the bottom of the first. Chuck Klein reached the mark in 1933 after 683 games, and Lloyd Waner reached it in 1932 in 686 games.
"Rather than thinking about the number 1,000, I was more concerned about the way I have been performing," Suzuki said through his translator. Suzuki was 1 for 4 on Tuesday after going 5 for 28 on Seattle's recent road trip.
Dave Hansen, filling in for Adrian Beltre at third, homered in the seventh and drove in two runs. Beltre was held out after straining his left hamstring Sunday in Washington. He is listed as day to day.
Jon Lieber (8-5) allowed 10 hits in his 22nd career complete game, but lost for the first time since May 23 at Florida.
Philadelphia opened a six-game road trip after going 12-1 on its homestand. The Phillies were held to fewer than two runs for the first time since a 7-0 loss at Baltimore on May 21.
"You can't expect the guys to go out and score eight to 10 runs every game," Lieber said. "Just knowing American League teams from last year, they're going to be aggressive and they were."
Meche found a rhythm with Borders, and took advantage of Safeco Field's vast outfield, getting 12 of his 24 outs on fly balls.
Kenny Lofton reached third after walking in the first, and Bobby Abreu scored from second on Jim Thome's RBI single in the fourth. Thome's single was Philadelphia's first hit.
"His curveball is right up there with the best I've seen," Thome said. "What happened is that it made his fastball … a lot quicker."
Tomas Perez's two-out single in the fifth and Jimmy Rollins' two-out single in the eighth accounted for the other hits off Meche. Rollins' hit broke a string of nine straight retired by Meche.
"We know he's got it, we just have to find ways to get it more consistently out of him," Seattle manager Mike Hargrove said of Meche.
Eddie Guardado earned his 18th save in 19 chances, and has not been scored upon since May 4.
Seattle gave Meche all the run support he needed in the second, scoring twice. Jeremy Reed led off with a single and moved to third on Bret Boone's bloop double to right. Hansen hit a slow dribbler up the first-base line that allowed Reed to score. Rookie Mike Morse followed with a sacrifice fly to right, scoring Boone. It was Morse's first RBI in the majors.
Hansen's homer in the seventh came after he worked the count to 3-2 against Lieber.
"It was nice to get deep into a count," Hansen said. "I was fortunate to get something over the plate."
Pat Burrell was 0 for 4, ending an 11-game hitting streak that was the longest in the National League.
Seattle passed the 1 million mark in fan attendance in its 30th home game, the third American League team to pass 1 million in attendance.
Local journalism is essential.
Give directly to The Spokesman-Review's Northwest Passages community forums series -- which helps to offset the costs of several reporter and editor positions at the newspaper -- by using the easy options below. Gifts processed in this system are not tax deductible, but are predominately used to help meet the local financial requirements needed to receive national matching-grant funds.
Subscribe to the sports newsletter
Get the day's top sports headlines and breaking news delivered to your inbox by subscribing here.
---