News > Idaho
Classics, cruising and crashes
Thu., June 16, 2005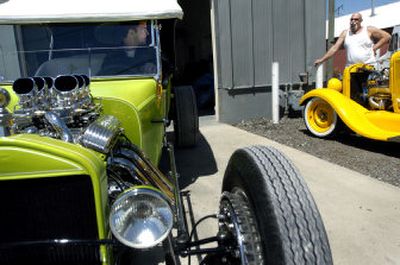 They didn't make Tin Lizzies like this 80 years ago.
Russ Freund's 1924 Ford is a translucent lime green, a perfect foil for chrome pipes and white vinyl upholstery. A buggy top gives the rig a vintage look, but underneath, it's pure hot rod.
"It's got a really loud exhaust system," said Freund, of Otis Orchards. And – "it goes way faster than the (original) 45 mph."
The Ford will debut this weekend at the 15th annual Car d'Lane. The event kicks off at 6 p.m. Friday with 1,400 classic cars cruising Coeur d'Alene's Sherman and Lakeside avenues. On Saturday, a car show and street dance will take place downtown, with an automotive swap meet at the Kootenai County Fairgrounds. The weekend's events wrap up Sunday with a demolition derby.
"You can do anything from show a car, to drive a car, to buy a car … to watch them wreck cars at the demolition derby," said Mark Porath, Car d'Lane's chairman.
Up to 40,000 car lovers visit Coeur d'Alene for the annual show, which features vehicles from 1978 and earlier. Last year, the event was filmed for cable TV's "My Classic Car Show," giving Car d'Lane national exposure. The publicity brought in a number of new entrants, including some from the East Coast.
"We're getting calls from all over the U.S.," said Terry Cooper, manager of the Coeur d'Alene Downtown Association.
Many downtown hotels will fill up for the weekend. Car d'Lane is the busiest weekend of the year for Cricket's Steakhouse and Oyster Bar, where Porath is the general manager. He expects to serve about 5,000 customers at the restaurant, a beer garden and outdoor food venues.
Downtown merchants will dress up their windows with themes from the 1950s to 1970s. Speakers will broadcast period music, including early rock and doo-wop.
Car d'Lane is all about nostalgia, said Larry Sherman, past president of North Idaho Classic Car Club.
"For a lot of guys, Baby Boomers like myself, the car has been center stage," Sherman said. "A lot of them buy the car that they cruised in, or the one they had when they met their wife, or the one they wished they had in high school."
At 27, Freund isn't old enough to remember an original 1924 Ford. He does, however, come from a family where vintage cars are an all-consuming hobby. He jokes that his parents – Claude and Susan Freund – raised him in the back of a hot rod.
At one point, Claude Freund was interested in Model T's. Russ absorbed his dad's interest.
"I'm always drawn to cars that nobody else does," Russ Freund said. "There are lots of (two-seater) T-bucket Fords, but no touring cars."
The four seats in the Ford touring model were also a practical consideration. He's about to become a family man through an engagement to a woman with two young daughters. "They love to ride in it," he said.
Freund spent 2½ years and thousands of dollars restoring the Ford, which sold for $600 to $900 back in its day. The originals were built like stage coaches – high off the ground with running boards, he said. In Freund's hands, the Ford became a long-slung vehicle, with speed, hand-painted pin stripes, and a rumbling exhaust system.
The "Mantis" takes its name and color from a praying mantis that showed up in Freund's shop.
"It crawled in the carburetor, and hung out there for three days," he said.
Local journalism is essential.
Give directly to The Spokesman-Review's Northwest Passages community forums series -- which helps to offset the costs of several reporter and editor positions at the newspaper -- by using the easy options below. Gifts processed in this system are not tax deductible, but are predominately used to help meet the local financial requirements needed to receive national matching-grant funds.
Subscribe now to get breaking news alerts in your email inbox
Get breaking news delivered to your inbox as it happens.
---