News > Business
Unions form new coalition
Thu., June 16, 2005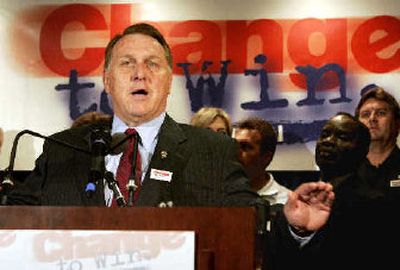 WASHINGTON — Unhappy with the shape of the labor movement under the existing AFL-CIO leadership, the heads of five of the federation's largest affiliates said Wednesday they formed a separate coalition to bolster membership rolls.
The Change to Win Coalition is composed of unions that have made no secret of their disappointment with AFL-CIO President John Sweeney, who once was head of the Service Employees International Union, one of three unions threatening to bolt the venerable federation. The others are the United Food and Commercial Workers Union and Unite Here.
The unions say the Washington, D.C.-based federation, the parent organization for dozens of union affiliates, has wasted too much time and money on politics and not enough to combat a steady decline in union membership since the heyday of labor leaders like George Meany, Walter Reuther and John L. Lewis in the mid-20th century.
"We have seen the decline of organized labor through both Republican and Democratic administrations," said Teamsters President James P. Hoffa. "We cannot afford to wait for a ripe political climate to rebuild our movement. A political sea change in America will not take place until we rebuild our movement."
The new alliance, which also includes the Laborers' International Union, comes just weeks before the AFL-CIO's July convention, in which Sweeney is expected to win another four-year term as president.
Calls seeking comment from the federation were not immediately returned.
SEIU president Andrew Stern said the AFL-CIO does not have an effective strategy to swell union ranks. The new coalition, he said, would concentrate on boosting membership in certain, focused sectors such as manufacturing, health care and transportation.
At the height of its power in the mid-20th century, the organized labor movement in the United States had about a third of the workers across the country as members. That has plummeted to about 12 percent today.
SEIU is the nation's largest union with 1.8 million members. The five unions in the coalition represent 5 million workers.
Local journalism is essential.
Give directly to The Spokesman-Review's Northwest Passages community forums series -- which helps to offset the costs of several reporter and editor positions at the newspaper -- by using the easy options below. Gifts processed in this system are not tax deductible, but are predominately used to help meet the local financial requirements needed to receive national matching-grant funds.
Subscribe now to get breaking news alerts in your email inbox
Get breaking news delivered to your inbox as it happens.
---