Sports
Briefly
Sun., June 19, 2005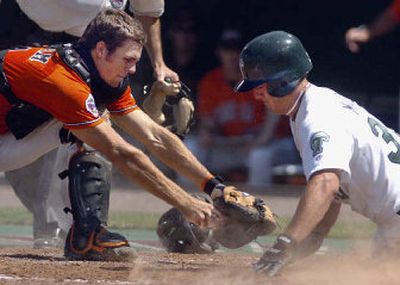 Scott Madden made sure the top-seeded Green Wave got a first-round win in the College World Series on Saturday.
Madden delivered a two-out, two-run pinch-hit double in the seventh inning, sending Tulane to a 3-1 victory over Oregon State and spoiling the Beavers' first CWS appearance since 1952. Madden is the only player left from Tulane's last trip to Omaha, Neb., in 2001.
Tulane is attempting to become the first No. 1 national seed to win the CWS since Miami in 1999, when the NCAA expanded the tournament field to 64 teams.
Shut out for six innings by Jonah Nickerson and trailing 1-0, Tulane broke through for its 56th victory.
Winning pitcher Micah Owings (12-4) started the rally with a leadoff single in the seventh.
The Beavers then nearly turned a double play on Mark Hamilton's bunt to third, getting a hard-sliding Owings at second, but the relay to first wasn't in time.
After a fly out, Brian Bogusevic singled to put runners at first and second.
Madden then drove a 2-2 pitch to right-center to put the Green Wave ahead.
Nickerson (9-2) gave up seven hits and two runs in seven innings.
Andy Jenkins had an RBI grounder in the first for the Beavers (46-11).
OSU will attempt to avoid elimination on Monday afternoon against Baylor (44-23), which lost to Texas 5-1 in the day's other game.
Texas (52-16) snapped a four-game losing streak to Big 12 rival Baylor, getting seven strong innings from pitcher Adrian Alaniz and a two-run homer by Seth Johnston.
The Longhorns advance to a Monday night game against Tulane.
Baseball
National prep streak ended
Homer High School had its national prep winning streak stopped at 75 games in a 7-6 loss to Saginaw Nouvel in the state Division 3 final at Battle Creek, Mich.
Saginaw Nouvel (30-13) scored its seven runs in the fourth inning. The Trojans (37-1) won the state championship last year with a 38-0 record.
Soccer
Americans use heads-up play
Freddy Adu started the play that led to the winning goal, helping the United States to a 1-0 win over Egypt and first place in Group D of the World Youth Championship at Enschede, Netherlands.
The 16-year-old Adu, who entered the game as a second-half substitute in the 55th minute, cut free in the penalty box and saw his deflected shot go straight toward teammate Jacob Peterson, who easily scored with a header.
The United States, which has not conceded a goal in the tournament, won the group with seven points. In the next round, the U.S. under-20 team will play a third-place finisher from one of the other groups.
Argentina, which beat Germany 1-0 in the other group match, took second place with six points, while Germany finished third with four. The Germans joined the Americans and Argentines in advancing to the next round.
•Germany and Argentina advanced to the semifinals of the Confederations Cup at Frankfurt, Germany.
In the eight-team warmup for next year's World Cup finals, Germany defeated Tunisia 3-0 and Argentina topped Australia 4-2.
Football
Chiefs take shot on Mitchell
The Kansas City Chiefs signed free-agent wide receiver Freddie Mitchell, a month after the Philadelphia Eagles released the troublesome player.
Mitchell was at Chiefs minicamp in street clothes but will begin practicing today, coach Dick Vermeil said.
Mitchell, who played in 63 games in four seasons at Philadelphia, fell into disfavor with Eagles coaches and teammates after making a series of controversial and inflammatory statements.
The move comes a day after free-agent receiver Az-Zahir Hakim changed his mind and decided against signing with the Chiefs.
Horse racing
Saint Liam rewards Frankel
Trainer Bobby Frankel won the Stephen Foster Handicap with a horse he barely knows.
Saint Liam, who just arrived in Frankel's barn this week, passed Presidentialaffair on the final turn and pulled away for a 2 3/4 -length win in the Grade 1, $828,000 race for older horses at Churchill Downs in Louisville, Ky.
The 5-year-old horse's previous trainer, Richard Dutrow, is serving a 60-day suspension in New York for medications violations.
Boxing
Tarver wins light heavy title
Antonio Tarver won the IBO light heavyweight title at Memphis, Tenn., unanimously outpointing Glen Johnson to avenge a split decision six months ago. Tarver had winning scores of 116-112 on two cards and 115-113 on the third.
Local journalism is essential.
Give directly to The Spokesman-Review's Northwest Passages community forums series -- which helps to offset the costs of several reporter and editor positions at the newspaper -- by using the easy options below. Gifts processed in this system are not tax deductible, but are predominately used to help meet the local financial requirements needed to receive national matching-grant funds.
Subscribe to the sports newsletter
Get the day's top sports headlines and breaking news delivered to your inbox by subscribing here.
---