News > Spokane
Making kids' wishes come true
Sun., June 19, 2005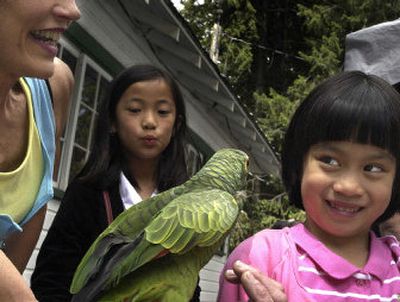 The 5-year-old Spokane Valley girl with mitochondrial myopathy smiled brightly from the photo at Florida's Walt Disney World. The red lipstick that marked her forehead was evidence that her wish to meet Snow White had come true.
Wishing Star Foundation, along with help from a group of Harley-Davidson motorcyclists, raised the money last year to help grant MaryElizabeth Smith's wish. The main symptoms of her disease are muscle weakness and wasting, and exercise intolerance.
The girl's mother, Cindi Smith, said the experience of seeing her daughter's wish come true changed the family's life forever.
"Before that, we remembered when she was dying," Smith said. "Now you can look at her and remember when she was one of the happiest kids on earth."
Wishing Star Foundation, a volunteer-driven organization, grants 60 to 70 wishes a year to children who have been diagnosed with life-threatening diseases. The nonprofit organization, which serves Idaho and Central and Eastern Washington, is close to granting its 1,000th wish since it was founded in 1983. The average wish costs about $3,300.
"The hope that the gift of a wish offers is like nothing else," Jodi Herman, developmental coordinator for Wishing Star, said Saturday during a fund-raiser for the organization at Granite Point Park in Loon Lake.
MaryElizabeth has been in the hospital for the past five weeks and was unable to attend the Wishing Star's fund-raiser. Her mother, who's expecting her eighth child, brought five of her seven children to take part in the festivities.
Herman said helping children get their wish is fulfilling, and people in the community often want to offer their assistance. "There are so many that are advocates for kids," she said. "They come to us wanting to do something."
The Harley-Davidson motorcyclists' offer to help came through Lydig Construction in Spokane Valley and Shumate Harley-Davidson of Spokane.
"MaryElizabeth stole their hearts," Herman said.
"And they stole hers," the girl's mother said. "Her room is decorated half in Harley-Davidson and half in Snow White."
The motorcyclists will do a ride July 9 to benefit MaryElizabeth's sister, Kaycie.
The 14-year-old, who has struggled with mitochondrial myopathy her whole life, said it often makes her feel tired. She doesn't participate in physical education classes at Gonzaga Preparatory School where she attends high school.
Kaycie's wish is to go on a shopping spree in New York with Oprah Winfrey.
"We're still working on Oprah," Herman said.
Herman said the wishes that children ask for cover a broad spectrum. Brett, an 18-year-old Chewelah boy who has a type of cancer called Hodgkin's lymphoma, wants to play golf at Pebble Beach. His wish is also in the planning stages. Another boy, who recently died, was granted his desire to go on a National Geographic expedition.
"We've also granted wishes to swim with dolphins," said Paula Nordgaarden, Wishing Star's executive director.
"It's whatever comes from the child's heart," added Herman.
Kaycie said she has enjoyed being part of Wishing Star's family. "I think they care a lot and want to help people," the teenager said.
Smith said she can't thank Wishing Star enough. "We owe them everything."
Local journalism is essential.
Give directly to The Spokesman-Review's Northwest Passages community forums series -- which helps to offset the costs of several reporter and editor positions at the newspaper -- by using the easy options below. Gifts processed in this system are not tax deductible, but are predominately used to help meet the local financial requirements needed to receive national matching-grant funds.
Subscribe now to get breaking news alerts in your email inbox
Get breaking news delivered to your inbox as it happens.
---