Sports
The long journey back
Sun., June 19, 2005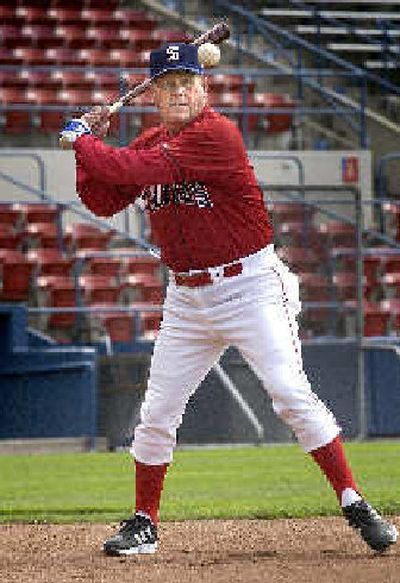 When Greg Riddoch was named manager of the San Diego Padres in the middle of the 1990 season, the club lost 11 of its next 12 games. That's only the half of it. Riddoch himself lost 22 pounds, on a diet of pressure and fear.
So he called a team meeting, gathering together the increasingly dysfunctional Padres, preseason favorites in the National League West but at that point 16 games under .500. The previous season's Cy Young winner had been allowed to escape as a free agent. Joe Carter, the slugger acquired in the requisite blockbuster trade and signed to big money, was on his way to hitting .232. Lethal sourpuss Jack Clark publicly sniped at franchise star Tony Gwynn, and eventually most everyone else. Garry Templeton was doing another serial stew.
A month before, the team had been sold to a television producer and a dozen pals infected with predictable Hollywood hubris. Jack McKeon, doing double duty as field and general manager, skedaddled back to the front office at the All-Star break, naming in his place a 45-year-old rookie almost a decade removed from his last managing job – and that in the Northwest League, which is as close to Legion ball as it is to the bigs.
And the rook promptly lost 11 games and 22 pounds.
That day in the clubhouse, Riddoch stood before his players and unbuckled his uniform pants, which with no effort at all fell to his ankles.
"What," he asked them, "have I got myself into here?"
Having bared his behind – well, nearly – he then bared his soul, admitting he was "scared to death." Then he went on to make all the corny-but-true points central to any clubhouse sermon: It's a team game. We need to join hands and dig our toes in the sand. Everyone – players, coaches, manager – is responsible for doing everything possible to be successful that night, every night.
The upshot is, the Padres won 37 of their last 70 games. Not a pennant, but progress.
Now, it could have been the sermon, but probably not. It could have been baseball's teeter-totter law of averages. Or it could have been the trousers bunched up at Greg Riddoch's feet.
Maybe even the petulant Padres had enough compassion to not want the guy to waste away completely.
•
Greg Riddoch shuffles through the snug clubhouse of the Spokane Indians, pants in place, reading glasses dangling from a chain around his neck, a manager again. Next month, he will be 60 years old, a milestone he can mull on a bus ride to Everett and celebrate with a Sunday afternoon game against the AquaSox.
Fear? Well, early in minicamp, he was afraid his only catcher on the roster would wear out just from having to warm up the pitching staff by himself.
Pressure? Only when he hears the voice of his 6-year-old grandson Avery calling long distance to ask, "Papa, when are you going to come home and pitch?"
Riddoch is as far away from major league baseball – further, really – than when he was playing shortstop and hitting a buck-something in the Florida State League in 1967. Even then, there was possibility.
Now there is only purpose.
"It's a wonderful thing, to have 38 years of experience and be able to share it with young kids just starting out," Riddoch said. "Like I tell them – there's nothing they'll ever do here than I haven't walked into or done myself. Not that I was very good at anything, but at least I know the sound of the bullets in the trench.
"These are still my passions – teaching No. 1, and baseball No. 2."
No. 3 must be eerie coincidence. The Indians open their season Tuesday in Eugene, where Riddoch managed for six seasons between 1975 and 1981, winning two NWL championships. His sons, Rory and Raleigh, served as batboy and ballboy there; this summer, he hopes Avery can join him in Spokane for at least a week.
"There's a lot of déjÀ vu walking back into this," he said. "It's like you come full circle."
Well, a circle with some lumps and dimples. Riddoch didn't make a perfect arc from the Northwest League to the Padres and back around. When his summer job was minor league manager, his vocation was high school teacher (psychology and social studies) in his hometown of Greeley, Colo. – he spent 13 years in the school system there. He was once on the fast track to becoming general manager of the Cincinnati Reds until Marge Schott happened. He still runs his own sports academy, though it is scaled back considerably from the overly ambitious 30,000-square foot operation that ended up losing him a couple of thousand dollars. He returned to the big leagues as a coach with the Tampa Bay Devil Rays in their expansion years, went back to the minors to run the Milwaukee Brewers' farm system, and eventually bounced to the Texas Rangers organization, to which Spokane belongs.
He was even manager of the Indians for a couple of months in 1986.
He had taken a job with the Padres organization that year to be the national cross-checker for the scouting department and the field boss in Spokane, then a San Diego affiliate. He came to town for the sports banquet in February and wound up downtown with the entire Brett clan which, of course, owns the team.
"We went down to the Onion – George and John and Kemer and Bobby and myself – and we wound up closing the place," Riddoch recalled. "Stories were flying left and right and suddenly we looked up and no one else was there."
But the day before spring training, Dick Williams quit as manager of the Padres and in the organizational shuffle, Riddoch became the "farm director not in the office." That had him in Spokane for the first 16 days of the season, eyeballing the new talent with manager Rob Picciolo. It also took him to Las Vegas and allowed him to develop a relationship with Triple-A manager Larry Bowa, who when he was elevated to manager of the Padres at the end of the season invited Riddoch to be on his coaching staff – Riddoch's entrée to the big leagues.
•
Managing at all was something of an accident.
Riddoch had been a college All-American at the University of Northern Colorado – he led the NCAA in 1967 with 17 home runs in just 26 games. But he could never find that stroke in five seasons in the Reds chain and went back to Greeley to teach. It was three years later that the organization lured him back to short-season ball – the draw being a $1,000-a-month salary "which was like hitting the lottery for a schoolteacher making $6,700 a year," he said.
That's why it confounded writers at his introductory press conference in San Diego who assumed managing in the big leagues had been Riddoch's lifetime grail.
"It was a summer job back then," he insisted. "I had no ambitions."
Riddoch also knew that he'd entered the San Diego manager's office through the back door and, once the new owners fired McKeon as general manager at the end of the 1990 season and replaced him with Joe McIlvaine, that he'd eventually leave it the same way, even though in his 21/2 years on the job he would finish on the sunny side of .500
"But that has nothing to do with it," Riddoch said. "It has to do with who they want, who's their guy. I hadn't been a major league player. I wasn't in their inner circle."
The 200 victories he collected came the tough way. The Padres were a fractious lot, and several didn't hesitate to scorch their vulnerable manager. San Diego was a two-newspaper town then, too, and Riddoch felt that helped stir the pot, as well.
He remembered one game against Cincinnati when he'd summoned rookie reliever Jeremy Hernandez and ordered him to walk the first batter on four pitches, the better to set up his bullpen against left-handed pinch-hitter Jeff Branson, who Riddoch knew would be inserted into a tight game. When Branson was announced, Riddoch returned to take out Hernandez as planned.
"I was thinking it would be funny to say to him, 'If you could throw strikes, I'd leave you in,' but I also knew he wasn't going to get the joke," Riddoch said. "So when I get to the mound I've got this grin on my face, from the joke I wasn't going to play. He sees it, but he doesn't know what I'm smiling about so he smiles back and I bring in Rich Rodriguez.
"The next day's headline in the San Diego Union? 'Rookie laughs in Riddoch's face.' "
When McIlvaine pulled the plug with 12 games left in the 1992 season, Riddoch's public front was that he'd been blessed with a rare opportunity, had worked with great people in a great city and had no regrets – and it was sincere. But he went back to Greeley a bit scarred, too.
"My mind couldn't put it together completely," he confessed. "It was hard to go out in public, too – people in Greeley didn't know what to say. I was their guy and I'd been fired. I kind of went into a shell for a couple of weeks. Then my wife, Linda, came to me one day and asked if I was going up to the university to watch my son (Raleigh) play – 'or are you going to stay in your self-pity room?'
"I'm sitting in the stands and he comes into the on-deck circle. I see my name on the back of his uniform and it hits me right between the eyes: This is the first regular game I'd ever seen him play. I'd always been gone. Right then I knew – I'm done with the major leagues."
•
In fact, he wasn't. Six years later, one of his old Eugene pitchers, Larry Rothschild, became the first manager of the Devil Rays and persuaded Riddoch to be on his staff. But the fact is, Riddoch is a soul best suited for the unsung work at the bottom of baseball's pyramid, which is what he'll be doing in Spokane.
It's where the teaching is done.
That notion took hold one very long summer in Billings, Mont., where he interrupted his run in Eugene to manage the Reds' team in the Pioneer League. Cincinnati stationed some terrific first-year players with the Mustangs in that era, but not in 1977; that year, they started out 3-16. Riddoch's second baseman was a former Caribbean sprint champion named Jose La Porte, who could actually make contact and is still the fastest man Riddoch has seen on the basepaths this side of Deion Sanders.
Alas, he ran away from ground balls hit to him just as fast.
"I had so many players I had to have morning workouts," he said. "We played simulated games so the players and pitchers not scheduled to play at night could get their innings in. Then the rest came out in the afternoon and played the game that night.
"So we get off to that horrible start and finally I realize, 'We're just bad,' and I canceled the morning workout. That night I couldn't sleep. So I held a team meeting the next day."
This time, it was to put his uniform pants back on.
"I told them, 'I quit on you for one day and I couldn't live with myself. So we're going back to the morning workout every day until the end of the season and we'll leave her knowing we've done everything in our power to try and get better.' And we ended up winning 23 games. It was a great experience.
"I've learned a lot in 38 years in the game," Riddoch said, "and most of it through failure."
Local journalism is essential.
Give directly to The Spokesman-Review's Northwest Passages community forums series -- which helps to offset the costs of several reporter and editor positions at the newspaper -- by using the easy options below. Gifts processed in this system are not tax deductible, but are predominately used to help meet the local financial requirements needed to receive national matching-grant funds.
Subscribe to the sports newsletter
Get the day's top sports headlines and breaking news delivered to your inbox by subscribing here.
---