News > Features
Sounds like rehab was a reality check for Kelly Osbourne
Mon., June 20, 2005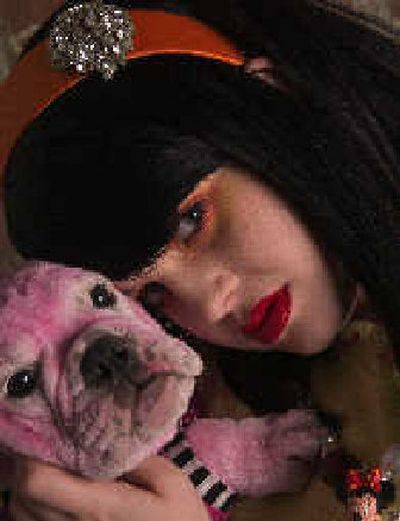 Rehab. Her weight. Her first album.
Verbally attacking pop stars like Christina Aguilera. Fighting with her brother on national television. Being a rock star's daughter.
Kelly Osbourne isn't sorry for any of it.
"In order to do something better you have to make mistakes," the 21-year-old singer/actress/aspiring fashion designer said in a recent interview – shortly before entering rehab for the second time in as many years.
Osbourne's new sophomore album, "Sleeping in the Nothing," was produced and co-written by Linda Perry (Pink, Christina Aguilera, Gwen Stefani).
It's a collection of dance-inducing pop tracks on which she sings frankly about nearly every aspect of her life.
"Every single person in this world has skeletons in their closet. Including myself," she says.
"But when it comes to personal things like boyfriends and the way that I live my life, the world already knows about it, so I don't have anything to hide."
Particularly considering that part of her young adult life took place on MTV's reality show "The Osbournes."
"I will never escape that identity," she said. "And that took a long time to come to terms with. That part of my life was a roller coaster and now I'm moving on and I hope that I get to achieve great things."
Like acting. Having starred in the ABC teen drama "Life As We Know It" last year, she hopes to someday make movies.
Osbourne would like to star in an adaptation of James Frey's memoir "A Million Little Pieces," about his battle with drug addiction.
"I read this book, half of it when I was in rehab (last summer) and half when I got out," she said. "It helped me get through it."
Thanks to Perry's support, Osbourne was able to write lyrics about rehab as well as some of her less-than-satisfying romantic relationships.
"That was a huge growing experience for me," she said. "(But) I'm glad that it happened because I felt things that were so deeply painful.
"I don't think I'm trying to reinvent myself," Osbourne adds. "I think I'm finding myself, being myself … instead of having somebody telling me what to do."
Her first album, she says, "was a huge marketing ploy. They thought if they signed me they'd make money. They tried to make me like Avril Lavigne or Ashlee Simpson (or) Fefe Dobson.
"It's just so stupid and fake and contrived and I never fed into that … it was sick."
While father Ozzy rarely offers little more than performance advice, mother Sharon often has a lot of guidance for her daughter.
Having your mother as your manager isn't easy, but the new-and-improved Kelly Osbourne has learned to adapt.
"I learned the hard way … that she was right," Osbourne said. "Because she really does know what she's talking about.
"Now, it's all about compromisation. If it was anyone else's mother, I'd be like, 'Sod off.' "
The birthday bunch
Actress Olympia Dukakis is 74. Actor Danny Aiello is 72. Actor John Mahoney ("Frasier") is 65. Musician Brian Wilson (the Beach Boys) is 63. Singer Ann Murray is 60. Home-repair show host Bob Vila is 59. Singer Lionel Richie is 56. Actor John Goodman is 53. Singer Cyndi Lauper is 52. Actress Nicole Kidman is 38. Actor Josh Lucas ("Sweet Home Alabama," "A Beautiful Mind") is 34. Actor Peter Paige ("Queer as Folk") is 31.
Local journalism is essential.
Give directly to The Spokesman-Review's Northwest Passages community forums series -- which helps to offset the costs of several reporter and editor positions at the newspaper -- by using the easy options below. Gifts processed in this system are not tax deductible, but are predominately used to help meet the local financial requirements needed to receive national matching-grant funds.
Subscribe now to get breaking news alerts in your email inbox
Get breaking news delivered to your inbox as it happens.
---