Sports
Aussie tennis lacking talent
Tue., June 21, 2005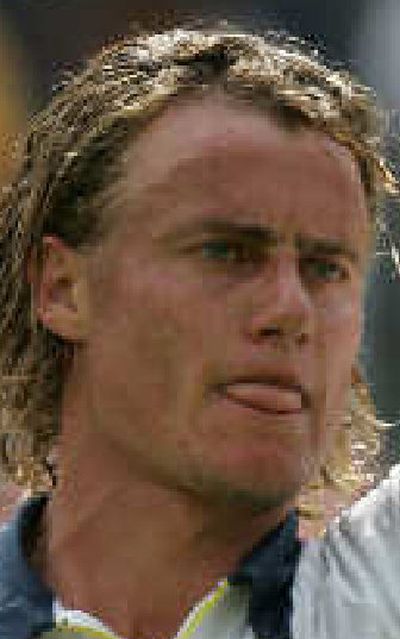 WIMBLEDON, England – Lleyton Hewitt is worried about the state of Australian tennis.
Hewitt, the 2002 champion, is one of four Australians in the men's draw along with wild card Mark Philippoussis, the 2003 runner-up, Wayne Arthurs and Scott Draper.
"Definitely something's changed or gone wrong for Australia," Hewitt said. "On Australia's part, we don't have enough players. It's really not good enough for our country."
Hewitt said he hoped former players could pass on their experience to juniors.
"We've got so many guys who are capable," he said.
Australian men have won Wimbledon 21 times.
"This is a huge tournament back in Australia," Hewitt said. "We've had so many great champions here."
Hewitt won his first round match 6-3, 6-3, 6-1 against Christophe Rochus of Belgium. Philippoussis topped Karol Beck of Slovakia 7-5, 6-4, 6-2, and Draper lost to eighth-seeded Nikolay Davydenko of Russia 7-6 (4), 6-4, 6-3.
Oh, to be in England
Two-time defending champion Roger Federer feels a lot of love at the All England Club.
"I warmed up this morning at (court) 11 on the outside courts," Federer said after his 6-4, 6-2, 6-4 first-round victory over Paul-Henri Mathieu. "Everyone you met was (saying) 'good luck, good luck, good luck.' It was a lot of fun. I was really surprised how many cheered for me.
"In England, they are very friendly and very nice to you. Really definitely enjoyed that."
It got better once he got on Centre Court.
"I really thought the grass was beautiful," Federer said. "Everything was just perfect."
British hope
Britain has a new tennis star – for a day at least.
David Sherwood advanced to the second round at Wimbledon with a 6-3, 6-4, 6-4 win over Ricardo Mello of Brazil. Sherwood, who is Britain's No. 8 player, is ranked 207 places below the 54th-ranked Mello.
"I started off serving well, although I had a bit of nerves towards the end," Sherwood said.
Greg Rusedski also won, beating Alberto Martin 6-3, 4-6, 6-2, 6-1, but four other British men lost. All seven British women playing Monday lost their first round matches.
Five more Brits – three men and two women – play Tuesday. Tim Henman is the best chance for Britain to win its first men's title since Fred Perry in 1936. The last female winner was Virginia Wade in 1977.
Puerta shown door
French Open runner-up Mariano Puerta failed to survive the first round of Wimbledon.
The Argentine was beaten by Germany's Lars Burgsmuller 6-1, 6-1, 6-4 Monday in his first match since losing to Rafael Nadal in the Roland Garros final June 5. He pulled out of the Queen's Club and Nottingham grass-court tournaments with a groin strain but was seeded 16th at Wimbledon.
"It was difficult to play a good match, especially in the first and second sets, he didn't make a mistake," Puerta said. "Grass is very different, it's faster."
"I only practiced for four days," he added. "But I'm happy because I'm No. 11 in the world and 10 months ago, nobody knew me."
Puerta was ranked 440th in August.
He returned to Argentina after the French Open and came to England last Wednesday.
"It was crazy, unbelievable, I couldn't go outside my house," he said, referring to his reception at home.
The French Open was his first major event since serving a nine-month doping suspension.
Local journalism is essential.
Give directly to The Spokesman-Review's Northwest Passages community forums series -- which helps to offset the costs of several reporter and editor positions at the newspaper -- by using the easy options below. Gifts processed in this system are not tax deductible, but are predominately used to help meet the local financial requirements needed to receive national matching-grant funds.
Subscribe to the sports newsletter
Get the day's top sports headlines and breaking news delivered to your inbox by subscribing here.
---