News > Idaho
Deputies target illegal fireworks
Tue., June 21, 2005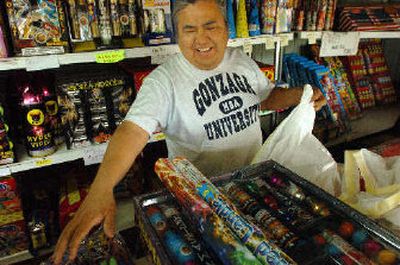 WORLEY, Idaho – Fireworks sales on the Coeur d'Alene Indian Reservation were pretty well doused last weekend, and salesmen said it wasn't thundershowers that kept customers away.
"They just weren't stopping," said fireworks salesman William Bigman, who runs the Uncle Sam Fireworks stand at the corner of U.S. Highway 95 and state Highway 58.
Bigman said he thinks potential customers were frightened off by Kootenai County sheriff's deputies who patrolled the area and sometimes parked next to his stand during the weekend.
This is the first year that Sheriff Rocky Watson has conducted an emphasis patrol in advance of the Fourth of July holiday in an attempt to crack down on the illegal possession of fireworks in Kootenai County. Coeur d'Alene police and the Shoshone County sheriff also are trying their best to discourage illegal fireworks use.
Kootenai County deputies patrolled U.S. Highway 95 in the southern part of the county, trying to nab people driving off the reservation with big fireworks with names like Mad Bomber, Thunder Dome, Hyper Viper, Predator and Hostile Ground.
They issued more than 40 citations on Saturday and Sunday, said Sheriff's Capt. Ben Wolfinger, but all were for traffic violations.
"Not one of those people had illegal fireworks," he said.
Many of the stops were for speeding in the U.S. 95 construction zone south of Fighting Creek, which is the reservation's north boundary.
Drivers heading south on the highway were met near the reservation boundary by a reader board announcing that "illegal" fireworks are prohibited in Kootenai County.
If they were caught speeding or stopped for another traffic violation, deputies would look in their windows to see if they possessed any illegal fireworks. Officers cannot stop motorists without probable cause to search for fireworks, however.
Only "safe and sane" fireworks are legal in the county. Those are ground spinners, fountains, sparklers, smoke devices or snakes designed to remain on or near the ground. In Spokane County, even those "safe and sane" fireworks are illegal. "Safe and sane" fireworks also are illegal in Coeur d'Alene's City Park and Tubbs Hill.
Bigman thinks the reason the deputies didn't find any illegal fireworks was because hardly anyone was buying them.
"They were trying to intimidate people from buying fireworks," said the Coeur d'Alene tribal member. "They are pretty much attacking our sovereignty."
While Bigman considered the emphasis patrol a kind of harassment, Coeur d'Alene Tribe Police Chief Tom Cronin said the county was well within its rights to try to track down any Mad Bombers or other aerial and illegal fireworks.
"They're illegal in Kootenai County," he said. In fact, they're also illegal in all but three locations on the reservation, he said.
But most tribal members light them off at their homes, said Brian Sczenski, who sells fireworks at the Adeleines Fireworks stand in Worley.
Many out-of-towners trying to be legal shoot them off at one of the designated fireworks areas – a rocky field behind the Rose Creek Long House, which is located just behind Lakeside Elementary School in Worley. It also happens to be next door to the homes of some tribal elders, Cronin pointed out.
"That's where practically everyone goes," Sczenski said.
Other designated areas are the parking lot and field behind the Tribal Wellness Center in Plummer and in the baseball diamond next to the tribal school in DeSmet, Cronin said.
"There's no place else in the state where they're legal," he said, adding that, according to his strict interpretation of tribal law, they're legal only in the designated areas for tribal members. However, he has yet to cite a nontribal member of lighting fireworks in any of those locations.
It appears that about the only strictly legal thing you can do with many fireworks is to buy them on the reservation and then find a tribal member to light them for you.
Local law enforcement initially decided to crack down on fireworks this year in part because of worries about fire danger. Earlier this year, because of the low snowpack and scant precipitation, the potential for dangerously dry conditions this summer was high.
Some of those fire worries have lessened with recent rains, but "if it stays 80 degrees for a week or so, yes, the woods dry out pretty fast," said Shoshone County Sheriff Chuck Reynalds, who also is taking a hard-line stance on fireworks.
But fire danger isn't the only reason for the crackdown, he said.
"The proliferation of them has become unacceptable," he said. "People go down (to the reservation) and buy hundreds and hundreds for a neighborhood and then set them off."
Complaints range from noise and frightened animals to property damage, and every year someone winds up in the emergency room due to an accident with illegal fireworks, he said.
"If the fire danger was low in the past, we'd just sort of ask them tone it down," Reynalds said. This year, "we'll be seizing illegal fireworks and issuing citations."
Possessing or using illegal fireworks is a misdemeanor, punishable by a $300 fine and/or six months in jail.
Local journalism is essential.
Give directly to The Spokesman-Review's Northwest Passages community forums series -- which helps to offset the costs of several reporter and editor positions at the newspaper -- by using the easy options below. Gifts processed in this system are not tax deductible, but are predominately used to help meet the local financial requirements needed to receive national matching-grant funds.
Subscribe now to get breaking news alerts in your email inbox
Get breaking news delivered to your inbox as it happens.
---