Sports
Bogut's skills not bogus
Sun., June 26, 2005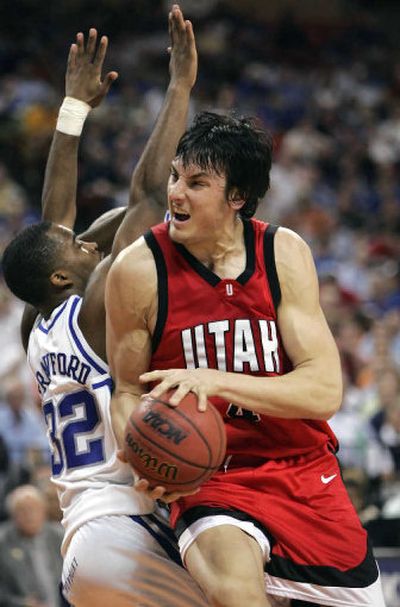 SALT LAKE CITY – Andrew Bogut does just about everything with a straight face. Dunks, rebounds, assists, awards – nothing seems to trigger much emotion.
Perhaps a huge NBA contract would finally coax a smile from the 7-foot Australian, who has jumped from obscurity to possibly the top pick in Tuesday's NBA draft.
Bogut can be described as cold, determined, fiery and even funny, depending on the source. But his ability and potential are undisputed. He was the Associated Press national player of the year, averaging 20.4 points, 12.2 rebounds and 2.3 assists while leading the Utes to a 29-6 season. His 26 double-doubles led Division I players, and his rebounding average was second nationally.
And he wasn't exactly a secret weapon. Opponents knew full well that Utah's offense was built around Bogut, but they just couldn't do much to stop him.
"Somebody's getting the whole package," said former Eastern Washington coach Ray Giacoletti, who was Bogut's coach at Utah for one season.
Bogut worked out this week for Milwaukee, which has the first pick after winning the draft lottery, and was scheduled to visit Atlanta, which picks second. Bogut and North Carolina freshman Marvin Williams widely are regarded as the top two players in the draft. If the Bucks pass on Bogut, the Hawks probably would gladly snatch up a much-needed center.
"If I go No. 2, they'll be laughing if they get me," Bogut said.
Bogut has a lot of confidence for a 20-year-old international player who has spent just two years away from home. He is seasoned, though, winning a world junior championship in 2003 and playing in the Olympics last summer.
He also has a lighter side few get to see. Although it's tough to tell from his reserved demeanor, Bogut has a dry sense of humor that entertained his teammates throughout Utah's run to the Mountain West Conference regular-season title.
He played on a couple of Aussie stereotypes by putting in the team media guide that he keeps a crocodile and kangaroo as pets. He later acknowledged he was trying to get people to bite.
Hailing from a country where basketball is low on the list of favorite sports, Bogut seems determined to prove he is a legitimate talent and doesn't rely purely on his size.
"Everything I do, since I was young, I've been competitive at it. I take things very seriously," Bogut said.
The son of Croatian parents who emigrated to Australia before he was born, Bogut attributes his determination and work ethic to his father. Michael Bogut ran a carburetor shop.
It wasn't always a lucrative business, but lean times showed the younger Bogut how to work through problems.
And one of the first things Bogut plans to do is set up his family financially. The day he announced he was leaving school for the draft, Bogut also introduced plans for a youth charity in his name and a sizable donation to Utah for a locker room renovation.
Bogut's loyalty is another thing that impressed Giacoletti, hired after the 2003-2004 season to replace Rick Majerus. Bogut considered going pro after being named MWC freshman of the year, but several chats with Giacoletti and a visit from the new coach to Bogut's home in Melbourne convinced him to return.
Even after an impressive showing on the Australian Olympic team, Bogut kept his word.
The attention on Bogut increased as it became apparent he was one of the top college players and probably headed to the NBA. It didn't seem to affect the big man.
"I don't think I've ever been around anyone who got more publicity from January to the draft and maintained his focus. And that was just amazing," Giacoletti said. "We kept saying at some point this is going to take its toll on him, and it didn't. He just got better and better as it went on."
Utah never has had a player go first in the NBA draft. If Bogut goes No. 1, it will mark the first time the top picks in the NFL and NBA drafts came from the same school. Quarterback Alex Smith, Utah's first Heisman Trophy finalist, was selected by San Francisco first overall after leading the Utes to a 12-0 season.
Local journalism is essential.
Give directly to The Spokesman-Review's Northwest Passages community forums series -- which helps to offset the costs of several reporter and editor positions at the newspaper -- by using the easy options below. Gifts processed in this system are not tax deductible, but are predominately used to help meet the local financial requirements needed to receive national matching-grant funds.
Subscribe to the sports newsletter
Get the day's top sports headlines and breaking news delivered to your inbox by subscribing here.
---