News > Nation/World
Still rebuilding after tsunami
Sun., June 26, 2005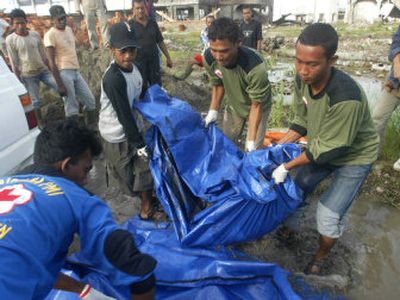 ULEE LHEU, Indonesia – Gathering in the shadow of a tsunami-battered mosque, local leaders and international donors took stock Saturday of a disaster that wiped out vast stretches of Indonesia's Aceh province, saying rebuilding efforts were picking up after months of delays.
The ceremony marking six months since the Dec. 26 disaster was also a time to remember the dead, with prayers from the Quran and recollections of a young tsunami survivor, Nada Lutfiah, who lost her parents in the calamity.
The fourth-grader had received a letter from a third-grader in Michigan expressing hope that her family had survived. But she had to write back with the awful truth.
"Unfortunately, my family – father, mother, brother and sister – are gone," Lutfiah said, reading from her letter. "Now, I'm alone."
Amid the grief, efforts to physically rebuild Aceh have been plagued by political squabbling, donors' concerns about corruption, challenges in implementing a new finance law and government delays in releasing guidelines for rebuilding.
But officials said Saturday the situation was improving.
"Now it's time to look forward," said Kuntoro Mangkusubroto, director of the Rehabilitation and Reconstruction Agency for Aceh and Nias. "Finally, things are happening on the ground."
He said $2.8 billion has been disbursed by foreign donors and $1.9 billion in projects approved by his agency.
Officials from the World Bank, the United States, Australia and Japan, among others, noted the scattered signs of progress in Aceh: dozens of new homes going up in destroyed villages and a pier being rebuilt in one town.
"We're at a stage now (that) within the next month or so we'll really begin to see recovery and reconstruction changes physically in Aceh," said Bo Asplund, the top U.N. official in Indonesia.
The U.N. High Commissioner for Refugees, which pulled out of the province in March in a dispute with the government, used the occasion to say it was returning.
However, the rosy picture painted by officials has been lost on the few residents who have returned to the coastal area called Ulee Lheu. Once it was home to several thriving middle-class neighborhoods. Six months after the disaster, it's still little more than piles of dirt, bricks and trash.
Local journalism is essential.
Give directly to The Spokesman-Review's Northwest Passages community forums series -- which helps to offset the costs of several reporter and editor positions at the newspaper -- by using the easy options below. Gifts processed in this system are not tax deductible, but are predominately used to help meet the local financial requirements needed to receive national matching-grant funds.
Subscribe now to get breaking news alerts in your email inbox
Get breaking news delivered to your inbox as it happens.
---