Sports
Matthews, GU squad take it all
Mon., June 27, 2005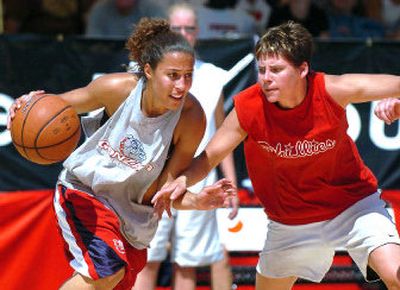 Shannon Matthews didn't have to worry much about making wishes when blowing out birthday candles Sunday night.
The just-graduated Gonzaga star, on her way to beginning a professional career in Europe, got a present on her 22nd birthday in the form of an MVP award in the women's Elite championship game at Hoopfest's Center Court.
Matthews led her GU Ballas team to the title by scoring 13 of the team's 20 points in a win over the two-time defending champion Phillies, much to the delight of the Spokane crowd still familiar with her significant exploits. Among the fans was Gonzaga coach Kelly Graves, sitting in the second row and cheering on the reigning West Coast Conference player of the year.
"We were hoping to win a championship because it's my birthday," Matthews said. "Plus, we were hoping to win all four games, and we did it. It's really fun.
"I'll be here coaching my kids one day."
Matthews wasn't the only top-flight player on her team. Mead graduate and WNBA veteran Stacey Clinesmith joined her, along with two former Gonzaga players Raeanna Jewell and Delph LeCoultre.
"I love the game and the atmosphere," Clinesmith said. "This is my first time playing in nine years; I played all growing up through junior high and high school. Then I played in college and a little bit in the pros. It's just nice to be back in Spokane."
Both Matthews and Clinesmith said they'd like to return to defend their title next year, a task familiar to the Phillies.
Led by former Lake City and Utah star Lindsay Herbert, the Phillies lost twice to the GU Ballas, one in the main bracket then again in the final after emerging through the loser's bracket.
The Phillies led for almost all of the final, but a Matthews 2-pointer that rattled home gave GU its first lead at 18-17. Clinesmith finished off the game with two more buckets and the championship was theirs.
"We're all really savvy basketball players so we all know how to play together," Matthews said. "We play good defense. But (the Phillies), they're a really good team. Lindsay is a good player, so we focused on her and that's how we got it done."
Local journalism is essential.
Give directly to The Spokesman-Review's Northwest Passages community forums series -- which helps to offset the costs of several reporter and editor positions at the newspaper -- by using the easy options below. Gifts processed in this system are not tax deductible, but are predominately used to help meet the local financial requirements needed to receive national matching-grant funds.
Subscribe to the sports newsletter
Get the day's top sports headlines and breaking news delivered to your inbox by subscribing here.
---