Sports
True with either foot
Wed., June 29, 2005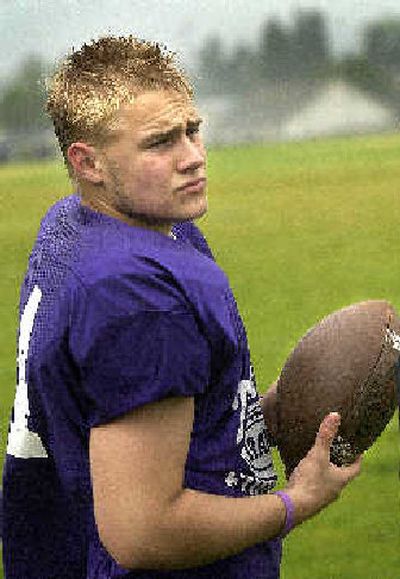 While the behemoths and speedsters who make up this year's East-West High School All Star football rosters do their things this week, honing skills and assignments during practices for Friday's Summer Classic at Central Valley, a solitary figure remains in one of the practice field end zones doing his.
Ryan Perkins from North Thurston is a kicker, the first he and coaches believe, to be tabbed for play exclusively in that capacity for this annual game between college-bound Washington athletes.
Former Ferris High coach Pat Pfeifer, now assisting his longtime friend and peer Rick Giampietri at CV, said that normally players were asked if they kicked. A "P" for punter or "K" for place-kicker was added next to their normal positions, in many cases almost as an afterthought.
Even Pfeifer's Greater Spokane League record-setting place-kicker, Randy Jones in 1995, was listed as a "receiver/kicker."
But Perkins was selected specifically for his particular foot skills, including the ability to punt both right- and left-footed.
Though only a football player his last two seasons at North Thurston and on varsity for the first time this year, Perkins has signed to play for the University of Washington – one of 14 Division I recruits among the players – because of those prodigious feet.
He developed an ambidextrous kicking ability as a soccer goalkeeper (who this spring was converted and became a high-scoring all-league forward). That caught the eye of football coaches from the Big 10 and Pac-10.
He visited Oregon and Washington State before settling on UW.
It was his family's passion, and an early offer, that led to his decision to become a Husky.
"My family is big UW fans," the personable Perkins said. "It was 'commit this week or there'll be no food or roof to sleep under.' When (the Huskies) offered, I was ecstatic."
Perkins grew up a diehard soccer player, competing on state championship club teams, trying out the national pool and even traveling to Europe to play in Germany.
Around eighth grade he started hanging around his football buddies threatening to turn out.
"The job for a goalkeeper is you have a goal kick and a punt," he said. "The object of a goal kick is getting it way up there and the only way is to kick it as high and far as you can. If you have a keeper who can kick 70 yards, imagine what he can do with a football."
The stocky 6-foot, 190-pounder is the third successive North Thurston soccer player to sign as a football kicker in college. Evan Knudson is currently the Huskies' senior starter.
But, said North Thurston coach Rocky Patchin, Perkins probably has the strongest foot of all three.
Last year, Perkins said he averaged 46.7 yards per punt, including one of 73 yards right-footed and another of some 45 yards with the left. He set a school record for touchbacks with at least 43, said Patchin, who added he's even booted balls through the goal posts from kickoff distance.
"It helps the defense so much when it knows a team is going to get the ball on the 20 every time," Patchin said.
Patchin has his kickers boot the ball rugby style from a shotgun formation, instead of conventionally. Instead of spiraling, the ball flies end-over-end. Although, Patchin said, occasionally Perkins has been able to use the sideways style and still get a spiral on the ball.
It has worked to North Thurston's advantage, such as last year when a coffin-corner bounder went out at the opponent's 3-yard-line and sealed a district title and state playoff berth.
Perkins said he has only used his left leg if a snap is bad, but has been effective the handful of times he's done it.
"If a coach comes up and asks which foot I punt with, I would say my right," said Perkins. "I'm to a point where I can't fool around any more. But in practice, when I'm messing around with the guys, they think it's funny. Sometimes they don't believe it."
He caught the attention of colleges by attending camps last summer, including at Ohio State, where he was kicking in such company as Buckeyes second-round NFL draftee Mike Nugent and the St. Louis Rams' Jeff Wilkins.
At Friday's game, he will be the only bona fide kicker and as such has offered to kick for both teams.
"I said I could throw on a yellow penny (jersey) and play on both teams if you want," he said.
Perkins could have punted left-footed for one and right-footed for the other. But he'll content himself working exclusively for the East whiled posing an additional problem for the West.
"We tried to see if they'd split a jersey in two, but they're not very agreeable to that," said West coach Steve Gervais. "So we've got three guys who were punters. One kicked in junior high and two got fired part way through the season, but we'll get one to make it work."
Local journalism is essential.
Give directly to The Spokesman-Review's Northwest Passages community forums series -- which helps to offset the costs of several reporter and editor positions at the newspaper -- by using the easy options below. Gifts processed in this system are not tax deductible, but are predominately used to help meet the local financial requirements needed to receive national matching-grant funds.
Subscribe to the sports newsletter
Get the day's top sports headlines and breaking news delivered to your inbox by subscribing here.
---