Sports
Venus fights past Pierce
Wed., June 29, 2005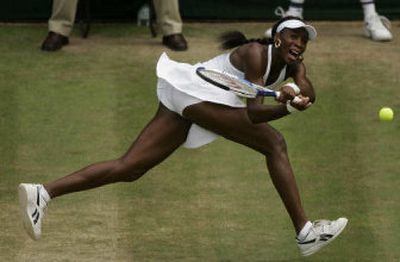 WIMBLEDON, England – The record book shows her Wimbledon showdown with Maria Sharapova will be Venus Williams' first major semifinal in two years. There's no official accounting of how long it's been since Williams has shown unbridled joy on the court.
Or demonstrated the determination and shotmaking of a champion.
Each was on full display during a 6-0, 7-6 (10) victory over two-time major winner Mary Pierce in the Wimbledon quarterfinals Tuesday, and a snapshot from the tense tiebreaker revealed how much closer to her old self Williams is.
Williams already had averted two set points when, at 6-6, Pierce ripped a backhand to the corner that was hit so well the Centre Court crowd let out a collective "Ooooh!" of appreciation, sure the pivotal point was over.
But with four quick strides to her left and a stretch, Williams dug out a defensive backhand to extend the 13-stroke exchange, and Pierce pushed a volley 5 feet long, perhaps as convinced as the fans that her work was done for the moment.
Williams raised her arms and yelled, "Yes!" About five minutes later, having saved three more set points before finally closing out a resilient Pierce, Williams repeated the pose, then thrust a fist in the air and smiled broadly.
She figures to have a tougher task Thursday against defending champion Sharapova, who was tested for the only time this tournament before beating No. 8 Nadia Petrova 7-6 (6), 6-3, with help from favorable net-cords on two points in the final game.
The other semifinal will be No. 1 Lindsay Davenport, a 7-6 (1), 6-3 winner over U.S. Open champion Svetlana Kuznetsova, against No. 3 Amelie Mauresmo, who defeated 2004 French Open champion Anastasia Myskina 6-3, 6-4 to reach the final four at the All England Club for the third time in four years.
The men's quarterfinals are today, including two-time defending champion and top-seeded Roger Federer vs. No. 21 Fernando Gonzalez, and No. 2 Andy Roddick vs. No. 9 Sebastien Grosjean.
Davenport-Mauresmo shapes up as an intriguing matchup, but Williams-Sharapova will draw most of the attention.
"She has a big game, you know, is a great fighter," said Sharapova, who holds a 2-0 head-to-head edge over Williams and beat her sister, Serena, in last year's final. "Just have to go out and battle it out, and see who can come out and win the fight."
That drive has seemed to be missing from the elder Williams' game lately. She's always been the more publicly reserved Williams sister.
"Venus is the type of person that you never know what's going through her mind. And if you look at her physically, you can't see whether she's winning or losing," said their father, Richard.
Tuesday's grit and grin were strikingly different from the shoulders-slunk, eyes-down body language Venus Williams adopted during her spiral from No. 1 in the world to second best in her family and, recently, to 16th in the rankings.
"It takes a lot to be your best every time. A lot of players usually come out against me playing quite well, swinging," she said. "Really, it's just all about doing it every time. I suppose every time, I wasn't able to, always."
Not by a long shot.
She hasn't won a Grand Slam tournament since her triumphs at both Wimbledon and the U.S. Open in 2000 and 2001, and claimed just one low-tier title in the past 13 months. Not only had she failed to get past the quarterfinals at majors since Wimbledon in 2003, she had been exiting earlier and earlier: once in the second round, twice in the third round.
Some of that was because of opponents improving. Some might have been because of the psychological burden of seeing a younger sibling surpass her by winning five all-Williams major finals.
There also were wrist and abdominal injuries that Williams still worries could resurface.
"The last thing you need out there in a match is to have to choose which ball you're going to run for because you're tired and can't concentrate on the point because you can't breathe, or your legs burn," the 25-year-old Williams said. "That is no way to be."
Local journalism is essential.
Give directly to The Spokesman-Review's Northwest Passages community forums series -- which helps to offset the costs of several reporter and editor positions at the newspaper -- by using the easy options below. Gifts processed in this system are not tax deductible, but are predominately used to help meet the local financial requirements needed to receive national matching-grant funds.
Subscribe to the sports newsletter
Get the day's top sports headlines and breaking news delivered to your inbox by subscribing here.
---