News > Features
All you need is cash
Thu., June 30, 2005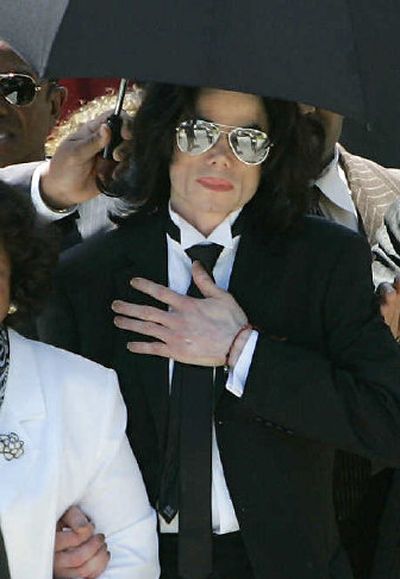 While the not-guilty verdict in the Michael Jackson trial should mercifully close the book on much of its sad and sordid business, a few subplots linger. One is that Jackson's ongoing cash-flow problems could force him to consider selling some or all of his 50 percent share in the Sony/ ATV song publishing catalogue.
That would just be boring bean-counter news except that this catalogue is home to not only a few familiar items like "Star Dust" and "Blowin' in the Wind," but 251 Beatles songs. That means John Lennon/Paul McCartney standards like "Yesterday," "In My Life" and "Hey Jude."
This gives the catalogue an unusual prominence, and Jackson himself recently charged the molestation case was just a ploy in a larger conspiracy to put him in a position where he would have to sell his Sony/ATV share.
He also insists that he has no plans to do so. But reports persist, because Sony/ATV is part of the collateral he recently put up to obtain a $250 million loan and he is now technically in default.
As his pal Donald Trump can attest, these things usually get worked out. Still, the fact that one of the world's most valuable and beloved song catalogues could be in play is instructive about the song-publishing biz.
Ever since Jackson bought the catalogue in 1985, he's said it was both an investment and a rare chance to own music he loves.
McCartney, similarly, has often said he would like to own the catalogue just to bring his babies back home.
This kind of talk is music to fans' ears. They want everyone to love the songs as purely as they do, for being beautiful music. When Brian Wilson tried to get all his Beach Boys songs back after his nasty father, Murry, sold them, who didn't root for him?
Unlike a kiss, however, a song isn't always just a song. It's also a cash asset, as the trail of the Beatles' songs confirms.
Junction One, 1962. Beatles manager Brian Epstein, unhappy with promotion for the single "Love Me Do," wants a more aggressive publisher. George Martin steers him to Dick James. McCartney and Lennon form Northern Songs and Epstein gives James 50 percent of the revenue to publish their work. Months later, James is a multimillionaire.
Junction Two, 1965. The Beatles are making so much money they have hit Britain's 90 percent tax bracket. To shift their income to capital gains, they take Northern Songs public. James retains 37.5 percent and McCartney and Lennon 15 percent apiece. The company is valued around $5 million.
Junction Three, 1969. James realizes Lennon and McCartney are about to break up, which will badly curtail their song output. So he sells his shares to ATV, which is owned by Sir Lew Grade, a British entertainment mogul nicknamed Sir Low Grade. James doesn't mention this to Paul and John until the deal is done, though he insists a nice lump sum from Grade is the most lucrative option for everyone.
John and Paul then try to block Grade from getting enough additional stock to have a controlling interest, and they almost succeed until Lennon announces he won't deal with any suits, including those he and Paul need for control. Grade ultimately buys it all for 9 million pounds, around $18 million.
Junction Four, 1985. Grade's people decide to cash out. McCartney is interested, but he wants Lennon's widow, Yoko Ono, to kick in and she declines. So even though McCartney is said to be worth more than $500 million and already owns other song catalogues, including Buddy Holly's, he declines to top Jackson's $47.5 million bid for ATV.
Junction Five, 1995. Jackson, needing cash, sells half the catalogue to Sony for $150 million. Later Jackson will call Sony president Tommy Mottola "devilish" and accuse him of trying to steal Jackson's assets.
Today the Sony/ATV catalogue is worth from $400 million to $1 billion. It could be Jackson's most valuable asset, particularly since he has enhanced its value by selling some songs for TV ads – a move that infuriates McCartney, even though he himself has licensed Holly songs for ads.
So let's call it unlikely that Jackson would want to sell all or part of his 50 percent share.
If he did, though, it would keep the trains running at Neverland for a long time. Which is why, even though Jackson and, especially McCartney, undoubtedly love the music, the recurring role of these songs in this drama is less the "romantic interest" than "cold hard cash."
Local journalism is essential.
Give directly to The Spokesman-Review's Northwest Passages community forums series -- which helps to offset the costs of several reporter and editor positions at the newspaper -- by using the easy options below. Gifts processed in this system are not tax deductible, but are predominately used to help meet the local financial requirements needed to receive national matching-grant funds.
Subscribe now to get breaking news alerts in your email inbox
Get breaking news delivered to your inbox as it happens.
---