News > Spokane
Friends fear 'Mob hit' settled debts
Thu., June 30, 2005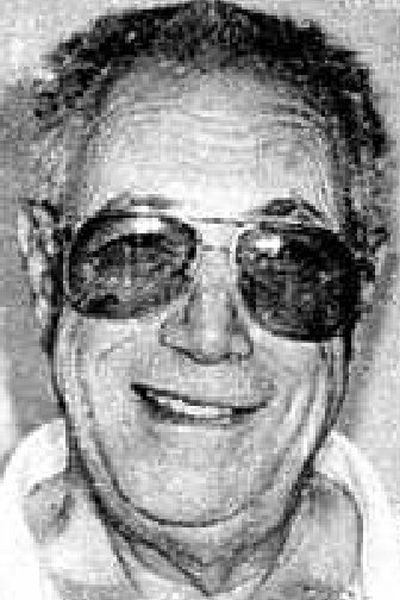 A 76-year-old man, who grew up poor in the Spokane area before becoming a multimillionaire who loved gambling in business and in Las Vegas, has been found slain in Costa Rica.
Ed Chopot was $12 million in debt to Las Vegas casinos, according to court records, when he disappeared from Spokane in about 2003.
His body was found a week ago today in an upscale apartment complex with 24-hour security in the village of Escazu, not far from the Costa Rica capital of San Jose, a family spokesman said Wednesday.
The business tycoon's friends and associates privately say they believe Chopot may be the victim "of a Mob hit" in the Central American country, but no one was willing to be identified.
Chopot has a son, Joel, and a daughter, Dani, who both live in the Spokane area. They reportedly were notified on Saturday by a U.S. Department of State representative that their father had been found dead.
Neither survivor would return telephone calls, but had Spokane attorney Bob Caruso issued a brief statement to The Spokesman-Review on Wednesday.
Caruso said he had been a friend of Chopot's for more than 40 years and was making the statement "through tearful eyes and clenched teeth."
"He was a prince of a guy, a classy guy," Caruso said in describing Chopot.
"He was found murdered in his apartment in Escazu," the Spokane attorney said. "He suffered wounds to the head and bled profusely in the apartment."
Caruso said the family was still awaiting autopsy results, but wanted to "strongly dispute reports" by media in Costa Rica that Chopot had been killed by multiple machete slashes to the head.
The Spokane attorney also discounted reports that the victim was decapitated and his body mutilated.
"Right now, the circumstances are suspicious, and that's about all we know for certain," Caruso said.
"Why would somebody murder a 76-year-old man?" the family's attorney said.
Asked about reports that the killing was a "Mob hit," Caruso responded, "You're not going to get that from me. There is no Mob, as far as I'm concerned."
Chopot grew up in the Great Depression of the 1930s with five brothers and sisters on a small family homestead near Colville. By 15, he was out on his own, selling ice and doing farmwork.
By the 1970s and 80s, he owned various sawmills in the region, a helicopter company in the Fiji Islands, making a fortune by refurbishing and reselling Army helicopters scrapped in Vietnam.
Later in the timber business, he became one of the first mill owners to use "finger-joints" to eliminate waste by making longer sections of molding and dimensional lumber. At a sawmill he started near Plummer, Idaho, he turned timber mill waste into electricity by building one of the first co-generation plants in the West.
"When he sold that mill, he handed out a total of $1.5 million in bonuses to his employees," said Caruso.
"He had more on the ball in 10 minutes in his little finger than most people would have in 10 lifetimes," the family spokesman said.
In the mid-1990s, Chopot built a five-story, 15,500-square foot chateau, Sleeping Child Hot Springs, on a 30-acre estate in the Bitterroot Valley, near Troy, Mont. The villa has an elevator, rooftop solarium, a helipad and five self-contained guest houses.
When he wasn't there, Chopot lived in a home that was then worth $500,000 on Spokane's South Hill. He was married "multiple times," but apparently was single and living alone at the time of his death.
He also loved to gamble, and spent a lot of time and millions of dollars gambling over the years in Las Vegas, friends and associates say.
He was a recognized, big-stakes regular – known in the industry as a "whale" – at the high-stakes gambling tables. The casinos would send their private jets to Spokane to pick up Chopot and a dozen of his friends for frequent trips to Las Vegas in the 1990s, friends and associates have said.
Chopot and a group of his friends had ringside seats for the famous 1997 fight in Las Vegas when boxer Mike Tyson was accused of biting the ear of Evander Holyfield.
"We stayed with him in the marble-walled penthouses of almost every casino in Las Vegas," said one of Chopot's friends who still lives in Spokane and asked not to be identified.
He was such a big-spender that Chopot eventually was given lines of credit at most of casinos in Las Vegas and Lake Tahoe, and would settle up by wiring back payments once he returned to Spokane.
But shortly after 2000, he started running up unpaid gambling debts at five casinos, including $3.5 million at the MGM Grand Hotel and Casino, public records show.
Four years ago, the records also show, Chopot traveled from Spokane to the Venetian in Las Vegas where, on July 5, 2001, he was given a $1.8 million line of credit that remains unpaid.
Soon, the casinos and their attorneys began racing against each other to foreclose on anything Chopot owned.
They lined up to grab the title to his prized chalet, worth an estimated $9 or $10 million. That foreclosure is still winding its way through the court system in Montana.
In early 2003, the MGM Grand laid claim to $487 Chopot left behind in a Global Credit Union account when he left Spokane and disappeared.
The chief criminal deputy prosecutor in Las Vegas told The Spokesman-Review for a story published in August 2003 that Chopot faced multiple charges of theft in Clark County, Nev., for the gambling debts.
Caruso said he didn't want to talk publicly about Chopot's fondness for gambling or reports he owed five casinos a combined total of $12 million.
"There are always two sides to every story," Caruso said. "Ed Chopot never got a chance to tell his side."
Local journalism is essential.
Give directly to The Spokesman-Review's Northwest Passages community forums series -- which helps to offset the costs of several reporter and editor positions at the newspaper -- by using the easy options below. Gifts processed in this system are not tax deductible, but are predominately used to help meet the local financial requirements needed to receive national matching-grant funds.
Subscribe now to get breaking news alerts in your email inbox
Get breaking news delivered to your inbox as it happens.
---