Sports
Roddick has something to prove
Thu., June 30, 2005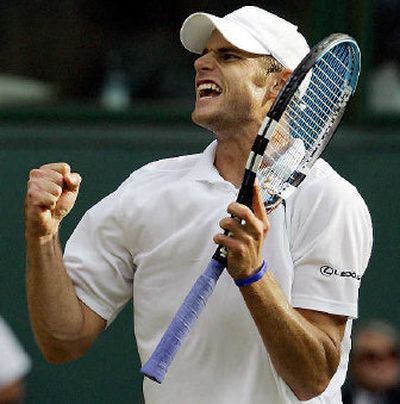 WIMBLEDON, England – Andy Roddick knows he's a work in progress, a young player with a record-setting serve, a fearsome forehand, a Grand Slam title – and key parts of his game that occasionally let him down.
That's why he was so pleased that excellence in two troublesome areas, volleying and returning, played such a large part in a 3-6, 6-2, 6-1, 3-6, 6-3 victory over No. 9-seeded Sebastien Grosjean on Wednesday that put Roddick in the Wimbledon semifinals for a third straight year.
Roddick has accomplished plenty, but he seems to be carrying a slightly manufactured chip on his shoulder now that it's been 21 months since he won the U.S. Open and his ranking has dropped from No. 1 to No. 4. A long drought and big drop? Not in the least. But add in a five-match losing streak in five-setters coming to the All England Club, and even Roddick might have been excused for harboring doubts.
By outlasting Grosjean to join Roger Federer, Lleyton Hewitt and Thomas Johansson in the final four – the first time since 1993 all of Wimbledon men's semifinalists owned major titles – Roddick maintained he took a step toward re-establishing himself.
"I feel freer. A lot freer. There was a lot of heat on me coming into this tournament. I wanted to prove that I'm still a pretty good tennis player. I'm not gone. I'm 22 years old," said Roddick, who lost in the second round at the French Open.
"I'm still up in the world, still competing for Slams, basically three out of four of them, throughout the year. I felt like I still deserved a little bit of respect. But that being said, I'd love to take it further. I'm not satisfied yet."
He certainly wouldn't be all that pleased with a loss Friday to the 12th-seeded Johansson, who beat No. 18 David Nalbandian 7-6 (5), 6-2, 6-2 to reach the second major semifinal of his 11-year pro career. The other? When Johansson won the 2002 Australian Open; his progress was stymied when left knee surgery wiped out his entire 2003 season.
Upon returning to practice, the Swede worried his playing days might be over. He stuck with it, though, and qualifies as a bit of an interloper in the closing quartet, the first time since 1995 the three top-seeded men lasted this long at the All England Club. Don't tell Johansson that, though.
"I know that when I play my best tennis," he said, "I can compete with the big boys."
Two-time defending champion Federer will meet 2002 Wimbledon winner Hewitt in the more glamorous semifinal. Federer is ranked No. 1 and Hewitt No. 2, although the Australian was seeded third, behind Roddick.
In today's women's semifinals, defending champion Maria Sharapova faces 2000-01 winner Venus Williams, while No. 1 Lindsay Davenport faces No. 3 Amelie Mauresmo.
Federer played superb defense against No. 21 Fernando Gonzalez's swing-for-the-fences style, winning 7-5, 6-2, 7-6 (2) to extend his unbeaten streak on grass to 34 matches. In a remarkably similar match, Hewitt ended the run of No. 26 Feliciano Lopez 7-5, 6-4, 7-6 (2).
Hewitt and Federer both broke their opponents in the final game of each of the first two sets, then both dominated third-set tiebreakers. In both cases, it was a combination of better players taking control on key points, and less-experienced players failing to come through when they had to.
Or, as John McEnroe so delicately put it on the BBC: "They call it 'choking." "
Neither Federer nor Hewitt is often accused of committing that sin. But Hewitt can't seem to solve Federer of late, going 0-7 head-to-head over the last two seasons.
"I'm not sure what the key is. Have to try and find something in the next couple of days," Hewitt said. "He's obviously the best player in the world for a reason. He's really taken his game to another level in the last couple of years."
To truly appreciate how much Roddick has developed since losing to Federer in the 2003 Wimbledon semifinals, one needed to look no further than the second game of the fifth set against Grosjean.
It was there that Roddick earned the lone break of the decisive set, his second victory of the tournament in a match that long.
Roddick earned one point with a hard volley to a corner that Grosjean could only chop at, sending the ball flying into the stands. Another came courtesy of a backhand passing shot that Grosjean got his racket to but couldn't control. The last came when Grosjean – a Wimbledon semifinalist the past two years – hit a crafty slice serve, and Roddick delivered a sharp return that the Frenchman meekly slapped into the net.
The latest, most vital, addition for Roddick is the volley, and he won the point on 47 of 59 trips to the net.
"You know what it is? I don't feel like it's forced right now, whereas other times, I'd go to the net and I'd hit a shot and hope that something good would happen," said Roddick, who lost to Federer in four sets in last year's final.
Roddick split with coach Brad Gilbert in December, switching to Dean Goldfine, an assistant for the U.S. Davis Cup and Olympic teams. Goldfine has worked with Roddick on being confident enough in his volleying and other new-and-improved skills to use them when a match is on the line.
"It's obviously tough when you go through a period of time where you're not doing as well as you have in the past," Goldfine said.
"Looking at the close matches he's lost, it's relatively easy to do new things at 2-all, 3-all in the first set, but at 4-all in the fifth set, that's a different story. And I think now he's finally starting to believe he has the ability to do some of these things and be successful doing it."
•Teen prodigy Donald Young is winning at Wimbledon.
Touted as the best prospect among the next generation of American players, the 15-year-old Young reached the junior quarterfinals by beating Piero Luisi of Venezuela 7-6 (8), 6-2.
"I watched Wimbledon on TV my whole childhood. Just to play on the courts here is a dream come true," said Young, who turns 16 next month.
The left-hander from Chicago is the youngest player to be ranked No. 1 in the 18-and-under division, and he became the youngest Grand Slam junior champion earlier this year when he won the Australian Open.
Local journalism is essential.
Give directly to The Spokesman-Review's Northwest Passages community forums series -- which helps to offset the costs of several reporter and editor positions at the newspaper -- by using the easy options below. Gifts processed in this system are not tax deductible, but are predominately used to help meet the local financial requirements needed to receive national matching-grant funds.
Subscribe to the sports newsletter
Get the day's top sports headlines and breaking news delivered to your inbox by subscribing here.
---