Sports
Shadow turn in big-league effort
Thu., June 30, 2005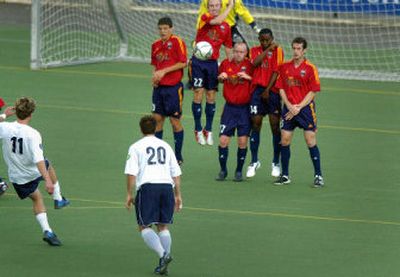 A two-goal loss usually isn't much to brag about, but in the case of the Spokane Shadow going up against Major League Soccer's Real Salt Lake, head coach Kieran Barton would gladly take a 2-0 loss.
Spokane held its own on defense Wednesday, and even provided a couple of offensive opportunities to put up an impressive showing in front of 2,802 watching the exhibition match at Joe Albi Stadium.
"I'm definitely proud of the way we played tonight, even though we didn't come away with any goals," Barton said. "They scored off a free kick and a penalty kick, and I thought we had the better chances in the run of play."
Spokane's defensive back line, anchored by sweeper Austin Washington, with Lamar Kumangai-McGee and Kyle Wirtz on Washington's flanks, accepted every challenge brought at them by RSL's attackers.
That's a sophomore at Whitworth, a sophomore at North Idaho College and a senior at Shadle Park High School taking on MLS-quality forwards, and for the most part, playing them to a draw.
"It was a lot of fun for me," Washington said. "It was a little exciting. I don't know if that was their best, but hopefully it gives us confidence."
"We played with three at the back," Barton said. "And most of the times, when you're playing against a higher-quality opponent, or what's supposed to be a higher-quality opponent, you drop players back and don't take as many chances going forward, but we wanted to play this games just like it was another game."
Spokane may have played its visitors to a scoreless draw, but two fouls set up RSL scoring chances, which it didn't waste.
In the 37th minute, RSL forward Jamie Watson beat Wirtz to a ball, but Wirtz tackled Watson just outside the penalty box to deny him a one-on-one with Spokane goalie Dade Smith.
On the ensuing free kick, RSL defender Matt Behncke took a tap from Leighton O'Brien, and rifled a left-footed kick past Smith for a 1-0 lead.
Spokane then held off RSL until the 75th minute, when Shadow backup keeper Jeff Srock took down RSL midfielder Luke Kreamalmeyer inside the box, setting up a penalty shot taken by Dipsy Selolwane, a member of Botswana's international team.
Srock guessed wrong, diving right as Selolwane deposited his shot into the net for the final score of the game.
Spokane had its best chance within 10 minutes of kickoff, as Shadow forward Brett Hite had RSL defender Cameron Knowles pinned, then spun on Knowles as the ball bounced over Knowles' head, leaving Hite with a clear path to the goal.
Knowles got a hand on the ball, though, picking up a yellow card but denying Hite a one-on-one with the goalie. Hite shot the ensuing free kick high.
RSL took seven corner kicks, converting none, compared to no corners for Spokane. RSL outshot the Shadow 7-1, Spokane's only shot on goal a good header from Skye Henderson right at RSL goalie Jay Nolly.
"It was a lot less time then you're used to," Hite said about playing against RSL's defenders. "Then I caught myself trying to get at guys, then I'd catch myself looking at the ball, and then I got three guys on me real quick."
In a 6-minute span in the second half, the Shadow had four decent chances deep in RSL territory. Once, Hite twisted around Behncke, a veteran of 40 MLS games, beating him, but he and Jake Moug couldn't hook up in the box.
Then, the Shadow put back-to-back crosses through Nolly, but had nobody on the back side to convert.
"As the game goes on, you kind of settle in," Hite said. "You just realize that it's a little faster and you kind of adjust. They hit a little bit harder and they kind of annoy you more back there just grabbing on to you."
Spokane has 10 days until its next PDL match, as the Shadow travel to Abbotsford for matches against the Rangers on July 9 and 10.
Local journalism is essential.
Give directly to The Spokesman-Review's Northwest Passages community forums series -- which helps to offset the costs of several reporter and editor positions at the newspaper -- by using the easy options below. Gifts processed in this system are not tax deductible, but are predominately used to help meet the local financial requirements needed to receive national matching-grant funds.
Subscribe to the sports newsletter
Get the day's top sports headlines and breaking news delivered to your inbox by subscribing here.
---