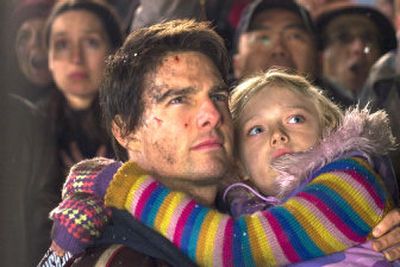 The wonder of outer space became entwined with the notion of fatherhood for Steven Spielberg more than a half-century ago, on an August night in New Jersey full of falling stars.
"I first became aware of the sky when my father pointed out the Perseid meteor shower to me when I was about 6 years old, living in Haddon Heights, N.J.," the director says nearly 52 years later. "My father really held the key to the universe, which unlocked my imagination."
That fascination with the stars – and a relationship with his dad that was not always so ideal, particularly after his parents divorced in his teens – inspired two of Spielberg's most definitive movies: 1977's "Close Encounters of the Third Kind" and 1982's "E.T. the Extra-Terrestrial."
Now the most successful director in movie history looks to the stars and beyond again for "War of the Worlds," his $128 million take on the H.G. Wells classic, which opened Wednesday.
Once again it is the role of a father in a child's life that inspired Spielberg. Tom Cruise stars as a divorced father trying to safeguard his estranged children during an alien invasion.
Spielberg is a rare director who is able to make personal stories out of bombastic productions, says film scholar Douglas Brode, a professor at Syracuse University and author of "The Films of Steven Spielberg" (Citadel, 2000).
"He gives the public what they want, while slipping in what he wants," Brode says. "He's having it both ways. He makes movies that seem like great big superficial crowd-pleasers, but you have to make the special effort to dig in and see it how personal they get."
Spielberg says his films about alien visitors are fueled by his evolving points of view on family. "They're all landmarks as we get older about how we're changing and how we see the world," he says.
"War of the Worlds" reflects his own uncertainty after the devastation of the terrorist attacks of Sept. 11, 2001.
"We live under a veil of fear that we didn't live under before 9/11," he says. "There has been a conscious emotional shift in this country."
Still, Spielberg says, he didn't want to reflect that in a fantasy about generals, scientists and politicians.
"I wanted this to be a very personal story about a family fleeing for its life," he says. "And a father trying to protect his two kids – a father who isn't much of a father but has to catch up along the way."
Though they have long since reconciled, the relationship between Spielberg and his dad, Arnold, an electrical engineer whose job changes meant the family frequently moved across the country, was strained at times, especially in his early adulthood.
"I'm closer with my mom and dad now than I even was when I was living under their roof, which is a nice thing that happens," says Spielberg, 58.
Arnold Spielberg's interests often became his son's, too, influencing everything from "Saving Private Ryan" to "Jurassic Park."
A World War II veteran who loves sci-fi stories, astronomy and technology, it was his family camera that Spielberg, as a boy, used for making homemade action films.
Still, the pain that young Spielberg felt over his family's breakup and a desire to be more attentive to his own children have resonated in his movies.
Indiana Jones, for example, was estranged from his Holy Grail-chasing father in "Indiana Jones and the Last Crusade." Cruise's futuristic investigator in "Minority Report" is haunted by his failure to protect a dead son.
The robot boy in "A.I. Artificial Intelligence" was searching for a connection with his creator "father." A fussy, grown-up Peter Pan in "Hook" neglected his children until they were snatched away to Never Land, where he rediscovers his better nature.
In "Close Encounters," a suburban dad (played by Richard Dreyfuss) abandons his life on Earth, including his wife and children, to explore the heavens aboard a spacecraft. And in 1982's "E.T.," a little boy from a broken home and a gentle alien marooned on Earth help each other deal with abandonment.
Spielberg counts seven kids of his own: one with ex-wife Amy Irving, five with wife Kate Capshaw (whom he met when she co-starred in 1984's "Indiana Jones and the Temple of Doom") and a stepdaughter, actress Jessica Capshaw.
After Spielberg's divorce, his films became much more sympathetic toward fathers, says film scholar Brode. For example, Indiana Jones and his aging dad reconcile in 1989's "The Last Crusade."
In "War of the Worlds," Cruise's reluctant father character "sees his kids very infrequently," Spielberg says. "He's able to see them every other weekend, but he chooses to see them only every six or seven weeks.
"That has created a lot of pain, and one weekend when he takes the kids this cataclysmic event occurs, and he suddenly has to grow up fast."
The father goes from deadbeat to hero in under two hours – not necessarily realistic, but still a noble fantasy, Cruise says.
Though Spielberg has been criticized by some for his devotion to happy endings, Cruise says that's just a reflection of the director's quixotic wish-fulfillment: that good things will happen to good people, and bad times can still turn out OK.
"I remember as a kid when I was going through (difficult) things, I'd just go to movies because I wanted to hope. I wanted to dream," says Cruise, who was estranged from his late father as a child after his parents' divorce.
"If you dream about it, and you can put it there (on the screen), it's an opportunity for those people to see they can turn their lives around. If you don't say that you can turn around, that you can make things go right, then there's no hope in the world."
"War of the Worlds" is perhaps the darkest of Spielberg's fantasy stories, with giant mechanized walkers that turn fleeing humans into dust while their clothes collapse to the ground, then grind apart survivors as fertilizer for fields of tentacle-like alien crops.
In the alien movies Spielberg loved as a boy, he savored "Invasion of the Body Snatchers" and producer George Pal's explosive 1953 take on "The War of the Worlds."
But he was most inspired by the likes of 1951's "The Day the Earth Stood Still," in which the aliens come to lecture humans on warmongering.
Originally, he says, "They were here to suck our brains out or to invade our bodies. But as I grew up, I got more interested in the idea of them coming in peace."
Despite the sinister tone of "War of the Worlds," Spielberg remains hopeful about the possibility of other intelligent life in the universe.
"My heart will always look up into the sky and feel optimistic about what's out there," he says.
---