Sports
Honoring Mitch
Fri., March 4, 2005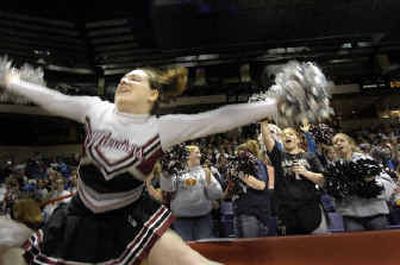 They can't be seen from the stands but every member of the Sprague-Harrington girls basketball team has a bead in the laces of one shoe with a M and C on the other shoe.
"They're for Mitch Conrath," Falcons senior captain Abby Hatten said. "He was our friend and trainer for volleyball."
Conrath, the husband of volleyball coach Tammy Conrath, died last fall because of complications from a stroke. He was 42.
An athletic former coach and certified athletic trainer, Conrath had a stroke almost two years ago because of a blood clot in his brain. The clot dissolved but left a scar that occasionally made him have seizures that his wife said weren't necessarily serious but always scary.
The 1980 graduate of Harrington had returned home from southern Idaho nine years ago to work the family farm. His wife, whom he met at Northwest Nazarene College, became an assistant volleyball coach at Wilbur-Creston before taking over at S-H five years ago.
Her Falcons were surprisingly cruising along undefeated until the second day of the district tournament.
"Things didn't feel right," Tammy said. And she was right, the Falcons lost to Almira/Coulee-Hartline and Lind-Ritzville and their magical season was over.
Sunday was normal, with Mitch Conrath jogging five miles, but Tammy had the same feeling Monday while her husband was out in a field. She called him several times before he called her late in the afternoon but couldn't talk. She rushed out to the field, found him laboring to breath and …
Mitch Conrath left behind sons, 11 and 12, and a host of girls that seemed like his own.
"It's very touching to me and my sons that they did that," Tammy Conrath said. "I don't want people to think I'm weird but his spirit lives. He loved those girls."
Though the same girls make up both teams, Tammy avoided the gym the first couple of basketball games because going back was so painful. But when she finally went she found it therapeutic.
She has the same feeling about volleyball since her husband was her trainer for the nine years she coached.
"I hope I have the energy," she said, "but I don't want to lose him and volleyball."
There are certainly some girls who want to make it easier for her.
Lone ranger
If you think it's nerve-wracking to go to the foul line in the closing seconds with the game on the line, imagine how the Almira/Coulee-Hartline cheerleaders feel.
Make that cheerleader.
Jessica West is it for the Warriors.
"Well, it's definitely challenging but it's worth it," she said. "I think I get a lot more crowd support that way. I think they feel a little sorry for me because I'm out there by myself but our crowds have been real good this year."
State B officials also noticed and awarded her the sportsmanship medal in the Warriors' 70-51 win over King's West on Wednesday.
"It's nice," West said. "I feel really honored."
The season started with three cheerleaders but one was moved up to the varsity basketball team and the other quit.
"The cheers aren't bad but if I want to do a dance routine it's a lot of pressure to be out there by yourself," West said. "At state it's good, I get a whole room by myself."
Fashion frenzy
The referees at the tournament were sporting a sporty new look for the final four games on Wednesday and Thursday.
Instead of the traditional black and white stripes they were wearing light gray shirts with black pinstripes, "the uniform of the future," according to supervisor of officials Steve Ayers.
"They feel good," said Tim Peterson, one of three Spokane officials working the tournament. The others are Gary Valkenaar and Terry French. "I like them."
Next year the new design will be optional state-wide but it is going to be mandatory at the varsity level for referees in the Spokane Basketball Officials.
"Colleges officials have gone to it," Ayers said. "The officials like the gray and this fabric is a lot easier to wear, it's cooler. I think it's a better-looking shirt."
There are four different shades of gray so to make the officials look the same the Washington Officials Association provided one Cliff Keen shirt for each official.
The refs wore traditional the traditional black and white shirts in the first four games, allowing them to have a change because they worked two games each day. Double duty was necessary because the pool is down from 16 to 12.
Downsizing was partly due to fees because three referees work each game, Ayers said, and because with three-man mechanics it's easier to schedule. Another factor, he added, is that in the past four officials were sent home after the first two days and that was an unpleasant situation.
Years ago 12 officials were selected for each tournament but the number was increased to give more officials a chance to work at state.
The fashion for the final two days is lead referee's choice.
Joking matter
The Toutle Lake girls live to play another day, which makes self-depreciating humor acceptable.
The Ducks went ice cold in the second quarter, falling behind King's West 33-21 at halftime, and were still down a dozen with two minutes left in the third quarter.
However, Jessi Hanna, who was a miserable 1 of 13 in the first-round loss to Sunnyside Christian, rallied the team and with 39.2 seconds left Lindsey Scheffler, an even more miserable 1 of 19 for this game, hit two free throws that forced overtime.
Actually, the Ducks had a chance to win by Scheffler's off-balance shot rolled off the rim.
"None of the others went in, so why would anybody think that one would go in?" Scheffler asked rhetorically. "It would have been nice. I was just happy we had a chance to go to overtime."
In OT, Toutle was down one when Scheffler made a steal at half court and took it in for her first field goal – after 16 misses. She then made another steal, was fouled, hit two throws (she was 11 of 13 for the game) and Toutle wound up outscoring King's 14-2 in OT to win 59-47.
"I think I could have made the state record for missed shots," Scheffler said after the game.
"I thought I had it yesterday," Hanna said.
Scheffler had said much the same thing to Ducks coach Tyler Bigbee in the locker room after the game.
When asked how the Ducks had rallied after looking so bad, Scheffler pointed at Hanna and said, "She rebounded all my missed shots."
Bigbee also said that after the game yesterday, Hanna had come to him and said, "Coach I let everyone down, but it won't happen again."
Local journalism is essential.
Give directly to The Spokesman-Review's Northwest Passages community forums series -- which helps to offset the costs of several reporter and editor positions at the newspaper -- by using the easy options below. Gifts processed in this system are not tax deductible, but are predominately used to help meet the local financial requirements needed to receive national matching-grant funds.
Subscribe to the sports newsletter
Get the day's top sports headlines and breaking news delivered to your inbox by subscribing here.
---