News > Business
Her own big house
Sat., March 5, 2005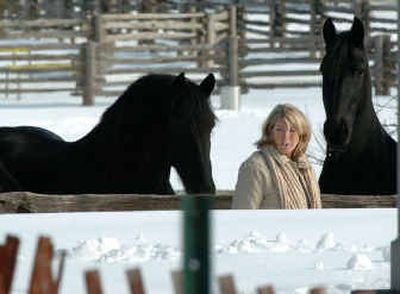 KATONAH, N.Y. — Martha Stewart strolled outdoors with her dog and fed her horses Friday morning, hours after returning from prison to the multimillion-dollar estate where she will remain under the watch of federal authorities while trying to revive her homemaking empire.
Before her five-month stay in prison, Stewart lamented that she would miss her beloved pets — cats, dogs, horses, canaries and chickens — and hoped to be free in time for her cherished spring gardening.
On a cold late-winter morning, she emerged from her home wearing an ecru quilted coat and matching long, knit scarf, dark pants and boots, but no gloves. Stewart walked with a companion and a red dog to a snowy paddock. She handed treats over the fence to five horses and caressed their muzzles, then turned to wave to journalists before heading inside again.
Later, looking tired but smiling broadly, she exchanged banter with journalists staked out on the other side of a fence. "It feels great," she replied when asked how it felt to be home.
Asked about her animals, she answered, "They're great. … You see how pretty the horses look?"
"He missed me a lot," she said of the dog, a Chow Chow named Paw Paw.
Chatting on the subject of breakfast — she hadn't had hers yet — Stewart offered that she had missed "the idea of cappuccino," more than the actual beverage, while in prison.
Stewart was driven to the 153-acre estate 40 miles north of midtown Manhattan after landing about 2 a.m. at Westchester County Airport in a private jet. She later was seen walking around inside her Winter Home with her daughter, Alexis.
For the next five months, Stewart must wear an electronic anklet so authorities can track her every move. But she is allowed to receive her $900,000 salary again and can leave home for up to 48 hours a week to work, shop or run other approved errands.
Her journey home began about 12:30 a.m., when two dark-windowed sport utility vehicles slipped out the gates of the women's prison in Alderson, W.Va., and drove to the airport.
There, Stewart — casually dressed in a gray-and-white poncho, dark jeans and ankle boots — smiled and waved to supporters as she walked across the runway and boarded the plane.
"The experience of the last five months … has been life-altering and life-affirming," Stewart said in a statement issued on her Web site. "Someday, I hope to have the chance to talk more about all that has happened, the extraordinary people I have met here and all that I have learned."
Stewart, 63, who also has homes in Connecticut, Maine and the Hamptons, chose the Katonah estate, which she bought in 2000 for $16 million, to be her prison until August.
Besides running Martha Stewart Living Omnimedia Inc. and writing a column for her magazine, Stewart can prepare for the two television shows in which she'll be starring: a revival of her daily homemaking show and her version of NBC's "The Apprentice" hosted by development billionaire Donald Trump.
Stewart hopes to turn around the fortunes of a company that produces everything from television shows and magazines to bed sheets and bakeware. In 2004, the company suffered a loss and its revenues sagged, but the stock price rose considerably during her prison stint as investors bet on a Stewart comeback.
After rising earlier in the day, Martha Stewart Living shares fell $3.20, or 9.4 percent, to close at $30.75 in Friday trading on the New York Stock Exchange. They are still near their recent 52-week high of $37.45 and are well above the low of $8.25.
Her contract with her company says her salary, which was suspended while she was behind bars, will get reinstated during home detention. Details about where Stewart will work will be determined in the next few days at a meeting with her probation officer.
While in home confinement, Stewart will be free to entertain colleagues, neighbors, friends and relatives — as long as they're not criminals. Convicted felons aren't allowed to consort with other convicted felons.
"Right now, as you can imagine, I am thrilled to be returning to my more familiar life," Stewart said in the statement. "My heart is filled with joy at the prospect of the warm embraces of my family, friends and colleagues. Certainly, there is no place like home."
During her time at the federal women's camp in Alderson, Stewart foraged for dandelions and other wild greens, concocted recipes in a microwave and even ate from a vending machine. She also participated in nightly yoga classes, spent time on crafts and writing and lost weight.
Stewart even took on inmate rights, saying her fellow prisoners risked falling into a "severe depression" because of false hopes raised by a U.S. Supreme Court ruling striking down federal sentencing guidelines. Her own sentence, however, was ruled "reasonable" in light of that ruling.
Rebuffed twice in her attempts to obtain new trials, Stewart opted to enter prison early rather than remain free pending her appeal.
Local journalism is essential.
Give directly to The Spokesman-Review's Northwest Passages community forums series -- which helps to offset the costs of several reporter and editor positions at the newspaper -- by using the easy options below. Gifts processed in this system are not tax deductible, but are predominately used to help meet the local financial requirements needed to receive national matching-grant funds.
Subscribe now to get breaking news alerts in your email inbox
Get breaking news delivered to your inbox as it happens.
---