Sports
Sonics size up Pistons
Sat., March 5, 2005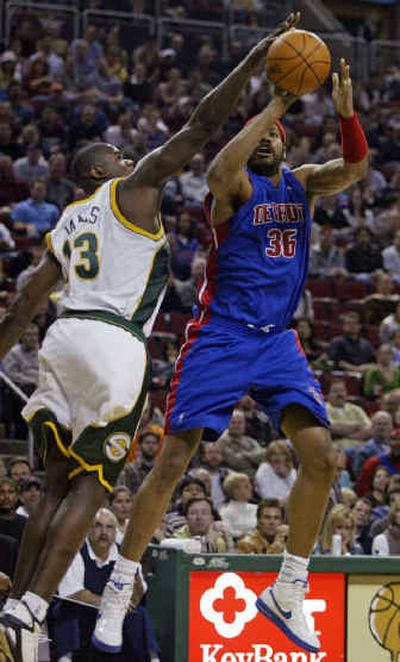 SEATTLE — Jerome James put up season highs with 16 points and seven rebounds against Detroit's bruising front line, leading the Seattle SuperSonics to a 95-87 victory over the Pistons on Friday night.
Rashard Lewis led the Sonics with 18 points, and Ray Allen and Luke Ridnour added 15 points each. With James leading the way inside, Seattle survived a tough night on the perimeter — with Allen shooting 3 of 17 and Lewis 6 of 14.
The Pistons, who had their eight-game winning streak snapped Thursday night in Phoenix, hadn't lost consecutive games since a four-game losing streak from Jan. 18-24.
Richard Hamilton led Detroit with 15 points and Chauncey Billups added 13. Ben Wallace scored 12 points and had 10 rebounds, and Rasheed Wallace finished with 10 points and 11 rebounds.
There were 13 ties and 12 lead changes heading into the fourth quarter, but that's when the Sonics picked up the pace. Seattle used an 11-4 burst to build an 80-73 lead at the 6-minute mark.
Included in the run were four straight buckets. Danny Fortson muscled for one inside, Allen drove for another and Lewis posted up Tayshaun Prince. Then Daniels drove the baseline, drew Ben Wallace's fourth foul and finished a three-point play.
After a timeout Lewis added two free throws, and Seattle had its biggest lead at 82-73 with 4:39 to go.
After Hamilton completed a three-point play to trim Detroit's deficit to 82-76, Allen made 1 of 2 free throws and James made a huge shot when he collected a loose ball and fired in an 8-footer to beat the shot clock with 2:57 to play.
Billups missed a layup at the other end, and Lewis extended Seattle's lead to 87-76 with a jumper from the left side.
Seattle's inside game was sure to be tested against Detroit's front court, but James got off to a great start — missing only one of his first five attempts and blocking two shots in the opening period.
He finished 8 of 10 from the floor and got a standing ovation when he left with 35.3 seconds to play.
The Sonics have won 6 of 7 since the All-Star break.
Local journalism is essential.
Give directly to The Spokesman-Review's Northwest Passages community forums series -- which helps to offset the costs of several reporter and editor positions at the newspaper -- by using the easy options below. Gifts processed in this system are not tax deductible, but are predominately used to help meet the local financial requirements needed to receive national matching-grant funds.
Subscribe to the sports newsletter
Get the day's top sports headlines and breaking news delivered to your inbox by subscribing here.
---