Sports
Trojans turn other cheek
Sat., March 5, 2005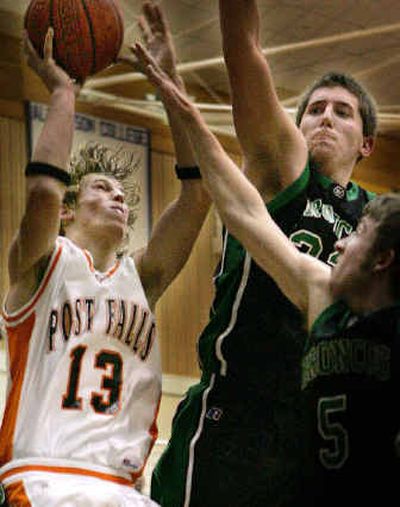 CALDWELL, Idaho – Scott Stockwell and K.C. Billetz, the Post Falls High boys basketball team's senior starters, weren't about to let their season end without playing for a trophy.
Even if it's not the trophy they believe they should be playing for today.
Stockwell and Billetz combined for 49 points as the Trojans fought back from a heartbreaking loss with a telling 80-64 win over Blackfoot in a State 4A tournament loser-out game Friday afternoon at Albertson College.
Post Falls (17-9) will play for fourth place this morning when it takes on District VI champ Bonneville (19-8) of Idaho Falls. Tipoff is at 8:15.
Bonneville ended Sandpoint's first trip to state in 27 years as the Bees pulled away from the Bulldogs 78-57.
Skyview will take on Bishop Kelly in the title game tonight. Bishop Kelly defeated Century 53-48 and Skyview toppled Century 65-42.
Post Falls 80, Blackfoot 64
The Trojans had a players-only meeting Thursday night and a meeting with their coaches Friday morning to try to put the disappointment of their bitter 63-62 loss to Century behind them.
The Trojans said a videotape shows that Kyle Turpin's tipin was off his hand as the horn sounded. But the referees, after talking to officials at the scorer's table, ruled the buzzer went off while the ball was in Turpin's hand.
The Trojans didn't want another dramatic ending Friday.
Post Falls scored 13 straight points to open the second quarter and followed with a 13-7 stretch near the end of the period. A 3-pointer by Billetz gave the Trojans a 41-25 with a minute remaining before halftime.
"Obviously we were a little angry because of yesterday," Billetz said. "We came out hard. We had a meeting and said, 'We can't be state champs, we might as well do the best we can and get fourth place.' We want to be the first undefeated team to get fourth place at state."
In the Trojans' minds, they haven't lost yet.
"We feel we're 2-0," Stockwell said. "We know we won that game, but we can't do anything about it."
But the Trojans knew they could do something about their response.
Stockwell scored a game-high 29 points, hitting 5 of 11 from 3-point range. He also had eight assists. Billetz had 20 points on 6-of-9 shooting, including two 3-pointers.
Post Falls coach Dave Stockwell thought his team might have been too pumped up early in the game.
"After yesterday's loss the adrenaline was so high in these guys," he said. "I wasn't happy with our flow at all through most of the ballgame. It did go good at times, but I thought a couple of guys were over-trying. You can't get mad at a kid for over-effort."
Post Falls extended its lead to as much as 16 points in the third quarter. But the Broncos (13-15) fought back within five twice early in the fourth before the Trojans pulled away.
The Trojans shot 59 percent from the field (29 of 49) and 11 of 23 from 3-point range.
"They felt they got robbed yesterday and they wanted to come out and win this game to show people they deserved to win it yesterday," Dave Stockwell said. "What I like about this team is there's no quit in them. They're just a good bunch of guys who care about each other. They very easily could have pointed fingers yesterday. But they've never done that. They've never been that type of team."
Bonneville 78, Sandpoint 57
For a second straight game, the Bulldogs opened like they were the state veterans and not the rookies.
For a second straight game, the Bulldogs couldn't sustain their start.
Bulldogs senior guard Blake Mahler accounted for an 8-0 beginning with two 3-pointers and a putback. Sandpoint's biggest lead came at 16-6 when senior post Ben Mitchell hit a short jumper in the key with 3:22 to go in the first quarter.
But Bonneville began to find the range from behind the 3-point arc, and the Bees would remain hot the rest of the game.
"We're the best first-quarter team in the state," Sandpoint coach Tyler Haynes quipped. "I'm very proud of how well they came out (in both games). They certainly weren't afraid to go compete."
Bonneville took advantage of four Sandpoint turnovers to build a 39-29 lead with 1:04 to go in the second quarter. Mitchell scored two more baskets to pull the Bulldogs within 39-33 at halftime.
But Sandpoint, which made 14 of 24 shots from the field in the first half, cooled off in the second half. The Bees kept making 3-pointers, finishing 13 of 29 from behind the arc.
"I thought we played very good defense," Haynes said. "They made a lot of good shots from deep."
Bees guards Jordan Keck and Josh Peterson combined to make 10 of 23 3-pointers. Keck had a game-high 25 points and Peterson had 22.
"We came out real high and hit a valley and we didn't pick it back up," said Mitchell, who led the Bulldogs (14-10) with 23 points and 17 points. Mahler had 21.
Mahler hit a 3-pointer that pulled Sandpoint within 56-50 with 5:24 to go in the fourth quarter. But the Bees used a 22-7 run to stop the Bulldogs' comeback hopes.
Mitchell said he will take many memories from the season.
"There are just eight teams that get to be here so I'm happy to be here," Mitchell said. "The worst thing other than losing two in the state tournament and going home is not making it to the state tournament as a senior. I'm glad for the seniors and us as a team. The younger guys got some experience and have something to work for."
These Bulldogs will be remembered as the team that ended the drought.
"This has been a phenomenal season for us in building our program and trying to establish some traditions," Haynes said. "They need to understand that they didn't just affect people that care about them and their coaches, they affected a community. That doesn't happen very often."
Local journalism is essential.
Give directly to The Spokesman-Review's Northwest Passages community forums series -- which helps to offset the costs of several reporter and editor positions at the newspaper -- by using the easy options below. Gifts processed in this system are not tax deductible, but are predominately used to help meet the local financial requirements needed to receive national matching-grant funds.
Subscribe to the sports newsletter
Get the day's top sports headlines and breaking news delivered to your inbox by subscribing here.
---