A&E > Entertainment
Bone Thugs bombs into the Big Easy on Thursday
Fri., March 11, 2005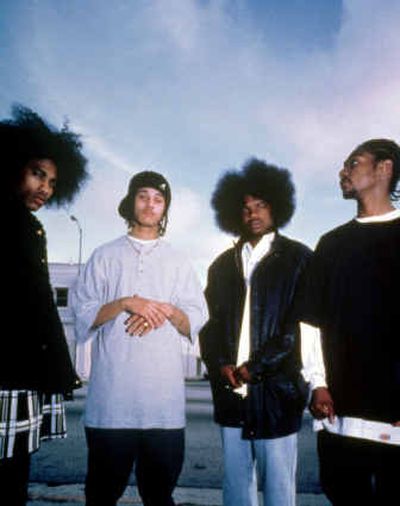 Bone Thugs-n-Harmony rose from the unforgiving testing ground of Cleveland's hardened streets to become one of the most popularly revered hip-hop groups of all time.
The multi-platinum "Creepin' On Ah Come Up" dropped on late rap legend Eazy-E's Ruthless Records in 1994, lifting the group above the asphalt on the avenues of rap and pop music.
Bone Thugs' success reached galactic proportions as suburban kids, hoods, accountants, high school cheerleaders and frat boys eulogized Eazy-E by singing along with "Tha Crossroads," the Grammy-winning mega-smash tribute from 1995's multi- platinum "E. 1999 Eternal."
But the group's more recent offerings – members' solo and side projects and 2002's Bone Thugs release, "Thug World Order," released on the group's Mo Thugs label – have struggled with success, due in part to tensions brought about by several members' side projects.
Bizzy Bone was booted from the group "for good" in 2003, according to Vh1.com, because he dedicated more time to his solo work than to group efforts.
But Bizzy came back, and it looks as if Bone might be doing the same.
Layzie and Bizzy Bone rejoined to release a side project album, "Bone Brothers," on Mo Thugs in February, making people wonder if the group – Krayzie, Layzie, Bizzy and Wish Bone – has a new album on the back burner.
Concert ticket sales aren't hurting, either. This Thursday's performance at the Big Easy Concert House sold out like a boy band in a bidding war. The demand for Bone was so great, the group added a second all-ages Big Easy show on March 23 at 8 p.m.
Fans will be happy to see the band together and flowing strong after the tensions and upheavals of the past few years.
As a huge bonus, Kansas City-based emcee-on-the-rise Tech N9ne will bring his gruff, speed-flow styles and his flying dyed-red hair to the stage as the opening act.
Tech spent most of his career as a guest emcee working with stars such as Eminem and 2Pac, but in the past few years he's been gaining ground as a solo artist. His burly rhymes alone may be worth the $25 admission price.
Consider the night a lesson in rap music. On one hand, you have a seasoned mega-group past its prime, whose innovative R&B-laced approach helped pave the road for stars such as Usher and Lil' Jon to blend rap with singing.
On the other hand, you have a veteran on the scene who's finally getting his due by drawing from classic rap influences, such as Fu-Schnickens, in a quest to become the future of rap music.
Local journalism is essential.
Give directly to The Spokesman-Review's Northwest Passages community forums series -- which helps to offset the costs of several reporter and editor positions at the newspaper -- by using the easy options below. Gifts processed in this system are not tax deductible, but are predominately used to help meet the local financial requirements needed to receive national matching-grant funds.
Subscribe to the Spokane7 email newsletter
Get the day's top entertainment headlines delivered to your inbox every morning.
---