News > Pacific NW
International cooperation
Fri., March 11, 2005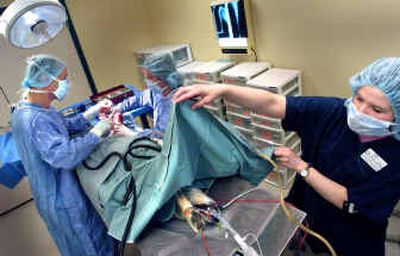 It was a case of tender loving international canine care.
An Arab dog, taken in by a Spanish woman and later by a Washington state diplomat based in Kuwait City, was operated on by an Israeli-born surgeon Thursday in Spokane.
Who said we all can't all get along?
The dog, who is recovering from successful knee surgery, is named Tahini. His adopted parents are Sid and Martha Bosch of Tonasket, Wash. Martha Bosch's son, Costa Nicolaides, is a political economic officer with the American embassy in Kuwait. He's of Greek descent.
Tahini was born in Kuwait City about a year ago. As an orphaned pup, he was repeatedly stoned by the young villagers while the Kuwaiti adults did nothing, Martha Bosch was told.
A Spanish woman, who heard Tahini crying, took him in. She contacted PAWS-Kuwait (Protecting Animal Welfare Society), a new organization that helps homeless, neglected and abandoned dogs and cats.
Costa, acquainted with members of PAWS-Kuwait, agreed to foster Tahini with the idea of sending him home to his mom and stepfather.
On Jan. 7, Tahini, traveling with an American diplomat, arrived in Seattle.
"We fell in love with Tahini," Martha Bosch said. "He's one of the sweetest-natured dogs we've had."
He's also unlike Lassie, Scooby-Doo or any other all-American dog.
The Bosches describe the light-colored Tahini as a "Kuwait desert dog." He weighs 48 pounds and is thin, with "gazelle-like bones," said Dr. Joseph Harari, the veterinarian who performed Thursday's surgery.
"I have never seen a dog like this in all my years," Harari said. "We don't operate on dogs from all over the planet. It's unusual to see foreign dogs show up on our soil."
Tahini responds to the command "Yallah," which means "come" in Arabic.
The Bosches also noticed, at SeaTac airport, fresh off his Kuwait City-Amsterdam-Seattle itinerary, that Tahini was drawn to men wearing kafiyyeh, traditional head garments worn by Arab men.
The dog also limped, the result of cruciate ligament damage.
The Bosches said it was getting worse and they had to go as far as cutting a wrought-iron basket when Tahini got caught in it and couldn't maneuver himself out.
Surgery was recommended by a Tonasket veterinarian. Harari, a naturalized U.S. citizen who was born in Israel, performed the 2½-hour procedure.
He and his partner at Veterinary Surgical Specialists perform 200 to 300 knee surgeries a year. Tahini is expected to be released this morning.
Since PAWS was formed in March 2004, it has found homes for more than 60 dogs and more than 35 cats and kittens from Kuwait and Iraq. The animals rescued are spayed or neutered and vaccinated.
For more information, go to www.paws-kuwait.org.
Local journalism is essential.
Give directly to The Spokesman-Review's Northwest Passages community forums series -- which helps to offset the costs of several reporter and editor positions at the newspaper -- by using the easy options below. Gifts processed in this system are not tax deductible, but are predominately used to help meet the local financial requirements needed to receive national matching-grant funds.
Subscribe now to get breaking news alerts in your email inbox
Get breaking news delivered to your inbox as it happens.
---