A&E > Entertainment
Mechanical charm
Fri., March 11, 2005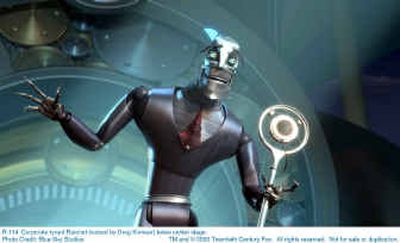 Nuts and bolts form the most entertaining aspect of "Robots," the new animated feature from the "Ice Age" folks. The story is set in an imagined world that's nothing more than a wildly inventive device, with slides, wheels, bells, drops, elevators, and a zillion other bells and whistles.
Or, if you're old enough to remember a time before video games, you might think you're inside the world's greatest pinball machine, as characters zip from flippers to cushions, bouncing hither and yon, and zooming all over the table. Follow the bouncing ball, indeed.
Actually, we're talking about various mechanical creatures. Under the direction of "Ice Age" creator Chris Wedge, "Robots" imagines a world populated with nothing but metallic characters. They live day-to-day lives not unlike humans, but their coffee cups are filled with motor oil, and they create new generations by building them out of kits filled with rods, gizmos and other parts.
Rodney Copperbottom (voiced by Ewan McGregor), an eager young robot with an inventive mind, leaves his small-town life behind to head for Robot City.
He hopes to work for Bigweld, the legendary, large, round-shaped robot who is in charge of the company that repairs and refurbishes robots the world over.
But once Rodney gets to Bigweld's factory, he is shut out because the amiable Bigweld (Mel Brooks) has been pushed aside as obsolete.
The company is now run by the nefarious Ratchet (Greg Kinnear), a shiny, super-modern, big-chested robot who has decided the firm will no longer offer repairs or replacement parts. If any robot has worn or missing parts, it has only one alternative: Buy an expensive upgrade that changes its persona and shape. ("Robots" takes whimsical aim at our disposable society.) Before you know it, Rodney is leading a rebellion of working-class robots, all seeking the right to continue to exist the way they are.
At his side is Cappy, a like-thinking robot who is lovely (by mechanical standards) and voiced by Halle Berry, and the wacky Fender, a robot who keeps dropping parts and provides most of the film's comic relief (thanks to the supercharged voice work of Robin Williams).
The big challenge with an all-mechanical cast is to make the characters distinctive and have them project enough humanlike warmth to hold our attention. Though it's often funny and technically impressive, "Robots" falls a little short of the accomplishments of "Toy Story" and "Monsters, Inc." in that regard.
Nonetheless, hopping aboard the wild ride inside Wedge's imaginative Rube Goldberg-like world is recommended. How often do you get to be a pinball?
Local journalism is essential.
Give directly to The Spokesman-Review's Northwest Passages community forums series -- which helps to offset the costs of several reporter and editor positions at the newspaper -- by using the easy options below. Gifts processed in this system are not tax deductible, but are predominately used to help meet the local financial requirements needed to receive national matching-grant funds.
Subscribe to the Spokane7 email newsletter
Get the day's top entertainment headlines delivered to your inbox every morning.
---