Sports
Wallaces wallop SuperSonics
Thu., March 17, 2005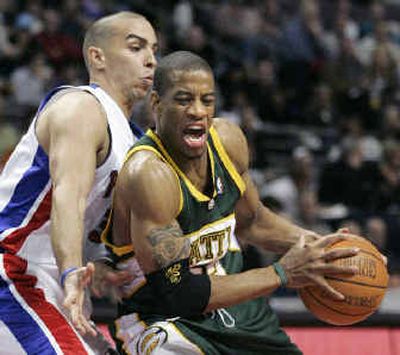 AUBURN HILLS, Mich. – On the night Ben Wallace broke Detroit's shot-blocking record, Rasheed Wallace's defense and clutch shooting ensured the Pistons would win their 10th in a row at home.
Chauncey Billups tied a season high with 32 points and Rasheed Wallace had nine of his 24 during a key stretch of the fourth quarter to lift Detroit to a 102-95 win over Seattle on Wednesday night.
Rashard Lewis' three-point play midway through the fourth quarter put Seattle ahead 83-82.
The teams took turns with the lead before Rasheed Wallace turned two steals into a dunk and a midrange jumper, giving the Pistons a 91-90 lead. Richard Hamilton then connected on a 3-pointer, and Tayshaun Prince made two free throws to seal the victory.
"Sheed went on a little tear and when he gets rolling, it's tough to stop him because he can do it at both ends," said Ben Wallace, whose first of three blocks surpassed Terry Tyler's franchise record of 1,070.
"It's a good feeling to accomplish a milestone like that," he said. "And, it feels good to get it at home."
Lewis scored 26 for the Sonics, who had won four straight on the road.
"When the game was on the line, we fell apart," Seattle coach Nate McMillan said.
Seattle's Ray Allen missed all four of his shots and was held to two points in the first half before finishing with 20 points on 6-of-11 shooting.
"We had the game under control and a three-point lead and then we turn the ball over twice," he said, referring to Rasheed Wallace's steals. "That was the game."
Allen bristled when he was asked about his shot total.
"No, I'm not getting enough looks," he said. "You've gotta talk to the coach."
Jerome James added 12 points and reserve Antonio Daniels scored 10 points for the Sonics.
Richard Hamilton and Tayshaun Prince each scored 18 for the Pistons, who have won four of their last five games. Billups made a career-high 15 free throws and tied a career high with 16 attempts at the line.
Pistons coach Larry Brown missed his second straight game and is out indefinitely after Monday's surgery related to a November hip operation. Gar Heard coached in his place.
Ben Wallace helped Detroit take a 27-19 lead in the first quarter with all of his six points, nine of his 14 rebounds and his record-breaking block.
"He's one of the best off-the-ball defenders I've ever seen," Heard said. "The two things you know that you will always get from Ben is that he will go for every rebound and every block."
The Sonics started the second quarter with a 12-0 run and led 47-42 at halftime.
Billups put the Pistons back ahead early in the third with free throws and scored Detroit's final nine points of the quarter for a 78-72 lead.
Notes
Seattle was without Danny Fortson one night after the reserve forward injured his left foot at Chicago, a game in which he fouled out in just 6 minutes. … The Pistons are 23-7 at home and the Sonics are 22-9 on the road. … Seattle's Ronald Murray played with a bruised hip.
Local journalism is essential.
Give directly to The Spokesman-Review's Northwest Passages community forums series -- which helps to offset the costs of several reporter and editor positions at the newspaper -- by using the easy options below. Gifts processed in this system are not tax deductible, but are predominately used to help meet the local financial requirements needed to receive national matching-grant funds.
Subscribe to the sports newsletter
Get the day's top sports headlines and breaking news delivered to your inbox by subscribing here.
---