News > Business
Wireless wonders
Thu., March 17, 2005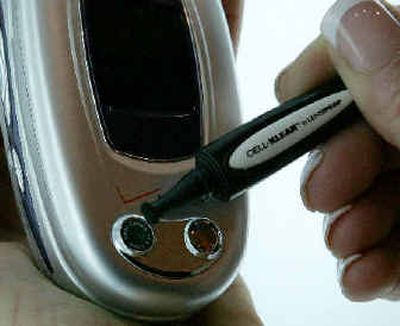 NEW ORLEANS — Not every cell phone innovation involves streaming video and 3-D games.
Some don't even involve the phone, as evidenced by some of the inventions on display off the beaten path at this week's CTIA Wireless 2005 trade show.
Some solve problems you didn't even know you had.
Take the T-String, an elastic holster for your forearm to hold a phone or an MP3 music player.
There's also the PocketSurfer, a Web-browsing device that rejects the prevailing wisdom that people want a single gadget that does it all, even if that means watching everything on the tiny screen of a cell phone. And then there's the Cell-Klear to remove those pesky smudges from the lens of your phone's midget camera lens.
The Cell-Klear is a 3.5-inch pen-shaped device whose tip contains a patented carbon compound that cleans the camera lens. The pen comes with a cap and a loop to attach to a key chain.
The main idea behind the T-String is that mobile devices aren't very accessible on a belt or in a bag. But it's also unclear how comfortable it is to have such a bulky device protruding from your wrist for hours at a time, the elastic band pressing into your veins. The strap also was a bit too snug for larger phones, making it hard to place such handsets back in the holster after hanging up from a call.
Then again, judging from the 25 flashy designs and the bare-chested boy surrounded by girls on the New York-based company's Web site, T-String may be more focused on style than utility.
Prices range from $10 for a basic look to $18 for rhinestones, fur or "metal dog tag."
The $200 PocketSurfer, made by DataWind Inc. of Montreal, is intended as a two-device solution for easier and faster viewing of Web pages, plus simpler typing on a full keyboard rather than a numeric keypad.
A user pays $10 a month for faster downloads from DataWind's Internet server, which compresses and accelerates the data transmitted from Web pages being visited over a cellular network.
A mobile phone is still required to provide a link to the Internet, so the user needs to pay for data service from a cellular provider, though DataWind says its speed makes it unnecessary to sign up for a higher-end plan.
The information is passed from phone to PocketSurfer using a short-range Bluetooth wireless beam. The company sells $30 Bluetooth adapters for more than 130 phones without that technology.
For the stubborn masses who insist on a single device that does it all, some software makers are trying to build a better browser for the cell phone. They include Bitstream Inc., a legendary name that developed text fonts and related technologies during the desktop publishing revolution of the 1980s.
Bitstream, based in Cambridge, Mass., has used its expertise with graphics to develop the ThunderHawk browser for cell phones running on the Windows Mobile operating system from Microsoft Corp.
The browser also relies on data compression so it can deliver full-blown HTML pages rather than repurposed content. ThunderHawk requires a subscription of either $50 a year or $6 a month.
Local journalism is essential.
Give directly to The Spokesman-Review's Northwest Passages community forums series -- which helps to offset the costs of several reporter and editor positions at the newspaper -- by using the easy options below. Gifts processed in this system are not tax deductible, but are predominately used to help meet the local financial requirements needed to receive national matching-grant funds.
Subscribe now to get breaking news alerts in your email inbox
Get breaking news delivered to your inbox as it happens.
---