Sports
Zags expect patience from Eagles
Thu., March 17, 2005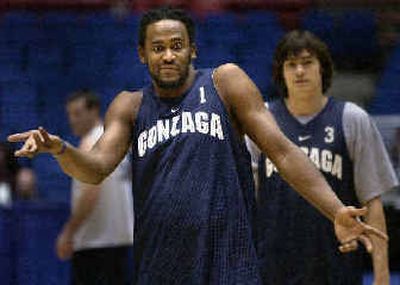 TUCSON, Ariz. – The defensive styles are similar, but Gonzaga University and Winthrop will put two dramatically different offensive approaches on display at 4:25 p.m. today when they face off in the first round of the NCAA Tournament at McKale Center.
The third-seeded Bulldogs (25-4) will once again try to force tempo against the 14th-seeded Eagles (27-5), who are much more comfortable with scores stuck in the 50s and 60s.
"They've shown then can run pretty effectively," GU coach Mark Few said of Winthrop, the Big South Conference champions, who come in riding an 18-game winning streak that ranks as the nation's longest. "But based on their scores, they kind of like to keep the tempo down, while we like to keep it going up and down a little bit more.
"Winthrop concerns me a lot. They are a confident team right now. They are very difficult to prepare for in a short amount of time, and they're here for reason. We know we're going to have to play very well in order to move on."
Few said he was impressed with the play of the Eagles' guard trio of Chris Gaynor, James Shuler and Torrell Martin.
"Any of their guards can bring it," he said, noting that Martin and Schuler lead the team in scoring with averages of just more than 12 points per game. "They don't necessarily have to outlet it to their point (Gaynor). Shuler can bring it. Martin can bring it as well. And Gaynor is really quick with the ball and disperses it really well."
What has kept the Eagles, who average 68.2 points a contest, from scoring more is their penchant for searching out good shots on every offensive possession.
"They're not afraid to push the ball in transition," said Bulldogs assistant Bill Grier, who was assigned the job of scouting the Eagles. "But if they don't have a good shot, they back off, runs sets and stay patient until they get a shot they like."
The shots they like usually come from the perimeter – with their two front-liners, 6-foot-10 sophomore Craig Bradshaw and 6-8 sophomore Phillip Williams, getting their share.
"Pretty much all of the guys they put on the floor are skilled," said Bulldogs backup forward Sean Mallon. "Their big guys can all step out, handle the ball and shoot 3-pointers, so we're going to have to get out on everybody and play them straight up."
Still, the Eagles will pin most of their hopes on defense, much as they did during the regular season when they limited opponents to an average of 59 points a game.
"That's the way it's been here for the last seven years," said Winthrop coach Gregg Marshall, who took over the program seven years ago. "And if we don't guard them tomorrow, we don't have much of a chance."
The Eagles play multiple defenses and press occasionally – not so much to force turnovers as to control tempo. They often drop out of their 2-2-1 press into a 1-1-3 zone and match up accordingly.
"Possession by possession, you have to really earn it to score on them," Few said.
Fortunately for Few, he has plenty of offensive options, starting with sophomore forward Adam Morrison, who is averaging a team-high 18.5 points per game. Senior forward Ronny Turiaf, junior center J.P. Batista and sophomore point guard Derek Raivio are also averaging in double figures.
"They do a lot of things very well," Marshall said of the Zags. "They just maul people on the glass. And we need to make sure we're able to limit their transition baskets."
Winthrop, despite its impressive winning streak, comes in as a decided underdog, but not lacking in confidence.
"They've got some great players," Shuler said of the Bulldogs, "but we've got some great players, too. Everybody has pretty much counted us out, but, believe me, when we came out tomorrow, we're going to be ready."
Local journalism is essential.
Give directly to The Spokesman-Review's Northwest Passages community forums series -- which helps to offset the costs of several reporter and editor positions at the newspaper -- by using the easy options below. Gifts processed in this system are not tax deductible, but are predominately used to help meet the local financial requirements needed to receive national matching-grant funds.
Subscribe to the sports newsletter
Get the day's top sports headlines and breaking news delivered to your inbox by subscribing here.
---