News > Idaho
Snow just in time for seminar
Fri., March 18, 2005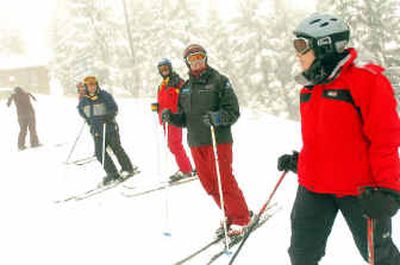 KELLOGG – Silver Mountain whitened up just in time for a visit from 175 ski journalists.
Wednesday night's storm dropped a foot of new snow on the mountain, magically erasing the dreary brown spots that had emerged in recent weeks. When members of the North American Snowsports Journalists Association hit the slopes Thursday, they were gliding on fresh powder.
"They were expecting to ski on replowed, recycled, reshaped and remolded snow," said Bob Cox, NASJA's vice president. "It was all we could do to keep their attention this morning during the professional development seminar."
Members bolted for the slopes as soon as the seminar ended. Snow critiques ranged from "fabulous" to "mid-heavy" to "powder on a straw-and-rock base." Most comments, however, were generally favorable.
"I thought it would be real Sierra cement, but it's very skiable," said Paul Hand, a freelance ski writer from Pennsylvania. "As long as I can push around, I'm happy."
Hand will try out the terrain at Schweitzer Mountain Resort today, and hit Lookout Pass Ski Area on Saturday. Schweitzer has closed for the season, but will open privately for NASJA members.
The storm brought Lookout 14 inches of new snowfall, and dumped 12 inches of snow at the top of Schweitzer.
"At least we can say that winter has finally come to the Inland Northwest," said Carl Wilgus, tourism director for the state of Idaho.
NASJA's members include writers, photographers and filmmakers. Three years ago, the Coeur d'Alene Resort landed the contract to host the association's 2005 meeting, a five-day event that local tourism officials hoped would generate a wave of flattering publicity for the region's ski resorts. As the clock ticked down to the big event, however, snow – the key ingredient – was lacking.
Organizers scrambled to find alternate activities. A fly-fishing clinic appeared on the agenda, and a guided snowmobile tour was rescheduled as a bicycle ride along the Trail of the Coeur d'Alenes.
The last-minute snowfall was an unexpected bonus.
Christina Hatfield, vice president of tourism for the Coeur d'Alene Area Chamber of Commerce, smiled and shrugged Thursday. "We provide full service," she said. "We saved it up just for them."
Skiing is only one of the activities competing for Alice Williamson's attention during the trip. The Minnesota writer signed up for today's fly-fishing clinic, and though she'll ski Schweitzer this weekend, and she's also saving time to shop.
"I know that Coldwater Creek has one of its main stores here," Williamson said.
New Jersey residents Jim and Liz Gregory skied Sun Valley, Tamarack and Brundage Mountain in southern Idaho before the conference started. They'll finish up at Big Mountain in Montana.
"We mostly don't ski in New Jersey," said Liz Gregory, explaining the couple's full schedule.
Next year, Resorts of the Canadian Rockies will host NASJA's annual meeting at Kimberley and Fernie. Jasmine Antonick, the resorts' media relations manager, drove down from Calgary to get ideas.
Trouble-shooting during a low-snow year was key on her list.
"For a lot of people within the Western region, it's been a difficult year," Antonick said. "It was 20 degrees Celsius in Calgary the other day …We thought about pulling out the fishing rods and mountain bikes."
Local journalism is essential.
Give directly to The Spokesman-Review's Northwest Passages community forums series -- which helps to offset the costs of several reporter and editor positions at the newspaper -- by using the easy options below. Gifts processed in this system are not tax deductible, but are predominately used to help meet the local financial requirements needed to receive national matching-grant funds.
Subscribe now to get breaking news alerts in your email inbox
Get breaking news delivered to your inbox as it happens.
---