Sports
Stalled in second
Sun., March 20, 2005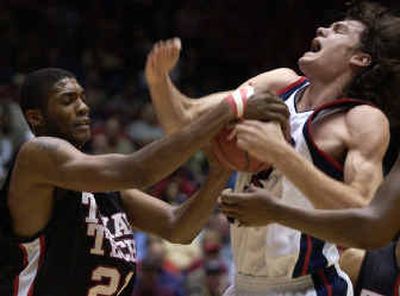 TUCSON, Ariz. – The downside to playing in the NCAA men's basketball tournament is the abruptness and finality with which it ends – for every team but one.
The Gonzaga Bulldogs experienced the disappointment of another early exit from college basketball's premier event early Saturday afternoon, losing to Texas Tech 71-69 in a second-round game at the University of Arizona's McKale Center.
Moments after their unexpected ouster, GU players were trying to deal with the reality of having to put away the balls again following a season that seemed to have so much more postseason promise.
"I don't even know for sure if it's really over yet," said sophomore point guard Derek Raivio, just moments after Tech's Ronald Ross had scored 24 points and hit a huge 3-pointer late in the game to lift the sixth-seeded Red Raiders (22-10) past the third-seeded Zags (26-5). "Honestly, I want to go back out there right now and keep playing."
There would have been more basketball to play for the 10th-ranked Zags had they been able to avoid an extended second-half scoring drought and make a defensive stop or two during a 4½-minute stretch of the second half when Texas Tech scored on eight consecutive possessions and sliced a 13-point GU advantage to 54-52 with 12:12 left in the game.
Coach Bob Knight's Red Raiders, who finished third in the Big 12 Conference, then scored the next three points to cap a 9-0 run, take their first lead of the game and set things up for Ross to become a deserving hero.
The 6-foot-2 senior guard, with 1:08 remaining, shook free in the left corner and drilled a crucial 3-pointer over the outstretched arm of the Bulldogs' Adam Morrison to put Tech up 68-67.
"I tried to run out and bother him a little bit, but he had enough time to make the shot," explained Morrison, a 6-8 sophomore, who once again fueled GU's offense with 25 points, while also grabbing nine rebounds. "It was a big shot for them, so I tip my hat to him."
GU had a couple of good chances to answer in the final minute. But when Ronny Turiaf – who had struggled at the foul line throughout the game – missed the first shot of a one-and-one free-throw opportunity and Morrison misfired on a 3 from the top of the key with 11 seconds left, the Red Raiders were able to make their late lead stand up by simply converting 3 of 5 free throws in the final 24 ticks of the clock.
Along with Ross' considerable contributions, which included nine rebounds and four assists, Tech got 18 points from Jarrius Jackson, 11 from Zeno Martin and 10 from sophomore forward Darryl Dora, who fueled the Red Raiders' second-half comeback by knocking down three baseline jumpers against GU's ever-changing zone defense.
The win propelled Tech into the Sweet 16 of this year's tournament, where they will face seventh-seeded West Virginia on Thursday in Albuquerque, N.M., and sent the Zags back to Spokane, where they will try to sort out what went wrong in the finals stages of a game that had started so favorably.
"We lost a great basketball game today," Bulldogs coach Mark Few said. "I thought both teams played really, really well. They did a great job of making a couple of plays down the stretch – maybe only one play, and that was the difference."
The Zags, behind the inspired effort and jaw-dropping athleticism of junior guard Erroll Knight, put together an 11-2 run about 14 minutes into the game and carved out a 38-29 halftime lead that they increased to 42-29 by scoring four unanswered points immediately following intermission.
Knight, who finished the half with 12 points of his 14 points and all five of his rebounds, ignited GU's big run with a stirring left-handed tip-in from directly under the basket and a nifty drive down the lane that resulted in another bucket.
The Bulldogs, who got a 13-point, 13-rebound double-double (the 26th in his career) from Turiaf in his last game for the Zags, were still leading 46-36 when Tech suddenly seemed to figure out Gonzaga's varied assortment of zone defenses and put together a remarkably efficient offensive run that saw the Red Raiders hit 10 of their first 15 second-half shots.
In addition, GU seemed to lose the energy edge it had in the opening 20 minutes when it built a huge 27-14 rebound advantage that included 10 offensive boards and seemed to chase down every loose ball.
"The offensive glass really hurt us more than any other aspect in the second half," Few said, "because we had done such a great job in the first half of getting them to one (shot) and out. They got the break going in the second half, did a better job on the glass and made up the difference.
"Their guards did a great job of stepping up and making plays down the stretch – as did my guys. We're proud of how we came out and proud of how we played. We just came up a little bit short."
Few said the screen-and-roll play he called with Turiaf and Morrison that freed up Morrison for his late 3-point attempt that could have put the Zags in the lead, worked about as well as could be expected.
"Those two had been delivering all game, so we ran a pick and roll with any option that would come off that," Few explained. "Their big didn't show, so I think Adam saw that he was open initially coming right off the screen and didn't have to explore any other options.
"He got a good look. And we almost had that offensive rebound, but didn't quite get it done."
Instead, Tech's Devonne Giles ran down the loose ball and called a timeout while falling out of bounds with 10.8 second remaining. The Bulldogs fouled immediately after the timeout and Ross hit a pair of free throws that rendered a short fallaway jumper by Raivio – only his second basket of the game – meaningless.
The Red Raiders' LucQuente White missed the first of a one-and-one free-throw chance with 1.4 seconds remaining, but a full-court heave by Turiaf at the buzzer fell well short.
"The first half we did a great job of flying around, getting to spots and denying them from getting points in the paint," said Turiaf of GU's early defensive dominance. "In the second half we didn't do a good enough job.
"Those guys are good, so when you do a good job in the first half, you have to sustain the defensive effort for 40 minutes. Maybe we did it for 36, and the last four minutes, or whatever, they made us pay for it."
Tech, after shooting a respectable 41.9 percent in the first half, made 16 of its 28 second-half basket tries.
"Fifty-seven percent in the second half is too good," Few said, "and that's what eventually won the game."
Bob Knight called his Red Raiders' second-half effort "a hell of lot better than it was in the first half."
"In the first half, Gonzaga was at a higher level," Bob Knight added. "In the second half, we stepped up to that level."
Local journalism is essential.
Give directly to The Spokesman-Review's Northwest Passages community forums series -- which helps to offset the costs of several reporter and editor positions at the newspaper -- by using the easy options below. Gifts processed in this system are not tax deductible, but are predominately used to help meet the local financial requirements needed to receive national matching-grant funds.
Subscribe to the sports newsletter
Get the day's top sports headlines and breaking news delivered to your inbox by subscribing here.
---