Sports
Odom after second NIT title
Thu., March 31, 2005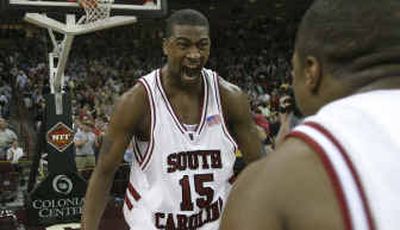 NEW YORK — Carlos Powell thought about picking up the shiny, silver NIT championship trophy, then shook his head no.
It was close enough to touch, even if he weren't 6-foot-7, but the South Carolina forward looked at the photographer who asked him to lift it and politely declined.
"I'll just wait until tomorrow," Powell said Wednesday, less than 12 hours after South Carolina advanced to the NIT title game with a 75-67 victory over Maryland.
There'll be plenty of time to hold it if the Gamecocks (19-13) knock off Saint Joseph's (24-11) tonight.
Powell had a chance to win the NIT at the end of his freshman season with the Gamecocks. They got all the way to the final but lost to Memphis. Outside of Little League Baseball, he's never been on a championship team.
He has two days and one game left in his college career to change that.
Powell started slowly against Maryland but finished with 17 points and 12 rebounds, his sixth double-double of the season and 10th of his career. He moved up to sixth on the school's scoring list Tuesday and has played the most games in Gamecocks history (131).
"It's something I don't want to end, but I would like for it to end with a championship," Powell said.
He is going in with the right coach.
Dave Odom has made himself quite comfortable in the NIT. He has a championship, a runner-up finish and a 15-3 record in five trips.
Odom went three times with Wake Forest and won it all in 2000. He's trying to duplicate the feat with the Gamecocks after falling one victory short in 2002.
"I certainly take pride in it," Odom said of his NIT success. "There is not a coach in the country who aspires to have his legacy be 'He was a great NIT coach.' But I will tell you that I'm not ashamed of that."
Odom and the Gamecocks won't be the fans' top choice against Saint Joe's and quick-witted coach Phil Martelli. Saint Joseph's campus in Philadelphia is about a 2 1/2 -car ride to New York — without traffic.
"Thursday on our campus is a very big study night," Martelli said with tongue firmly in cheek. "I think if we can get them to the library a little early tomorrow we might have in the neighborhood of 6,000 people here."
Odom said he wouldn't have picked to play the Hawks, but now that both teams are there he is ready to embrace the scene. That includes the circus, which is holding its annual New York run.
But he wants to make sure Saint Joseph's plays the game his team dictates. Odom will press and trap, but not for 40 minutes. He wants to control the tempo, and speed it up.
The tough part will come when the Gamecocks have the ball.
The Hawks' Pat Carroll has fired in 3s at a sensational pace, but defense makes this team win. In the NIT, the Hawks have allowed 52.6 points per game. Only Holy Cross reached 60.
Saint Joseph's turned around a 3-6 start and is 21-5 since Jan. 1.
Local journalism is essential.
Give directly to The Spokesman-Review's Northwest Passages community forums series -- which helps to offset the costs of several reporter and editor positions at the newspaper -- by using the easy options below. Gifts processed in this system are not tax deductible, but are predominately used to help meet the local financial requirements needed to receive national matching-grant funds.
Subscribe to the sports newsletter
Get the day's top sports headlines and breaking news delivered to your inbox by subscribing here.
---