Sports
Mariners rally, come up short
Sun., May 1, 2005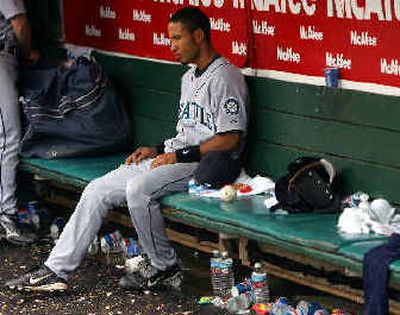 OAKLAND, Calif. – It began as a chance for a memorable trifecta and will be remembered as a lot less.
Instead of Jamie Moyer's record 131st Mariners win, Bret Boone's 1,000th career run batted in or Mike Hargrove locking up 50th winningest manager, it became an odd afternoon at the ballpark.
Even in the ninth inning, when Seattle completed a climb back from a 5-2 deficit to tie the score 5-5 against the Oakland Athletics, there was the hollowing knowledge it could have been much more.
If the miss on scoring more in the ninth was not the low point, then blowing a glowing bid the inning earlier surely was.
Little wonder the Mariners lost in their first extra-inning game of the year, 6-5 in the 10th. Doing so, they wasted not only two wondrous opportunities to put away the A's, who gave out leadoff walks in the eighth, ninth and 10th, but also dazzling relief by Julio Mateo, Shigetoshi Hasegawa and, until the end, Ron Villone.
Picking up for Moyer, who simply did not have it, that trio shut Oakland down on two hits for 61/3 innings until Villone walked the Nos.8-9 hitters, Nick Swisher and Marco Scutaro, and brought up the smoking Mark Kotsay, whose fifth hit, a single to center, won the game.
"You can't put two guys on and expect anything good," Villone said. "I did it with a good hitter coming up (Kotsay) and that's worse."
Yet, the 8-9 combo that hurt first were those innings in which the Mariners loaded the bases each time, in the eighth with one out, in the ninth with none out.
"It's tough to win when you do that, miss those kinds of opportunities," Mariners manager Mike Hargrove said. "In the ninth (Miguel) Olivo hit the ball well but (Octavio) Dotel made a good play. We played a good game, we just came up a little short."
In the eighth, Seattle seemed to be given a shot when Oakland manager Ken Macha lifted lefty Ricardo Rincon and brought in right-hander Kiko Calero, who promptly walked Randy Winn.
Against the right-hander, Hargrove could use pinch-hitter Greg Dobbs, who sliced a single near the line in left to put two on.
Wilson Valdez, who had popped up a bunt-hit bid earlier, then bunted too hard and too far toward the mound. Calero picked it up and forced Winn at third.
Ichiro, down in the count 1-2, sliced a single over short and Dobbs hesitated as he read the ball and only made third base.
Dotel, Oakland's closer, came in and fanned Jeremy Reed, who took strike three, and Adrian Beltre, who swung at ball three.
Yet in the ninth, Seattle went right after Dotel. He walked Richie Sexson, who had cut Oakland's lead to 5-4 in the fifth with an opposite-field homer and is now on a pace for 40 homers and 128 RBI.
Willie Bloomquist ran for Sexson, and Bret Boone, 3 for 3 with two walks, singled. Raul Ibanez parachuted a single into left-center, and Bloomquist scored ahead of a good throw from Kotsay.
Having caught up after a long chase, Seattle seemed poised to go ahead, never more so than when Jason Kendall committed a passed ball that put the runners into scoring position.
It may have been a backward break for Oakland for with first now open, Macha ordered Winn walked. Olivo capped a good at-bat with a wicked liner up the middle, where Dotel took it on the glove-hand wrist, pounced on the ball and flipped home for a forced first out.
Valdez, not bunting this time after two misses, flied out, and Ichiro gave it a big try, sending Kotsay scampering back for a deep ball that for a second seemed over his head.
Hargrove pointed out the lack of, "a big hit, after Sexson's homer." His club left 14 men on base and was 2 for 15 with men in scoring position.
Moyer struggled in the early going.
"I never got it going, made too many mistakes out over the plate and never figured out why," said Moyer.
There were a variety of early-inning rarities, including Boone's first career steal of home as the Mariners scored two runs in the fourth inning. But the oddities were overshadowed by the late-game frustrations.
"We didn't get it done when we needed to today," Boone said. "Neither did Oakland for a time, and then they did. We just didn't get it done."
Local journalism is essential.
Give directly to The Spokesman-Review's Northwest Passages community forums series -- which helps to offset the costs of several reporter and editor positions at the newspaper -- by using the easy options below. Gifts processed in this system are not tax deductible, but are predominately used to help meet the local financial requirements needed to receive national matching-grant funds.
Subscribe to the sports newsletter
Get the day's top sports headlines and breaking news delivered to your inbox by subscribing here.
---