News > Nation/World
Bank robber shot dead in Texas
Fri., May 6, 2005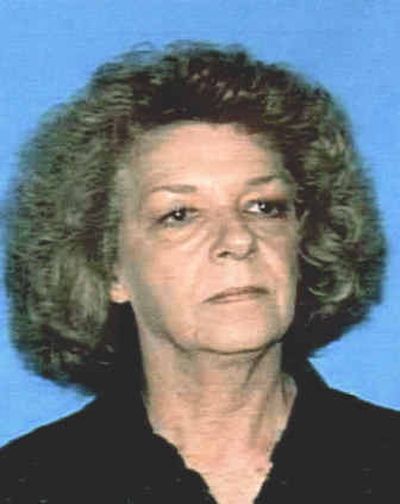 FORT WORTH, Texas – A 60-year-old woman dressed in black, armed with a toy gun and driving a motor home robbed a bank in east Texas on Thursday, then led police on a low-speed chase before she was shot and killed when she allegedly pointed her fake revolver at officers.
The woman was identified by Tyler police as Peggy Jo Tallas, an ex-convict who became known as "Cowboy Bob" in 1992 after she pleaded guilty to robbing a bank in Mesquite, Texas, of $13,000 while dressed in a cowboy hat, sunglasses, a fake beard and mustache, and other Western attire.
Tallas was indicted in three other bank robberies that year, and state crime records indicate that she was convicted in 1977 of auto theft in Tarrant County.
On Thursday, four Tyler police officers shot at Tallas after she pointed what appeared to be a real gun at them, said officer Don Martin, spokesman for the Tyler Police Department. It was only afterward that police realized the gun was fake, Martin said.
"It looked real. There was nothing to indicate it was a toy," Martin said.
Police said Tallas robbed the Guaranty Bank shortly after 11 a.m. local time. Clutching a bank bag containing a dye pack that had exploded, she ran across a busy seven-lane road and jumped into her getaway vehicle – a Frontier motor home.
Witnesses yelled at the woman as she dodged traffic on foot trailing smoke caused by the dye pack, a security device meant to mark stolen money after a robbery.
A man and a woman who saw the holdup followed the RV in their car, using their cell phone to give police its location, Martin said.
Hearing the emergency radio broadcast for help, off-duty Tyler police Sgts. John Brown and Gary Rice joined the chase. According to Brown, it ended after less than three miles with speeds never becoming "excessive."
The motor home stopped at a T intersection, then the "female suspect got up from the driver's seat, went back into the coach and pulled down the shades on the driver's side so you couldn't see inside," Martin said.
Witnesses said police cars "poured onto the street." Officers crouched behind their vehicles, guns drawn, yelling for the woman to exit the motor home.
After five to 10 minutes, Brown said, Tallas stepped out of the motor home, pointed what appeared to be a real gun and "the officers shot her."
She collapsed dead on the street as police lobbed tear gas into her RV, believing others might be inside, according to Brown. After the tear gas cleared, he said, officers entered and found no one else.
The daylight robbery and the bizarre getaway vehicle stunned residents in the Irish Meadows neighborhood in south Tyler.
Frances Jones, 73, said she was carrying a sack of dishes to her car when "I saw this big motor home cruising slowly by my driveway. "Then it stopped. … I thought, boy, that's a nice motor home," Jones said.
Then a policeman pulled up, bolted from his vehicle and yelled: "Get in the house right now! This is a robbery suspect!" Jones said she stopped admiring the RV, dropped her dishes and ran inside.
From her window, Jones said, she saw the motor home travel a short distance up the street. "Later I heard one shot, then there were a lot of sirens and things really broke loose then," she said.
Darrell Beard said the motor home also slowly passed his home. Then, he said, "I kept seeing police pour onto my street. They were all wearing bulletproof vests. The FBI showed up. I could see the police crouched down behind vehicles in driveways. Then I heard shooting."
Local journalism is essential.
Give directly to The Spokesman-Review's Northwest Passages community forums series -- which helps to offset the costs of several reporter and editor positions at the newspaper -- by using the easy options below. Gifts processed in this system are not tax deductible, but are predominately used to help meet the local financial requirements needed to receive national matching-grant funds.
Subscribe now to get breaking news alerts in your email inbox
Get breaking news delivered to your inbox as it happens.
---