News > Features
"Roadside religion"
Sat., May 7, 2005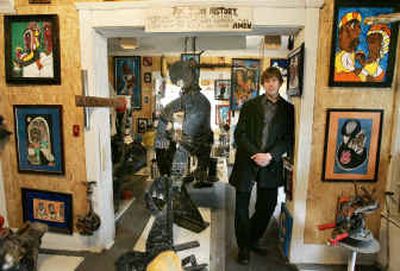 From golf courses to cross gardens, believers are sharing personal religious experiences in very public ways along America's highways and back roads.
"If you talk to these artists about their work, they will describe it as a sacred process, as a form of prayer," says scholar Timothy Beal, who has studied this "roadside religion" over the past several years.
Beal, a religion professor at Case Western Reserve University in Cleveland, is author of the new "Roadside Religion: In Search of the Sacred, the Strange and the Substance of Faith" (Beacon Press, 224 pages, $24.95).
The wildly different places he visited – from the World's Largest Ten Commandments in Murphy, N.C., to the World's Largest Rosary Collection in Stevenson, Wash. – might provoke amazement, even disdain, he says. But they were given birth by a common longing for self-transcendence, relationship and meaning.
"Creating these places is a kind of spiritual discipline and a way for (people) to meditate on the sacred story," Beal says.
Often they are people without a church, spiritual pilgrims without a specified destination. Visiting their miniature Holy Lands, grottoes and gardens of wooden crosses with spiritual admonitions emblazoned on rusty appliances became "something of a religious journey" for Beal and his family.
Like many a student of the sacred, Beal chanced upon his first example of roadside religion.
He had been working in Washington, D.C., on a more traditional "scholarly" project: the functions of biblical interpretation in militant white supremacist groups in the United States. His wife, Clover, a Presbyterian minister, and his two children, Sophie and Seth, accompanied him on that working vacation.
"We were driving back to Cleveland on Interstate 68 and there, on a hilltop near Frostburg, Md., was a giant steel girder structure with a sign in front of it: 'Noah's Ark Being Rebuilt Here!' " Beal recalls. "We kept driving that day, but I knew I'd be back.
"A year later, Clover, our two kids and I were piling into a rented motor home for a tour through the Bible Belt to explore roadside religious attractions like Paradise Gardens, the World's Largest Ten Commandments and Holy Land USA."
Beal relates that trip in his book. With humor and sensitivity, he analyzes the substance of American faith as he explores what these places mean to the people who made them and to the people who visit them.
His journeys took him to examples of what he views as "outsider religion," places including Golgotha Fun Park, a biblically themed miniature golf course in Cave City, Ky., and Precious Moments Inspiration Park in Carthage, Mo., home to millions of wide-eyed child angels.
Because they're off the beaten path, he says, such places open new routes to consider central themes in American religious life, including pilgrimage, exile, the nostalgia for lost origins and the desire to re-create sacred time and space.
The idea for an ark replicated to vast biblical proportions originated in 1974, when pastor Richard Greene said God commissioned his task in night visions. Ridicule has only reinforced his Noah-like persistence.
Over the decades, his God's Ark of Safety Ministry has raised only enough money to pour a foundation of 3,000 tons of concrete and erect part of the framework. Yet Beal found the Quixote-like effort moving, and says that after visiting Greene he lamented his own "lack of faith and inability to hope for an absurd miracle."
He's less indulgent of the world's largest Ten Commandments, on display at Fields of the Wood east of Murphy, N.C. The 216-acre site, operated by the Church of God of Prophecy, also boasts of the world's largest altar and world's largest New Testament, both in concrete.
"These giant hillside tablets deserve a prize for irony, making a graven image of the prohibition against graven images," Beal says.
After completing the book, Beal came upon an obscure artist right where he lives. Albert Wagner, 82, has filled his Cleveland home with his own distinctive paintings, which blend Pentecostalism with Egyptian and African themes. Wagner leads small worship services down in the basement.
"What really struck me in my various travels and visits for this book was that faith is all about relationship, or, more to the point, hospitality," Beal says. "It's about letting another in. That other might be God, or it might be another human being. For many religious traditions, it's both."
Like any good pilgrimage, Beal's journey took him inside his own faith. He was raised in Alaska by Presbyterian parents who were leaders in the evangelical Young Life organization.
"In some sense I came to terms with my own evangelical background," he says. "I remain a Christian, but more a Jim Wallis kind than a Jerry Falwell or a Ralph Reed kind."
Local journalism is essential.
Give directly to The Spokesman-Review's Northwest Passages community forums series -- which helps to offset the costs of several reporter and editor positions at the newspaper -- by using the easy options below. Gifts processed in this system are not tax deductible, but are predominately used to help meet the local financial requirements needed to receive national matching-grant funds.
Subscribe now to get breaking news alerts in your email inbox
Get breaking news delivered to your inbox as it happens.
---