News > Idaho
Funding request targets schools
Sun., May 8, 2005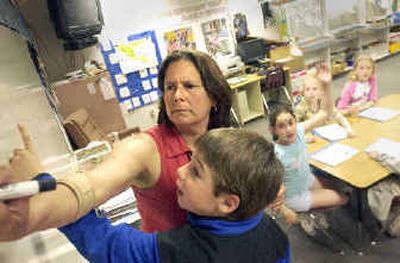 Students in Pam Kiefer's advanced math class don't slouch or try to look invisible when she scans the room for a student to call on. There's no grumbling or groaning – except from the mouths of the kids who don't get picked.
"Sometimes it's hard for me to keep up with these guys," Kiefer said as she passed out worksheets on fractions one day last week.
It took Fernan Elementary third-grader Gabby Vietri longer to write her name than it did to work through the sheet of problems.
If voters approve a $14.6 million, two-year levy on May 17, Fernan's pilot program for high achievers like Gabby will be expanded to all Coeur d'Alene elementaries. Ten new teachers would provide top students with reading and math instruction at least four times a week.
Challenging the district's brightest students is the focus of the largest spending increase – $940,000 a year – in the district's levy proposal.
Spanish classes would be added to the middle schools, and the prestigious International Baccalaureate diploma program would be offered at Lake City and Coeur d'Alene high schools – an addition that one local business group will not support.
The district's levy request represents an increase of more than $2.2 million per year over the current levy. For the owner of a $150,000 home, the levy would cost $162 a year after homeowners' exemptions – an increase of $50.
The Coeur d'Alene Chamber of Commerce and Jobs Plus, a nonprofit economic development corporation, endorsed the levy proposal. Another business group, Concerned Businesses of North Idaho, has said the district is proposing too much of a tax increase.
John Young, president of the organization, sent a letter to the district and local media on March 21 saying its board of directors could not support the levy, specifically the increase for advanced learning.
"With only approximately 30 percent of Kootenai County high school graduates earning post-secondary degrees or certificates, our board of directors is inclined to support programs addressing the needs of the 70 percent of students graduating from high school with a plan other than attending college," Young wrote.
Superintendent Harry Amend said Concerned Businesses' figures are incorrect. He said the district contracts with a private company to survey graduates 18 months after they leave high school. Those surveys show more than 60 percent of Coeur d'Alene's graduates enroll in college or vocational training, Amend said.
Organized opposition to Coeur d'Alene school levies is rare, but Amend said he isn't nervous and thinks there's strong community support. He noted that many members of Concerned Businesses are also involved in groups that endorsed the levy.
Concerned Businesses' executive director, Kelly Richards, said via e-mail that the group's 15-member board of directors – representing about 40 local businesses – is concerned that the proposed levy is 44 percent more than the district's expiring levy. She said the board of directors – whom she would not identify – would have supported a 25 percent increase.
Richards said members feared the increase would become part of the baseline request for future levies and would increase from 8 percent to 14 percent the portion of the district's budget that is reliant on levy funds. Richards refused to say if Concerned Businesses would urge voters to reject the levy."Since our inception in 1994, our board of directors has never voted to not endorse a school levy in Kootenai County," Richards wrote in the e-mail. "I would hate for our members to be painted with an 'anti-education' brush as a result of questioning the need for such a large increase in one of many proposals over the last 11 years put before our board for consideration."
In addition to nearly $1 million dedicated to advanced learning and the International Baccalaureate program, the $2.2 million annual levy increase includes a $549,000 increase for remediation programs and $750,000 to replace outdated textbooks. Many of the district's textbooks are no longer on the state-approved list.
The International Baccalaureate program would take about 3 percent of the money collected under the levy, but has been the biggest talk point.
The internationally accepted diploma program was started in 1968 to provide a common curriculum for students who may move from one country to another, according to the International Baccalaureate Organization. There are nearly 1,500 IB schools in 119 countries.
Coeur d'Alene would have the state's first IB diploma programs. The two-year program, offered during students' junior and senior years, would be open to any student interested, according to the district.
Students can earn certificates – and college credit – for completing portions of the program or declare themselves candidates for the IB diploma. To receive an IB diploma, students have to complete classes in six core areas: English, foreign language, science, math, history and the arts. Degree candidates must also complete an extended essay and a Theory of Knowledge course, and fulfill a community service requirement, for which athletics and school activities count.
An IB diploma guarantees admission to some colleges, and some accept IB graduates as sophomores, allowing them to skip their freshman studies, said Jim Facciano, director of the district's advanced learning programs. "There is an idea out there that this is for the most elite," said Mike Nelson, a Coeur d'Alene High Spanish teacher and coordinator of the school's proposed IB diploma program.
But Nelson and others involved in bringing the IB program to both district high schools said the program will serve a broader population.
"I've been told the diploma program is especially suited for the 3.2 to 3.7 (grade-point average) student, the hardworking, brighter-than-the-average-bear, but not the gifted 4.0 kid," Facciano said. "The diploma is attainable."
Tarragh Carr, a CHS French teacher, graduated with her IB diploma from a Canadian school in 1998.
"This is how teachers want to be able to teach," Carr said. "We want to look at our kids and see the light bulbs go on. When you see the 'Aha!' moments, you're going to take off with it and run at full speed."
Students who aren't enrolled in the IB program would also benefit, Carr said, because teachers who go through the extensive IB training process would also teach non-IB classes.
The full diploma program will cost families about $600 per student. The levy includes some money to provide scholarships on a need basis.
The district decided to include the IB program and the rest of the advanced learning proposal in the levy after an 18-month strategic planning process that included four public forums, Amend said. The additions in the levy proposal – programs for high-achievers, expanding remediation opportunities and updating textbooks – came out of that process.
"Passage of this levy is crucial to our ability to provide the caliber of educational programs the community told us they wanted," Amend said.
The additional funding for remediation would expand the district's all-day kindergarten program and its School Within a School program. Last year, 80 students – identified as the most at-risk high school freshmen – participated in School Within a School, in which they eat breakfast together, take their toughest academic classes together and have additional adults available for support. Two of the 80 dropped out their freshman year, Amend said.
The district wants to offer School Within a School to sophomores.
With the amount of attention that has been devoted to struggling students, Amend said it's only fair that the district offers similar opportunities to advanced students.
"Kids already proficient, already soaring, don't they also have the right?" he asked.
Local journalism is essential.
Give directly to The Spokesman-Review's Northwest Passages community forums series -- which helps to offset the costs of several reporter and editor positions at the newspaper -- by using the easy options below. Gifts processed in this system are not tax deductible, but are predominately used to help meet the local financial requirements needed to receive national matching-grant funds.
Subscribe now to get breaking news alerts in your email inbox
Get breaking news delivered to your inbox as it happens.
---