News > Idaho
CHS teacher retiring
Sat., May 14, 2005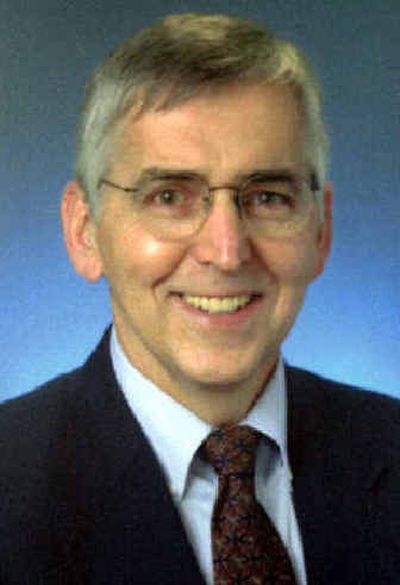 District 4B state Rep. George Sayler, a teacher at Coeur d'Alene High School since 1974, said that he'll miss the interaction with his students the most. After teaching at the high school for one-third of the school's history, Sayler is hanging up his teaching hat to devote more time to his legislative duties.
Sayler has taught 11th- and 12th-grade history, government and economics at CHS. This school year he has devoted his time to teaching senior government. He said he enjoys getting the students to think about things, to stretch their minds.
He has encouraged student involvement in government through such programs as the YMCA Youth Government Mock Legislature, the American Legion Oratorical Contest, the Veterans of Foreign Wars Voice of Democracy Contest and Youth Court.
Sayler's wife, Kathleen Sayler, teaches English and U.S. History at CHS, and she plans to stay for four more years. Sayler said that when Lake City High School was built in 1994, he asked to stay at CHS.
Sayler, in his second term in the Idaho Legislature, said it was too much to do both jobs and do them the way he wants to do them. He is the assistant minority leader in the House and is a member of the House Revenue and Taxation, Resources and Conservation, and Ways and Means committees. He said he plans to run for a third term, and his family supports him in this decision.
When the Legislature was in session this year, he was able to find a teacher to substitute for him, and last year he was covered as well. The time away from his students was well spent serving his constituents, but he said it's time to stop bouncing back and forth.
Coeur d'Alene High School Principal Steve Casey has been the principal since 1993 but has worked with Sayler at CHS since 1989. He said he will miss him.
"He's very knowledgeable," Casey said. "Obviously a practicing government teacher is very valuable. He is very respected by his peers. George has been around the block. I have always gone to George to seek direction.
"George is so even-tempered, unflappable," Casey said. "He's been here forever. Any time you lose a teacher of George's stature, he will be missed, especially nowadays when we are facing so many changes and challenges. We need someone like George to show younger teachers that this too shall pass."
Sayler was chosen as district Secondary Teacher of the Year in 2002. In 1991 he was chosen as a Wittenberger Fellow to attend a two-week seminar on the Bill of Rights at Albertson College, and in 1984 he was selected to attend the Taft Institute on Government at University of Utah.
In his letter of resignation to School District 271, Sayler acknowledged Coeur d'Alene High's 100th anniversary this year. He said it is with mixed feelings that he leaves the endeavor to others to carry on to begin the school's second century of educating Coeur d'Alene's youth.
"I have no regrets," Sayler said. "I have had a good career at Coeur d'Alene High. Overall I feel pretty satisfied. I wanted to quit while I still had something to contribute to the students."
The Class of 2005 graduates from CHS on June 10. June 14, Sayler's 61st birthday, is also his last day at school.
Local journalism is essential.
Give directly to The Spokesman-Review's Northwest Passages community forums series -- which helps to offset the costs of several reporter and editor positions at the newspaper -- by using the easy options below. Gifts processed in this system are not tax deductible, but are predominately used to help meet the local financial requirements needed to receive national matching-grant funds.
Subscribe now to get breaking news alerts in your email inbox
Get breaking news delivered to your inbox as it happens.
---