Sports
T-Wolves come up just short
Sat., May 21, 2005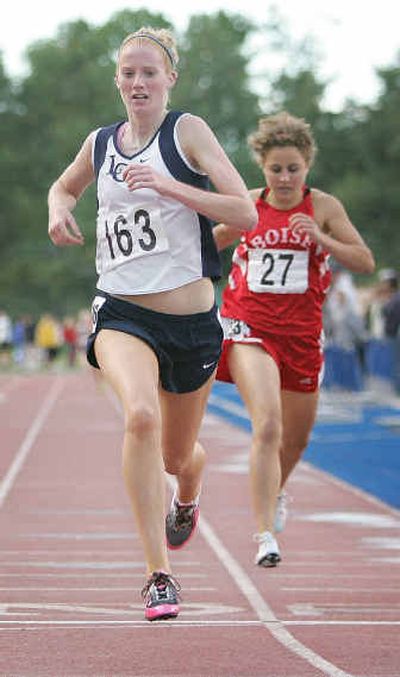 BOISE – The smile and the winning form returned for senior Breanna Sande, and the result was the two-time defending State 5A champion Lake City High girls track team capturing its fourth consecutive state trophy.
A day after Sande was upset in the 3,200 meters, she collected a fourth straight gold medal in the 1,600 Friday and set a classification record as she defended in the 800 as the state meet concluded under the lights at Boise State University's Bronco Stadium.
Then, after protecting her undefeated state record in the 1,600, Sande anchored the 1,600 relay that trimmed 10 seconds off its season best and took fourth to preserve the Timberwolves' state runner-up finish.
Sande began what would be a state-title filled career on a state runner-up team and finished on a runner-up team with two state championships sandwiched in between.
Borah took home the state title, finishing with 95.5 points in one of the tightest team finishes in recent years. LC was next with 91, followed by Twin Falls (89), Skyline (82) and Boise (77).
For a few moments following the meet, LC coach Kelly Reed had to console several Timberwolves who thought their second-place effort was less than satisfactory. Reed expressed as much pleasure in it as he did the past two years with the state titles.
"For those seniors – two seconds and two firsts. Amazing," Reed said. "What a run. We lost a lot to graduation last year. When you lose as much as we did – when your entire sprint corps goes out the door – and we can still come down here and score 90-some points? The last four or five years, (91 points) would have won handily. I'm thrilled and they'll be OK, too. There are a lot of 'what ifs' being down just 3½ points. It's no one person's fault. Hey, we're second best in the state and we'll take that."
Sande was admittedly peeved after finishing second in the 3,200 on Thursday. She was determined to make amends Friday.
In her first race Friday, Sande charged from behind with about 110 meters to go, catching and passing Boise junior Dana Morgan, who knocked off the T-Wolf the night before. Sande finished in 2 minutes, 14.66 seconds, topping the previous state record (2:16.60) set in 1996.
Four weeks ago, Borah hammered the Timberwolves by 70 points in a meet at LC.
"We knew Borah was going to be awfully good, but it shows where we've come as a group, too," Reed added.
A little over 2 hours later, Sande secured a fourth consecutive state crown in the 1,600 as she caught Morgan again with 40 meters to go to win in 5:06.4.
"It definitely motivated me," Sande said of watching Morgan beat her in the 3,200. "I couldn't lose the 1,600 because I had won all three years and it would have (hurt) to lose your senior year."
Sande was especially satisfied to get second as a team.
"I'm really excited to have placed that well," she said. "Second place is awesome considering who we lost to. We didn't come out on top, but we did, I guess, in a way."
After Sande's win in the 800, the T-Wolf hurdle trio of Holly Meyer, Brenda Finney and Arica Johnson finished second, third and eighth to add 15 points to the team total.
Meyer finished in 45.07 behind McKenzie Walton of Skyline (44.72). Finney came in 45.81.
"I'm so pumped right now," Meyer said. "We came down here knowing that Bre was going to do her thing and we (the hurdlers) as a unit had to do well."
Coeur d'Alene sophomore Michael Armon completed a double, following up a title in the 3,200 with a victory in the 1,600 (4:25.64).
Armon left no doubt that he's the dominating distance runner in the state, regardless of classification. And the state cross country champ who was second as a freshman has two more years to add to what will be quite a legend before he graduates.
Armon wanted a fast pace, but was concerned when he heard the milers needed 2:15 to cover the first 800 meters.
Although he didn't want to, he knew he'd have to use all of his kick at the end.
"We all wanted about 4:20 or under, but I was pleased more or less," Armon said. "The second lap was really slow. When we went through after 800 we were about seven seconds too slow. It was a kicker's race by then."
With 300 meters remaining, Armon played a little catch-me-if-you can when he surged ahead.
"I held on for as long as I could," Armon said. "I was fortunate enough that my kick has been coming along this year."
Borah's boys made it a sweep for the Boise school as the Lions posted 115 points to easily top Eagle and Capital, which tied for second (82). Lewiston took fourth (63.5).
Lewiston senior Reny Follett got some consolation in the 1,600 relay after he false started in the much-anticipated 400 final. Follett anchored the Bengals' final relay as it won (3:23.66).
LC's boys, the defending state champ in the 400 relay, made a gallant effort at defending as they finished second. But the relay was later disqualified after anchor Chris Delport threw the baton after crossing the finish line.
Other medal winners were: Robert Glasson of LC, second in the 400 (50.89); Matt Grogan of Lewiston, second in the 300 hurdles (39.8) and third in the 100 hurdles (11.11); Garrett Arnold of LC, fifth in the 200 (22.91); Delport, fifth in the 100 (11.41); Anna Stone of CdA, fourth in the 1,600 (5:16.85); and Kristin Palmer of CdA, fifth in the 400 (1:01.87).
4A
Emmett's girls captured the state title (86.25), just ahead of runner-up Moscow (77.5). Post Falls was fifth (41.75), 9.25 points out of a trophy.
For the boys, Bishop Kelly collected the state title (80.5) as Vallivue (63) finished second. Sandpoint (47.5), first after the opening day, slipped to fifth, 11.5 out of a trophy.
Sandpoint senior Blake Mahler didn't go home empty-handed, though, as he took gold in the 300 hurdles (40.16).
Mahler became the second Bulldog to win a state title. Dustin Hoogland won in the pole vault Thursday.
"I was feeling a little jittery because the kid in Lane 5 went out really hard," Mahler said. "But then I just told myself 'Don't worry about it, just run your regular steps and there's no way he's going to be able to hold on.' And I did."
It was simple for Mahler to explain what the state title meant to him.
"It means everything because it's just me," he said of winning an individual event. "I'm still in shock. It feels amazing."
Powering Moscow's girls to second was senior Allix Lee-Painter. She took first in the 800 (2:18.58) and first in the 1,600 (5:15.89).
John Mosman of Moscow won the 110 hurdles (15.21) and finished third in the 300 hurdles (41.3).
Other medal winners were: Steven Potratz of Moscow, third in the 1,600 (4:33.73); Stefani Patten of Moscow, third in the 100 (12.95); Courtney Adams of Sandpoint, fourth in the 200 (26.63); Melissa McFadden of Post Falls, fifth in the 1,600 (5:30.95); Meredith Dolny of Moscow, third in the 300 hurdles (48.0) and fourth in the 100 hurdles (16.11).
Local journalism is essential.
Give directly to The Spokesman-Review's Northwest Passages community forums series -- which helps to offset the costs of several reporter and editor positions at the newspaper -- by using the easy options below. Gifts processed in this system are not tax deductible, but are predominately used to help meet the local financial requirements needed to receive national matching-grant funds.
Subscribe to the sports newsletter
Get the day's top sports headlines and breaking news delivered to your inbox by subscribing here.
---